Creepy Halloween Food Recipes

Creepy Halloween food recipes are always popular when planning a Halloween party. It's fun to choose desserts and treats that reflect the scary theme of the holiday.
The spooky desserts below are popular with kids of all ages. They will be the hit of your party!
I've also included some creative ideas that can help to spark your imagination, so you can create your own scary Halloween foods. You'll be amazed at the clever party ideas you can come up with.

Creepy Halloween Food Recipes

Adapted from Vintage Dessert Recipes

Shock Your Party Guests With a Halloween Punch
(Source: ©iStock.com/lamprey)
Frozen Hand Punch
A frozen hand or two can make a gross addition to the party punch. To make a frozen ice hand, first wash and rinse a large vinyl rubber glove (non-latex, non-powdered).
Then, carefully stretch the glove's wrist opening tightly over the rim of a container large enough to hold the glove upright and fill to the brim with clean drinking water. Secure with an elastic band, if needed.
Carefully without spilling, set the glove in the freezer overnight to freeze solid. Once frozen, this will provide a flat base wide enough to position the hand upright in the punch bowl.
An alternative method for a floating hand is to fill the clean glove with drinking water and then carefully tie off the wrist opening tightly with an elastic band, as you would tie a balloon. Then, gently set the glove in the freezer overnight to freeze solid.
Just before serving your punch, carefully cut the frozen hand from the glove and set it on a plate near the punch bowl. Dribble red food coloring onto the icy hand to resemble oozing blood, then place the bloody hand in the punch bowl.

Bloody Brain In the Pop Cooler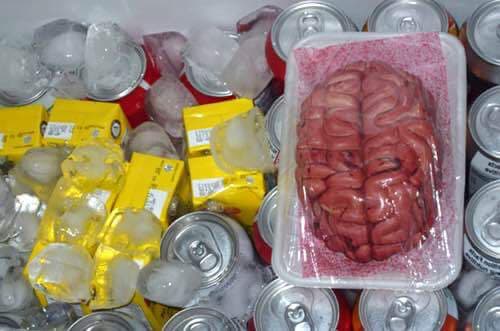 Gelatin Brain Sitting Among Cans in the Pop Cooler
(Source: Don Bell)
How about a bloody brain resting in the pop cooler? A realistic plastic brain on a Styrofoam tray wrapped in plastic wrap will startle guests when they reach for a beverage. Plastic brains can sometimes be found at novelty shops.
However, you can purchase a gelatin brain mold from novelty stores or online from Amazon and easily make your own brain using the creepy Halloween food recipe below.
Use the following ingredients and method to make the flesh colored gelatin for your mold:
3 6-ounce boxes peach flavor gelatin
1 12-ounce can evaporated milk
2-1/2 cups boiling water
1 cup cold water
Green food coloring
Lightly spray or brush your mold with cooking oil to help prevent the gelatin from sticking. Dump gelatin powder into a large bowl, add boiling water, and stir until completely dissolved. Stir in cold water, then stir in skimmed milk.
Finally, stir in several drops of green food coloring to darken the color, then pour the mixture into your mold and refrigerate until the gelatin becomes firm enough to release from the mold.

Scary Foot Dessert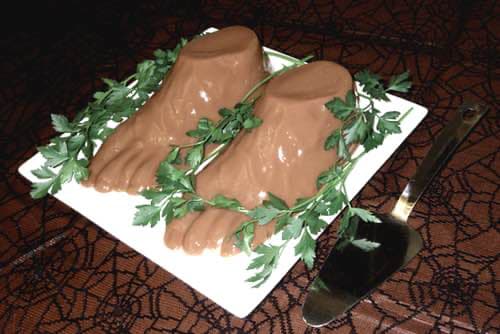 Gelatin Feet for a Scary Halloween Centerpiece
(Source: Don Bell)
You can also use the same flesh colored gelatin recipe and a gelatin foot mold to create a scary decoration for your Halloween dessert table.
Use parsley or green shredded coconut to simulate ground cover or grass. Gelatin molds can also be gotten for making hands and hearts to shock your party guests.

Yucky Gooey Eyeballs
3 ounces lemon gelatin
1 cup hot water
1/2 cup miniature marshmallows
1 cup pineapple juice
1 8-ounce package cream cheese
1 cup whipping cream, whipped
1 cup mayonnaise
For this creepy Halloween food recipe, dissolve lemon gelatin in 1 cup water in double boiler over medium heat. Add marshmallows and stir constantly to melt.
Remove from heat and add the pineapple juice and cream cheese, beat together until smooth. Fold in whipped cream and mayonnaise. Allow to cool until firm.
Get out the melon-baller and scoop full, round balls of the candy mixture. Decorate with dark pupils and red veins using food coloring and a clean, small paintbrush (the kind that children get with watercolor sets).
Now, you'll have gross, slimy eyeballs ready to frighten the party goers. And wait until they discover how delicious they really are!

Halloween Eyeball Punch
How about a colorful bowl of fruit punch complete with floating eyeballs for your next Halloween party? Like the other creepy Halloween food recipes, this one's also easy to make, and it tastes refreshingly delicious.
1 (32 fluid ounces) bottle apple juice, chilled
1 (12 fluid ounces) can frozen cranberry juice concentrate
1 cup orange juice, fresh or frozen
50 fluid ounces (1-1/2 liters) ginger ale
1 apple, sliced (optional)
Eyeball candies (optional)
Large marshmallows (optional)
Take a large punch bowl or other serving container and combine the apple juice, cranberry concentrate, and orange juice. Stir until any frozen bits are dissolved. Slowly mix in the ginger ale.
Slice the apple in whole slices to float on top as "brain slices" among the floating "eyeballs" or marshmallows.
The ginger ale may be left out until just before your guests arrive to preserve the fizz. If candy eyeballs are unavailable in the store, use the recipe for Yucky Gooey Eyeballs given above.

Skeleton and Zombie Gingerbread Men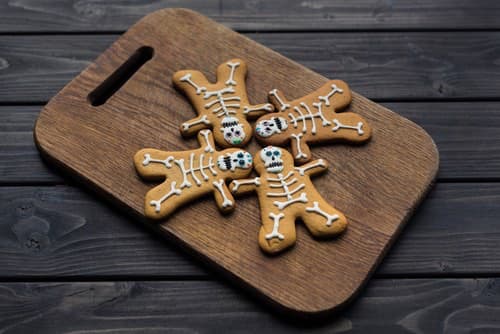 Make Scary Skeleton Gingerbread Men
(Source: ©VadimVasenin/Depositphotos.com)
Hey, gingerbread cookies aren't just for Christmas anymore; they're a favorite treat any time of year. And when it comes to creepy Halloween food recipes, this one can be as scary as your kids care to make it.
3 1/2 cups all-purpose flour
1-1/2 teaspoons ground ginger
1-1/2 teaspoons ground cinnamon
1/4 teaspoon salt
1/2 cup white sugar
1/2 cup shortening
1 egg
1 cup molasses
1 teaspoon baking soda
1-1/2 teaspoons warm water
1/4 cup raisins for decorating
Red colored gel icing
For this creepy Halloween food recipe, cream together shortening, sugar, egg, and warm molasses. Dissolve baking soda in warm water, and then add to the egg mixture. Next, add flour, spices, and salt; mix it all up until well blended. Cover and chill overnight.
Prepare a floured surface and get out the rolling pin and cookie cutters. Cut gingerbread men (or other Halloween shapes) and place an inch or two apart on a greased cookie sheet for baking.
Use raisins and cinnamon candies for eyes, buttons, and so on. Then add red gel icing to pipe on bones or bloody gashes on the legs and arms and heads, with blood-dripping eyeballs.

Dracula Dentures Cookies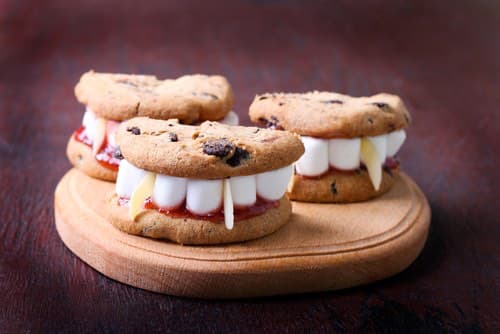 Scary Dracula Dentures Cookies for Halloween
(Source: ©manyakotic/Depositphotos.com)
For a scary Halloween treat, serve Dracula Dentures Cookies. Start by making a batch of old fashioned chocolate chip cookies cut to uniform circle shapes.
Place a layer of red strawberry jam on one chocolate chip cookie and add white miniature marshmallows to form the teeth. Slivers of almond can be inserted to create the fangs, a pair on opposite sides.
Layer a second chocolate chip cookie with strawberry jam and lay it over the marshmallow teeth on the first cookie. Carefully cut cookie sandwich in half to form two sets of Dracula Dentures.

Edible Marshmallow Spiders

Here's a creepy Halloween food recipe that's fun for kids to make and eat. Marshmallows with Chow Mein legs, and candy coated eyes.

1 cup semisweet chocolate chips
1 teaspoon butter
24 large marshmallows
1 (6 ounce) package Chow Mein noodles
1 (12 ounce) package mini candy-coated chocolate pieces
In the top of a double boiler, combine chocolate chips and butter. Heat over hot water until melted. Stir occasionally until chocolate is smooth, then set aside.
Line a cookie sheet with wax paper. Stick 4 Chow Mein noodles into each side of marshmallow for legs, and arrange on wax paper.
Carefully drizzle chocolate over the marshmallow spiders. Attach 2 colored candies to each marshmallow for eyes.
Chill until chocolate hardens firm. This creepy Halloween food recipe makes 24 marshmallow spiders.

Giant Wart Cupcakes
These giant wart cupcakes make a great handout for your family's Halloween party.
1/4 cup butter, cubed
8 oz Semisweet chocolate
1/2 cup heavy cream
2 bags fun-sized candy bars, chopped into small pieces
Melt butter. Remove from heat and add semisweet chocolate. Cover and let sit until chocolate is melted (3 to 5 minutes approximately) then stir to smooth.
Gradually and carefully add in the heavy cream while stirring, keep stirring while you pour or the chocolate will lose its shine. Refrigerate about 25 minutes to gain a little firmness for shaping.
Roll globs of the chocolate into round wart-shaped balls in the palm of your hand, then roll them in the chopped-up candy bars pressing so that it sticks to the edges.
Instead of using chopped candy bars, this offers a great way to get creative with the Halloween candy haul after trick or treating. (That's if your kids have any remaining to chop up!)
How to Create Your Own Creepy Halloween Food Recipes

The real fun in any Halloween party menu is in the creative names you give to the food. Spider Stew, Bloody Burgers, Black Cat Chili, Giant Wart Cupcakes, and Cupcakes with Booger Icing are some suggestions to jump-start your imagination.
Children tend to be fascinated by less than attractive food associations that they consider great fun. Fortunately, almost any food item can be chosen, as long as you choose a frightfully scary name and description for the dish.
For instance, spaghetti can be associated with worms and risotto can be thought of as maggots, and if the pasta dishes are offered in a blood-red tomato sauce enhanced with a little red food coloring, so much the better.
Use the creepy Halloween food recipes to spark your creativity. You can create gross Halloween treats from almost any dessert recipe with the help of a little imagination. When it comes to scary Halloween treats, try the following:
Cupcakes can be decorated with a menacing fake spider using icing and thin strips of black licorice for the legs.

Rectangular iced cookies with the letters RIP iced onto them can be made to look like flat cemetery stones when laid on a cake or on an apple crisp dessert.

Gummy worms can be inserted in cakes and puddings and left strewn around the table for guests to pick up and eat.

Brownies and other squares can be iced with grey icing to make tombstones and set upright on a suitably decorated platter or used as place markers with the names of your guests and their birth dates written on them in icing.

Wispy strands of candy floss can be thinly stretched across a chocolate cake to serve as an icky spider web, with a large fake spider sitting menacingly at one corner.

So, start with these creepy Halloween food recipes and let your imagination run wild. Believe me, the "yucky eyeballs," "giant warts" and "bloody zombies" will be a big hit with your crowd.
Halloween Party Menu for Kids
Once you have settled on your food choices and have chosen several creepy Halloween food recipes, it's a good idea to produce a Halloween Menu that describes the dishes you're offering.
Post the menu poster size in the eating area or hand each guest a printed copy as a souvenir. It's sure to be an icebreaker and get the kids speculating on what they're about to be served. Conversation will flow along with loud laughter and pretend expressions of disgust.
Remember to keep everything fun and in good taste (pun intended). If you cross the line with descriptions that are too gross and gory, young appetites might be turned off, and you'll have unhappy party goers.
Your table setting can also be used to good effect to display your scary dishes. Look for candies and cheap, dollar-store accessories that you could use to set a creepy Halloween theme.
For instance, float gummy worms in the soup or rubber snakes in the punch bowl. Spread fake spiders and coffee grounds (fake dirt) around the plates.
However, ALWAYS take proper care for hygiene and the safety of younger children when choosing your decorations. Make sure to carefully wash ALL store-bought items that will come into contact with food.
Above all, have fun with these creepy Halloween food recipes and make your next party one that will be remembered.

Check Out My FREE Recipe Ebook and Newsletter. It's My Gift to You!