Old Fashioned Chocolate Chip Cookies Recipe

Mom often used these old fashioned chocolate chip cookies recipes to make delicious cookies as a special treat for her family. I can remember the excitement of finding a couple in my school lunch and having to decide whether to eat them before my sandwiches or afterwards. One of life's early dilemmas.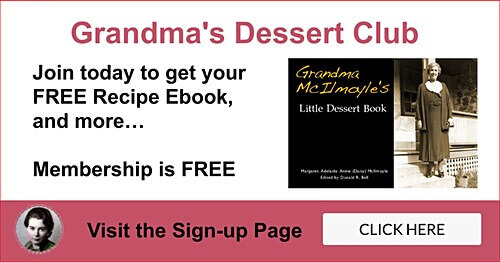 Mom's Old Fashioned Chocolate Chip Cookies Recipes

Mom's Recipe Scrapbooks (c. 1920s)
Make Old Fashioned Chocolate Chip Cookies Today
(Source: ©songbird839/Depositphotos.com)
Chocolate chips were not called for in recipes before the 1930s; that's because they were unavailable until the invention of chocolate chip cookies by Ruth Graves Wakefield in 1936.
Earlier recipes for chocolate cookies, sometimes called chocolate chipless cookies, were richly flavored with chocolate squares or cocoa, and sometimes the squares were chopped into small chunks and added to the batter.

Original Chipits® Cookies

1. Cream together 1/2 cup shortening, 1/2 cup packed brown sugar, 1/4 cup white sugar, 1 teaspoon vanilla. Beat in one egg.
2. Combine 1 cup all-purpose flour, 1/2 teaspoon baking soda, 1/2 teaspoon salt, then stir into cookie mixture.
3. Mix in 1 cup (6-ounce package) chocolate Chipits® (or any brand) and 1/2 cup chopped nuts.
4. Drop by teaspoon onto greased cookie sheet. Bake 10 to 12 minutes in 375°F oven. Makes about 3 dozen cookies.
Chocolate Chip Oatmeal Cookies

2 cups sifted flour
1 teaspoon baking soda
1 teaspoon salt
1 cup shortening
1 cup brown sugar
1 cup white granulated sugar
2 eggs
1 tablespoon water
1 teaspoon vanilla
1-1/2 cup Quaker™ Oats, uncooked
1-1/2 cups Corn Flakes®, crushed
1 package chocolate chips
1 cup raisins
1 cup coconut, approximately
Mix ingredients and bake cookies on a greased sheet at about 350°F until done.
Chocolate Mounds Cookies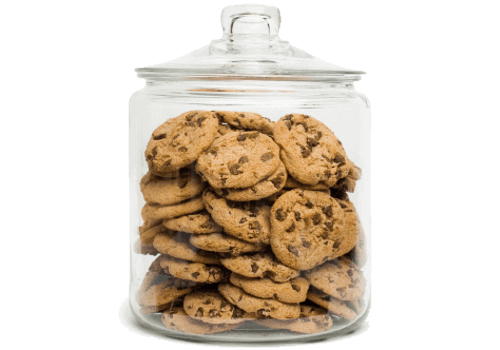 Bake Chocolate Chip Cookies
(Source: ©iStock.com)
The "Dwarf Chocolate Mounds" called for in this old fashioned chocolate chip cookies recipe are today commonly known as chocolate chips.

Everybody loves these chocolatey cookies. Whoever makes them loves them, too, because the whole process is so easy and such fun. The only tedious part is creaming the butter, and even that isn't bad if you let it warm up to room temperature before you start.
Then beat 1/2 cup butter with a fork, keeping at it till butter is light and creamy. Into this go 6 tablespoons of white sugar and 6 tablespoons of brown sugar, mixed; add it slowly and beat thoroughly into the butter.
Then 1 egg and 1/2 teaspoon of vanilla, also well beaten in. Now measure 1 cup of ordinary flour, add 2 tablespoons more for good measure, and sift it with 1/2 teaspoon of salt and 1/2 teaspoon of baking soda.
Stir into the other mixture and finish off with 1/2 cup of chopped nuts and 1/2 cup of those Dwarf Chocolate Mounds they sell for just such cookies as these.
If you can't buy the mounds, the next best thing is to chop up a bar of semisweet chocolate into chunks about the same size.
Drop the batter from a teaspoon onto a well-greased cookie sheet, put into 375°F oven and bake at this heat for about 8 minutes. You'll have enough for 12 to 15 cookies. —Calling All Girls Magazine, January 1945
Chocolate Chip Ice Cream Sandwich

Ice Cream Sandwich Made With Chocolate Chip Cookies
Source: ©StephanieFrey/Depositphotos.com)
For a delicious dessert idea, simply flatten a small scoop of your favorite flavor of ice cream between two old fashioned chocolate chip cookies to make a sweet and refreshing sandwich.