Peach Pie Recipes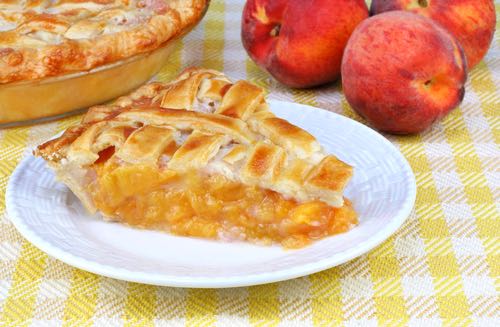 Slice of Homemade Old Fashioned Peach Pie
(Source: ©rojoimages/Depositphotos.com)
You'll love these old fashioned peach pie recipes. They are true nineteenth-century classics. Just imagine the flavorful taste of sweet, juicy peaches encased in a rich, flaky pie crust. You will savor each forkful. In fact, you'll want seconds!
And remember, nothing goes better with a slice of warm-from-the-oven pie made with peaches than a big scoop of homemade vanilla ice cream. These two treats were made for each other — peaches and cream. Make an old-fashioned pie today.


Old Fashioned Peach Pie Recipes
Aunt Babette's Cook Book (1889)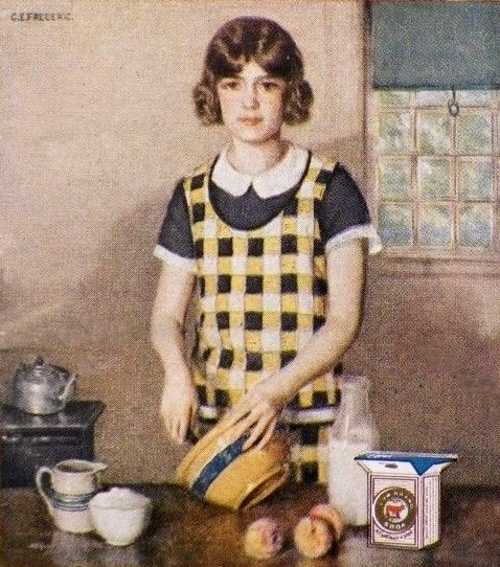 Baking Delicious Peach Pies from Scratch
(Source: Adapted from Cow Brand Baking Soda booklet, c.1923)
No-Bake Peach Cream Pie
Line a pie plate with a rich crust and bake, then fill with a layer of sweetened grated peaches which have had a few pounded peach kernels added to them.
Then whip one cupful of rich cream, sweeten and flavor, and spread over the peaches. Set in ice-chest until wanted.


Peach Meringue Pie
Line a pie plate with a rich pie crust, cover thickly with peaches that have been pared and sliced fine (canned peaches may be used when others are not to be had), adding sugar, and cover with strips of dough and bake quickly.
If you do not mind the expense, spread over the peaches a meringue made by whipping the whites of three eggs to a stiff froth and sweetening with a tablespoonful of pulverized sugar for each egg.
Add half a teaspoonful cream of tartar to the meringue; flavor with vanilla and set back in the oven until the meringue begins to color. Take out carefully.
Eat cold. Delicious served with cream.


Peach Meringue Pie
Pare, stone and slice the peaches. Line a deep pie plate with a rich paste, sprinkle a very little cornstarch over the bottom crust and lay in your fruit, sprinkling sugar liberally over them in proportion to their sweetness.
Add a few peach kernels, pounded fine, to each pie, and bake with crossbars of paste across the top.
If you want it extra fine, whip the whites of three eggs to a stiff froth and sweeten with about four teaspoonfuls of pulverized sugar, adding a teaspoonful cream of tartar and spread over the pie and return to the oven until the meringue is set.
Eat cold.


Old Fashioned Peach Pie Recipe

The Dominion Home Cook-Book (1868)


Canadian Deep Dish Peach Pie
The Dominion of Canada was only one year old when this traditional peach pie recipe was first published in 1868.
Take mellow juicy peaches, wash and put them in a deep pie plate, lined with pie crust. Sprinkle a thick layer of sugar on each layer of peaches, put in almost a tablespoonful of water and sprinkle a little flour over the top, cover it with a thick crust and bake the pie from fifty to sixty minutes.


Old Fashioned Peach Pie Recipe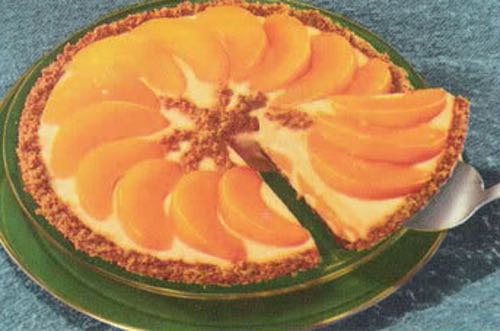 Enjoy Party Peach Pie for Your Next Get-together
(PD Source: Mary Lee Taylor Recipes)
Mary Lee Taylor Recipes (c.1940)


No Bake Party Peach Pie

Evaporated Milk

To substitute 1 cup evaporated milk, gently simmer 2-1/4 cups whole milk in a saucepan until reduced to 1 cup.

Wonderful flavor — no baking at all!
One can Cling Peach Slices in syrup is needed for the recipe.
1. Mix 2 tablespoons melted butter, 1/2 cup graham cracker crumbs.
2. Save 2 tablespoons crumb mixture for 6-inch pie. Press rest of crumbs firmly in bottom and on sides of pie pan. Chill.
3. Mix 2 tablespoons sugar, 4 teaspoons cornstarch, pinch of salt.
4. Stir in slowly until smooth 1/3 cup peach syrup from can, 1/3 cup PET Evaporated Milk.
5. Add 1 teaspoon butter.
6. Stir over boiling water until thick and smooth. Then cook 10 minutes, stirring now and then.
7. Remove from heat and stir in 1 slightly beaten egg yolk.
8. Cook and stir over boiling water until mixture thickens, or about 3 minutes. Cover and cool.
9. When custard is cold, add 1/3 teaspoon vanilla flavor.
10 Pour half of custard into crumb-lined pan.
11. Arrange on custard half of canned cling peach slices, well drained.
12. Cover peaches with rest of custard. Arrange rest of peaches on top. Put rest of crumbs in center, between peach slices. Chill 3 hours or longer.


Apple or Peach Meringue Pie Recipe

The White House Cook Book (1913)


Old Time Peach pie Recipe with Meringue Topping

Stew the apples OR peaches and sweeten to taste. Mash smooth and season with nutmeg. Fill the crusts and bake until just done. Put on no top crust.
Take the whites of three eggs for each pie and whip to a stiff froth, and sweeten with three tablespoonfuls of powdered sugar. Flavor with rose-water or vanilla; beat until it will stand alone; then spread it on the pie one-half to one inch thick; set it back into the oven until the meringue is well "set."
Eat cold.


My Unforgettable Peach Pie
My unforgettable peach pie! I recall attending a men's breakfast at a little country church back in the early 1980s, where the Women's Institute had prepared the men's brunch.
There were so many homemade pie flavors to choose from after the meal of pancakes, bacon, sausages, and scrambled eggs, but I didn't have to make a choice.
While holding a large deep-dish peach pie, my cousin's husband seated next to me asked, "Do you like peaches, Don?"
Before I could reply, Roy had deftly sliced the pie in half, sliding one half onto my plate and the other onto his! It was delicious as expected and not surprisingly, quite filling.
As soon as we finished, he looked over the remaining selection of pies and asked me what my favorite was. I mumbled that I wasn't sure I liked pie all that much, afraid he'd land another half pie onto my plate.

By the way, I still love peach pie!


Related Pages You May Like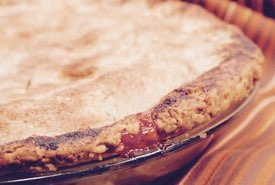 Homemade Pies
TARTS

CHEESECAKES

HOW TO MAKE PIES