Muffin Recipes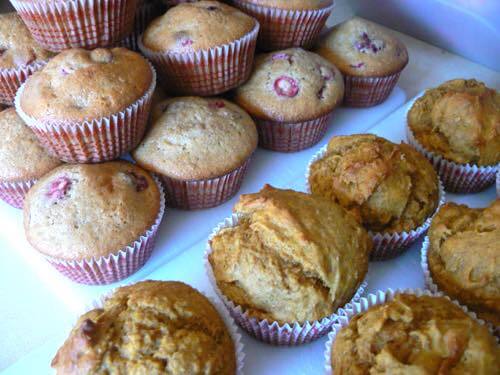 Make Easy Homemade Muffins from Scratch
(Source: DIYplr)
You'll love Grandma's old fashioned muffin recipes. When you want a quick and easy dessert that's also a delicious comfort food, you can't beat homemade muffins.
Best when served warm from the oven with a dab of butter, they taste absolutely divine when spread with flavored cream cheese or your favorite jam or jelly. You'll love the dessert muffins too!

Old Fashioned Muffin Recipes

Mom's Recipe Scrapbooks (ca. 1920s)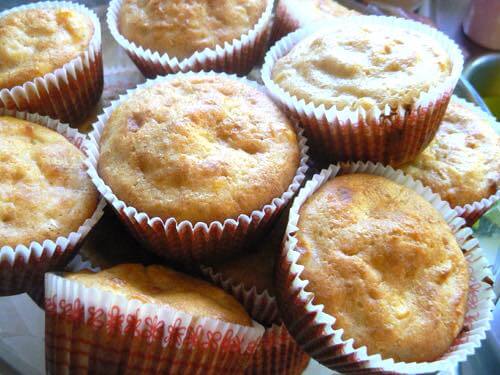 Vintage Recipe for Corn Muffins Using Chopped Corn
(Source: DIYplr)
Corn Muffins

Traditional cornbread muffins are made with cornmeal, but if you don't have any on hand, or you prefer the sweet taste and texture of fresh corn, you'll find this vintage corn muffin recipe very easy to make, and the muffins taste delicious.
Grandma's Tip

Left over muffins from breakfast may be pulled, not cut apart, and toasted for lunch.

Ingredients:
3 cups corn kernels (use fresh, canned, or frozen)
2 cups whole wheat flour (or all-purpose flour)
2/3 cup sugar
1 tablespoon baking powder
Pinch or two of salt
4 eggs, beaten
2 cups milk
1/2 cup vegetable oil
Method:
Chop the corn until it looks similar to the corn in the photo below. However, do not create a puree, unless you want to hide the texture of the corn in the muffins.
Cornbread muffins are actually quite delicious with little bits of corn in them, so simply chop your corn and set aside.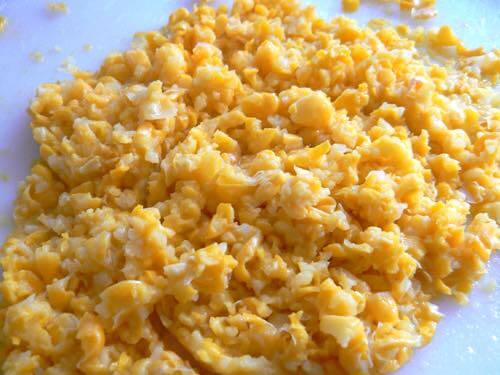 Chopped Corn for Making Corn Muffins
(Source: DIYplr)
Combine all the dry ingredients in a large bowl, including the flour, sugar, baking powder, and salt.
Then, add the beaten eggs, milk and vegetable oil. Stir ingredients until well combined as shown below.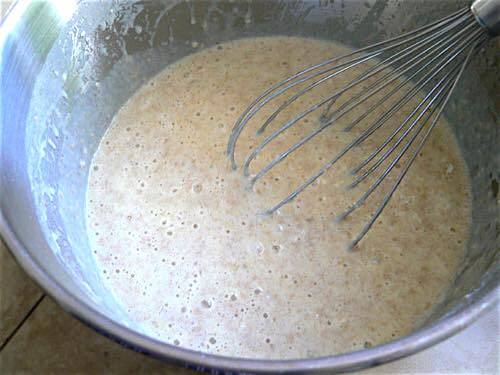 Corn Muffin Batter
(Source: DIYplr)
Now, fold in the chopped corn, until it is evenly distributed throughout the batter.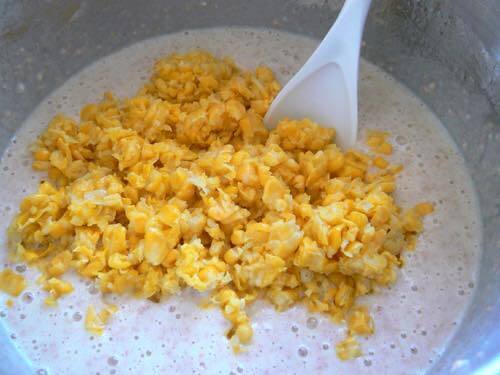 Fold Chopped Corn into Muffin Batter
(Source: DIYplr)
Next, pour the batter evenly among 24 muffin tins, but do not over fill; leave some space for the batter to expand during baking.
The paper muffin cups are optional, though they make cleanup and serving easier. Mom always preferred to use them.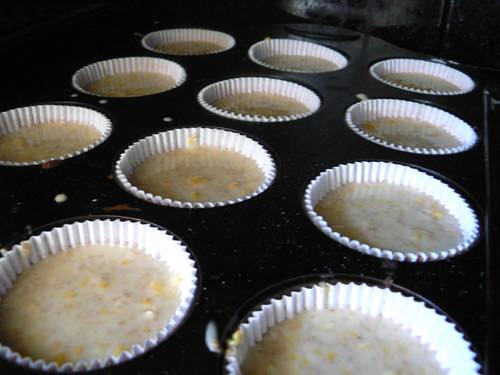 Corn Muffins Ready for the Oven
(Source: DIYplr)
Bake in hot oven (400°F) for about 20 to 25 minutes until done.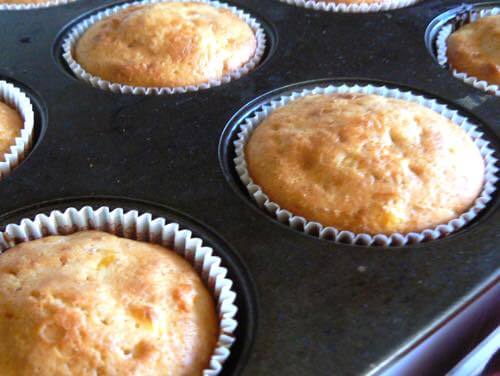 Perfectly Baked Corn Muffins
(Source: DIYplr)
You'll know they are done when you can gently press your finger on the top, and the muffin springs back. Serve warm with a little butter.

Apricot Orange Muffins
1/2 cup dried apricots
1 cup orange juice
1/2 cup raisins
2 eggs, lightly beaten
1/4 cup butter, melted
1-1/2 teaspoon vanilla
2 cups all-purpose flour
1/4 cup brown sugar
2 teaspoons baking powder
1 teaspoon baking soda
Pinch of nutmeg
Coarsely chop apricots. In medium bowl combine orange juice, apricots, raisins, eggs, butter, and vanilla. In large bowl combine flour, sugar, baking powder, baking soda, and nutmeg.
Stir in orange juice mixture until blended. Spoon into greased muffin cups, filling 3/4 full.
Bake in oven 350°F for 20 to 25 minutes or until muffins are golden and tops are firm to touch. This old fashioned muffin recipe makes about 14 apricot orange muffins.

Banana Muffins
3/4 cup white sugar
1/2 cup butter or shortening
1 egg
1 cup mashed bananas
1 teaspoon baking soda dissolved in 1 tablespoon hot water
1-1/2 cups flour
1/4 teaspoon nutmeg, if desired
Pinch of salt
Vanilla, to taste
For this old fashioned muffin recipe, combine sugar and shortening, add egg, then bananas, and soda.
Mix in flour, nutmeg, and salt. Add vanilla to taste. Bake in 375°F oven for 20 to 25 minutes. —B. Lee

Date Muffins

1 cup chopped dates, 1/2 teaspoon baking soda; put in a cup and cover with boiling water; let stand till cool. 1 egg, 1 scant cup white sugar, 2 tablespoons butter; beat to a cream, then add dates, 1-1/2 cups flour, 1 teaspoon baking powder, 1 teaspoon vanilla.
Bake in muffin tins or loaf pan at 350°F for about 25 minutes, or until done. —Mrs. N. Gillis

Old Fashioned Bran Flakes Muffins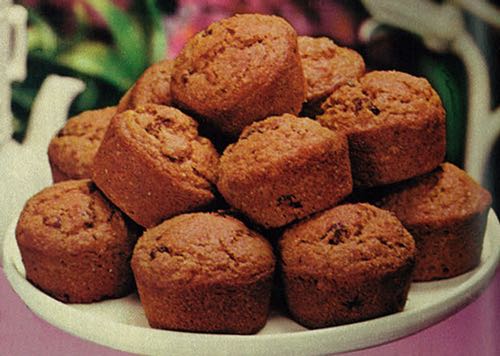 Old Fashioned Bran Muffins with Raisins
(Source: ©Don Bell)
I loved these bran flakes muffins when I was a kid. Mom would often make them, and we'd have them as a morning snack on the farm.

1-1/2 cups bran flakes cereal
2/3 cup milk
1 egg
1/4 cup shortening, softened
1 cup sifted flour
2-1/2 teaspoons baking powder
1/2 teaspoon salt
1/4 cup sugar
For this vintage muffin recipe, combine bran flakes and milk, let stand until moist, then add egg and shortening and beat well. Sift flour, baking powder, salt, sugar into bran mixture, stir only until combined.
Fill 12 greased muffin tins 2/3 full. Raisins may be added to the batter, if desired. Bake in hot oven (400°F) for 25 to 30 minutes, until browned.

Pumpkin Spice Muffins

Put 2/3 cupful of cooked pumpkin into a bowl, then add 1/4 cupful of sugar, 1 well-beaten egg, 2-3/4 cupfuls of flour, 1/2 teaspoonful of salt, 3 teaspoonfuls of baking powder, and 2 tablespoonfuls of melted butter.
If desired, 1/8 teaspoonful each of powdered nutmeg and cinnamon, or 1/4 teaspoonful ginger may be added.
Mix well and bake at 350°F in buttered and floured muffin pans for twenty-five minutes.

Grandma's Old Time Cream Muffins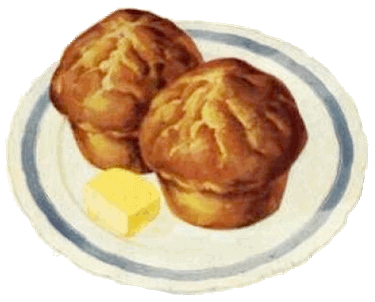 Grandma's Old Fashioned Cream Muffins
(Source: Adapted by Don Bell)
3 eggs
1 teaspoon salt
2 tablespoons sugar, level
2 teaspoons baking powder
1 pint light cream
All-purpose flour, enough to make stiff batter
Beat eggs light, add salt, sugar, baking powder, and cream. Add flour until it becomes a stiff batter. Grease muffin pans, fill and bake in quick (425°F) oven.

Orange Muffins

Grandma's Tip

For orange juice, dilute 1/2 cup frozen orange juice concentrate with 1/2 cup water for extra flavor.

1 egg
2 tablespoons sugar
1 cup orange juice
1/3 cup melted butter, cooled
1-7/8 cups all-purpose flour
1 tablespoon baking powder
1/4 teaspoon salt
In a bowl beat together the egg and sugar, then stir in juice, and butter. Stir baking powder and salt into flour and add all at once, stirring just enough to blend, but do not over stir, as the batter should be lumpy.
Spoon batter into 12 buttered 2-1/2 inch muffin cups. Bake 15 to 18 minutes in 400°F oven.

Old Time Soda Raisin Muffins

1 cup and 2 tablespoons flour
1/4 cup and 1 teaspoon sugar, divided
1 teaspoon baking powder
1/4 teaspoon baking soda
1/4 teaspoon salt
1/2 cup sour cream
2 tablespoons of vegetable oil
2 tablespoons egg, beaten
1/3 cup raisins
Instructions:
For this old fashioned muffin recipe, dump the flour in a mixing bowl. Add 1/4 cup sugar and toss to combine. Toss in the baking powder, soda, and salt until thoroughly blended.
In a different bowl place the sour cream. Pour in the vegetable oil and add the egg. Whisk until the ingredients are combined well and smoothly.
Stir the sour cream mixture into the flour mixture just until the dry ingredients are moistened. Fold in the raisins being sure they are incorporated well into the batter.
Set the oven temperature to 400°F and allow the oven to heat while finishing the muffins. Line a muffin tin with six paper liners. Fill each muffin cup half-full of the batter.
Sprinkle the top of each one with the remaining sugar. Bake 15 minutes or until a toothpick inserted in the center comes out clean. Allow the muffins to cool 5 minutes before removing to a rack to cool to desired temperature.
For a pleasant change, add blueberries or dried cranberries instead of the raisins. They make the perfect muffin for breakfast.

Auntie's Whole Wheat Muffins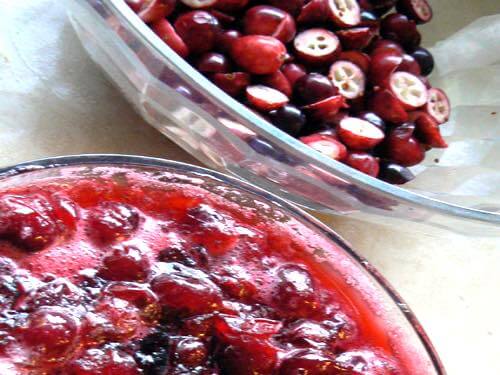 Cranberries Are Delicious in Vintage Muffins
(Source: DIYplr)
3 tablespoons sugar
2 or 3 tablespoons shortening, softened
1 egg
1 cup flour
4 teaspoons baking powder
Pinch of salt
1-1/8 cups milk
For this old fashioned muffin recipe, cream sugar and shortening, add egg. Mix flour, baking powder, and salt together, then add alternately with milk. Put batter in greased muffin tins and bake in a hot oven (400°F) about 25 minutes.
Cranberries or raisins may be added to the batter, if desired.

I absolutely love this website you have lovingly created. I made Auntie's Whole Wheat Muffins that rose nice and high and were delicious. Thank you. —Dawn, USA

An Old Fashioned Way to Bake Muffins

Muffins may also be baked in rings on a hot griddle, and many prefer this method to baking in the oven. As the muffins cook and stiffen, slip off the rings and let them finish on the griddle or frying pan. Works with almost any of the old fashioned muffin recipes.

Fancy Dessert Muffins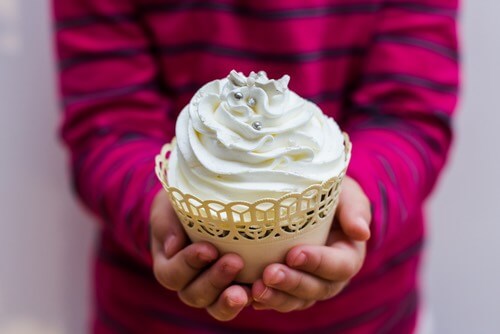 Add a Sweetened Topping and Enjoy Fancy Dessert Muffins
(Source: ©MitaStockImages/Depositphotos.com)
Muffins tend to be more nutritious and tastier than cupcakes, so why not go all out and serve them for a dessert instead?
Bake a selection of vintage muffins using your favorite old fashioned muffin recipes, add generous toppings of icing or whipped cream, decorate with sprinkles or berries, and you've got delicious dessert treats to delight your guests.

Chocolate Mocha Muffins
Decorating Suggestions for Chocolate Mocha Muffins
(Source: ©ISOstudio/Depositphotos.com)
These muffins are Heaven! They are great when the time comes to relax and just enjoy a few quiet moments. Try this old fashioned muffin recipe today.

1 cup all-purpose flour
3 tablespoons cocoa, unsweetened
1/3 cup and 1 tablespoon sugar
1-1/2 teaspoons baking soda
1/2 teaspoon baking powder
1/4 teaspoon salt
2/3 cup buttermilk
1 teaspoon freeze dried coffee powder
3 tablespoon canola oil
2 egg whites
1/2 teaspoon vanilla
3/4 cup bittersweet chocolate, chopped
1/2 cup powdered sugar
2 teaspoons brewed coffee
Grease muffin tin or use paper muffin cups.
Preheat the oven to 375°F.
In a small mixing bowl blend together the buttermilk and coffee powder until all the powder has completely dissolved. Add the oil, egg whites, and vanilla being sure to stir well.
Sift the flour, cocoa powder, sugar, baking soda, baking powder, and salt together in a large mixing bowl. Pour the liquid into the flour mixture. Stir with a wooden spoon to moisten. Fold in the chopped chocolate.
Pour each muffin cup 2/3 full of batter. Bake 23 minutes or until a toothpick inserted comes out clean. Remove muffins to a wire rack and allow to cool completely. Top with Coffee Glaze Topping or decorate with a butter cream icing.

Optional Coffee Glaze Topping:
Mix together the powdered sugar and brewed coffee until smooth and thick. Drizzle the glaze over the top of the cooled muffins.

Related Pages You May Like