Easy Lemon Muffin Recipe

You'll love making Grandma's easy lemon muffin recipe from scratch. The zesty orange glazing lends a fresh citrus note to these moist and delicious homemade muffins.
You'll also love eating them with your morning coffee or for serving to your best friends. Just follow the step by step illustrated instructions.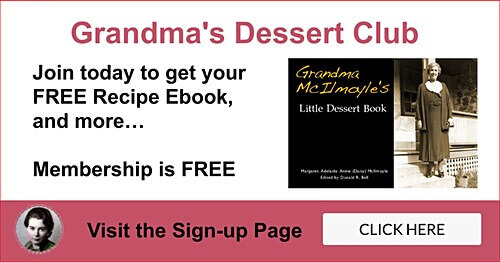 Easy Lemon Muffin Recipe Made from Scratch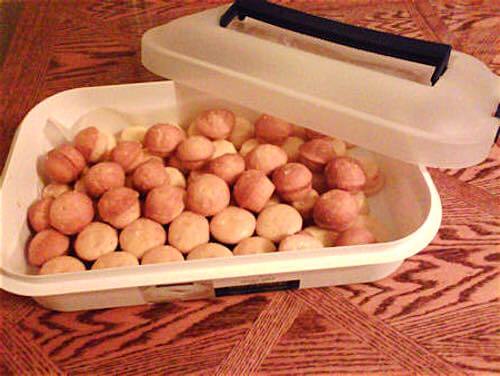 Easy Homemade Lemon Muffins with an Orange Glaze
(Source: DIYplr)
Follow the step-by-step instructions below, and you'll make the best lemon muffins you've ever tasted. Plus, you'll be able to use the same method to make other favorite muffin recipes from scratch.

Ingredients for Lemon Muffins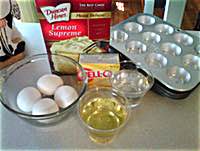 Muffin Ingredients
1 package Lemon Cake Mix (yellow, if preferred)
3 to 4 ounce (96 grams) package lemon flavor instant pudding mix
4 eggs, extra large (or 5 medium)
3/4 cup cold water
3/4 cup vegetable oil

Ingredients for Orange Glaze

Glaze Ingredients
3 cups confectioners' sugar
1/2 cup frozen orange juice concentrate, thawed
3 tablespoons melted butter
3 tablespoons water
Orange zest, optional

Baking Method
To begin this easy lemon muffin recipe, assemble all the ingredients called for in the recipe and have them handy for when you'll need them.

Preheat oven to 325°F and spray your muffin pans with cooking spray for quick and easy release of muffins after baking.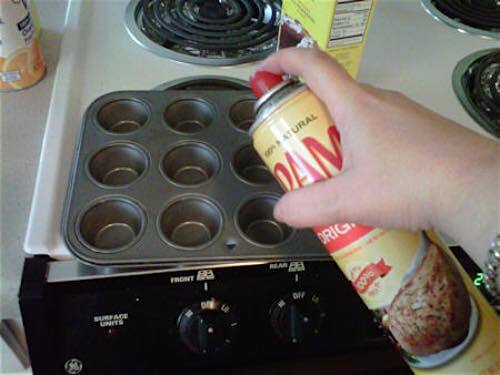 Spray Muffin Pans Lightly with Cooking Oil
(Source: DIYplr)
Combine cake mix, pudding mix, eggs, water, and oil, and beat ingredients together until thoroughly mixed.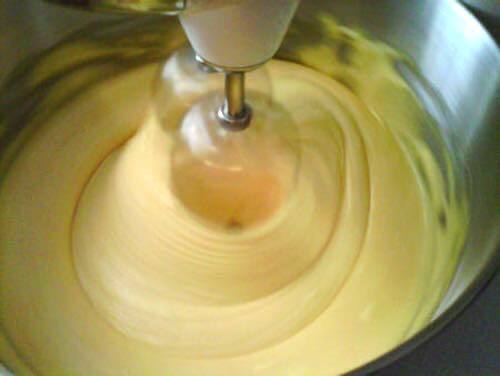 Beat Muffin Ingredients Thoroughly
(Source: DIYplr)
Arrange muffin pans in preparation for next step.

Arrange Muffin Pans for Filling with Batter
(Source: DIYplr)
Add about 1 tablespoon of lemon muffin batter to each pan until filled about halfway.
Tips for adding batter to the muffin pan:
Use a 1 tablespoon measuring spoon and overfill it since not all the batter will come off the measuring spoon.
To avoid dripping, flip the spoon over as you're bringing it out so that the drip rolls onto the back of the spoon.

Add Tablespoon of Lemon Muffin Batter to Pans
(Source: DIYplr)
Wipe any excess batter off top of pan and smooth muffin pan edges. This not only improves the appearance of your baked muffins, but it prevents excess batter from burning onto your pans.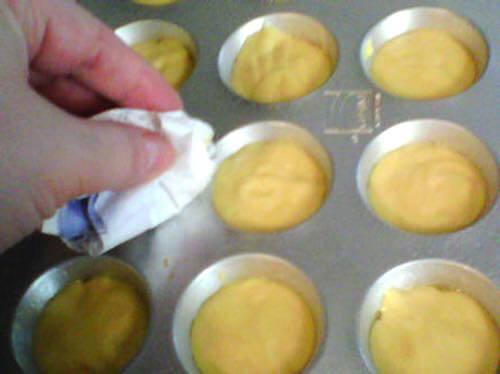 Wipe Off Excess Batter and Smooth Edges
(Source: DIYplr)
If you have leftover batter, spray another pan and make more muffins. I usually make a pan of larger muffins.
These can be iced with cake icing, or you can use the orange glaze; however, you will likely need to make extra glaze if you plan to do that.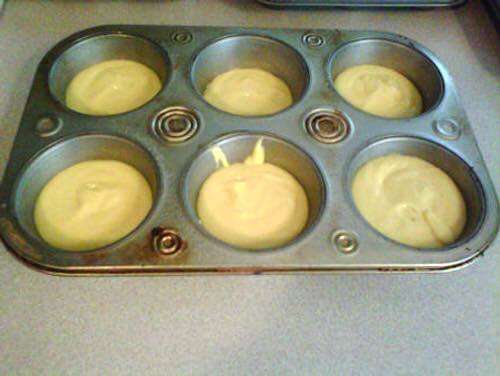 Leftover Muffin Batter Ready for Baking
(Source: DIYplr)
Arrange pans in preheated oven and set the timer. I prefer to cook mine at 325°F for about 12 minutes.
You may want to try 10 minutes first, then check to see whether they are done.

Arrange Muffin Pans in 325°F Oven for Baking
(Source: DIYplr)
While the muffins are baking, mix the ingredients for the orange glaze and stir until it's thoroughly mixed.
If you have a fresh orange available, you can add a little zest to the mixture for added flavor.

Combine the Ingredients for the Orange Glaze
(Source: DIYplr)
Aside from this easy lemon muffin recipe, the orange glaze is also excellent when used as a topping for pound cakes.

Orange Glaze Mixture Thoroughly Mixed
(Source: DIYplr)
When the 10 to 12 minutes baking time is up, use a toothpick to check muffins to see whether they are done. If done, the toothpick should come out clean without any batter sticking to it.
NOTE: Darker pans cook faster so if you want all your muffins to look the same, you can take those pans out a little sooner. Otherwise, don't worry about it.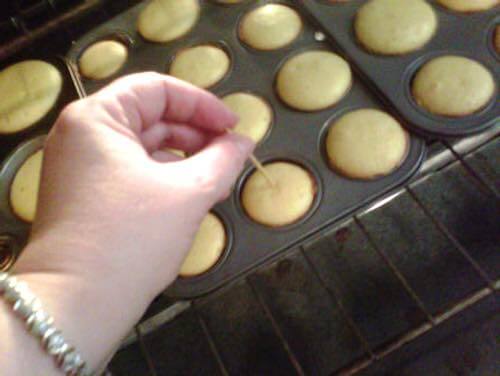 Use a Toothpick to Check Muffins for Doneness
(Source: DIYplr)
Carefully remove each muffin and place it on a large piece of wax paper. Using a fork, carefully loosen and raise one side and lift the muffin out.

How to Remove Muffins from Pan with a Fork
(Source: DIYplr)
Arrange the muffins close together ready for glazing. This is just a personal work preference.

Arrange Muffins for Dipping in Glaze Mixture
(Source: DIYplr)
Dip each muffin into the orange glaze. I dip the bottom first then flip it with my fork and let the top soak up some glaze as well.
If you aren't sure how much orange glaze you might like, you may want to try dipping just the muffin top first and taste it.

Use a Fork to Dip Muffins into Orange Glaze Mixture
(Source: DIYplr)
Hold muffin over the bowl for a moment to allow any excess glaze to drain before placing the muffin back onto the wax paper.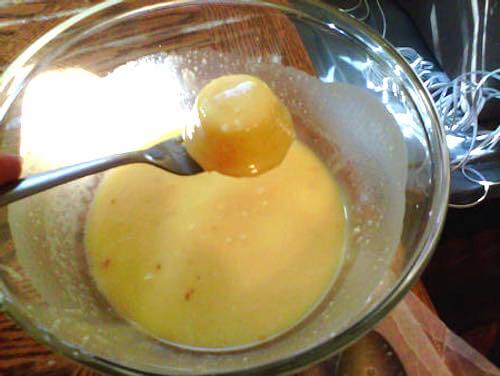 Drain Excess Glaze Mixture from Muffin
(Source: DIYplr)
Once all muffins have been dipped and dunked and have lots of glaze, cover them with wax paper and allow the glaze to dry.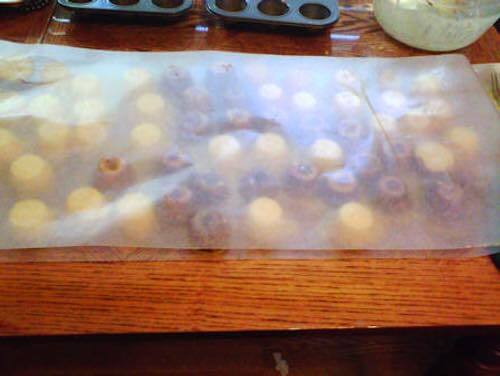 Cover Glazed Muffins with Wax Paper
(Source: DIYplr)
Package your tasty muffins in an airtight container for transport or for serving fresh and moist later.
Why not try this easy lemon muffin recipe tonight? Enjoy serving your glazed muffins to friends and family. They will LOVE them!

Easy Lemon Muffin Recipe With Blueberries

1 cup skim milk
1/4 cup canola oil
2 tablespoons lemon juice
1 egg white
1 teaspoon grated lemon rind
1 teaspoon vanilla extract
2 cups all-purpose flour
3/4 cup sugar
2 teaspoons baking powder
1/2 teaspoon salt
1/4 teaspoon cinnamon
1-1/3 cups frozen blueberries (unthawed)
Preparations: Preheat oven to 375°F and grease or spray muffin tin cups well with a non stick cooking spray.
In a small mixing bowl stir together the milk, oil, lemon juice, egg white, lemon rind, and vanilla extract.
In a large mixing bowl combine the flour, sugar, baking powder, salt, and cinnamon. Pour the liquid mixture into the flour mixture and stir until just moist. Then fold in the blueberries.
Pour batter into the muffin cups filling each 3/4 full. Bake 20 minutes at 375°F, or until golden brown.
Using extra large eggs can cause your muffins to be a little runny. If using extra large eggs, increase the flour by adding 1 tablespoon to the batter. This will ensure that this easy lemon muffin recipe turns out just right.