Corn Muffin Recipe Without Cornmeal
Corn Muffin Recipe Without Cornmeal

Make this easy corn muffin recipe without cornmeal by following the step-by-step instructions. These farmhouse-style muffins made from genuine sweet corn on the cob are totally delicious when served warm from the oven with butter!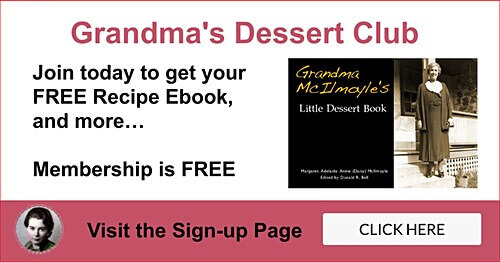 Mom's Sweet Corn Muffin Recipe Without Cornmeal

Mom's Recipe Scrapbooks (ca. 1920s)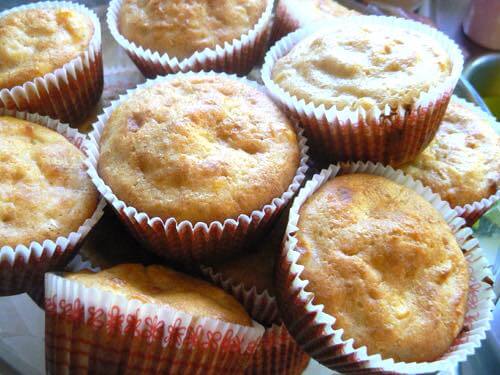 Make Homemade Muffins Using Chopped Sweet Corn
(Source: DIYplr)
Sweet Corn Muffins From Scratch

Traditional corn muffins are usually made with cornmeal, but if you don't have any on hand, or you prefer the sweet taste and texture of fresh corn on the cob, you will find this corn muffin recipe without cornmeal very easy to make, and the muffins will taste so moist and delicious.

Ingredients:
3 cups corn kernels (use fresh off the cob, canned, or frozen)
2 cups whole wheat flour (or all-purpose flour)
2/3 cup sugar
1 tablespoon baking powder
Pinch or two of salt
4 eggs, beaten
2 cups milk
1/2 cup vegetable oil
Method:
Chop the corn until it looks similar to the corn in the photo below. However, do not create a puree, unless you want to hide the texture of the corn in the muffins.
Cornbread muffins are actually quite delicious with little bits of corn in them, so simply chop your corn and set aside.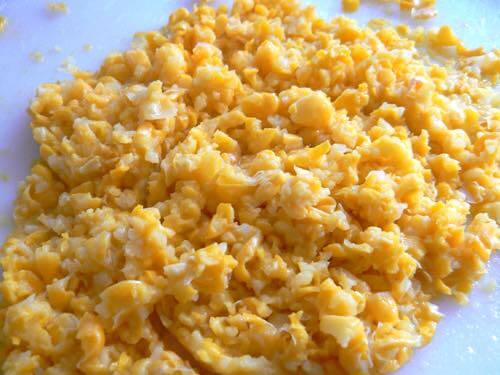 Chopped Corn for Making Sweet Corn Muffins
(Source: DIYplr)
Combine all the dry ingredients in a large bowl, including the flour, sugar, baking powder, and salt.
Then, add the beaten eggs, milk and vegetable oil. Stir ingredients until well combined as shown below.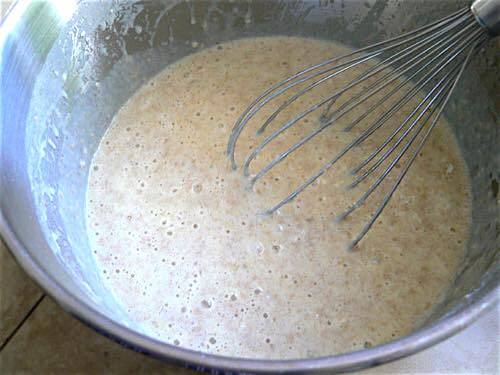 Muffin Batter Ready for the Corn to be Added
(Source: DIYplr)
Now, fold in the chopped corn using a spatula, until it is evenly distributed throughout the batter.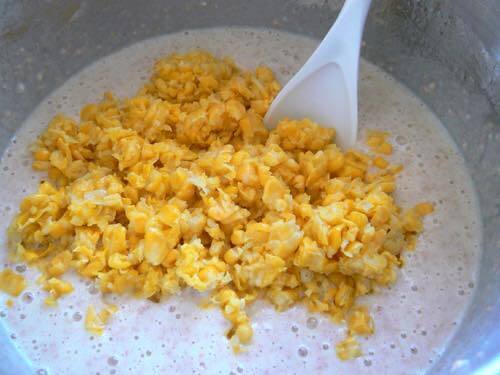 Fold Chopped Corn into the Muffin Batter
(Source: DIYplr)
Next, pour the batter evenly among 24 muffin tins, but do not over fill; leave some space for the batter to expand during baking.
The paper muffin cups or liners are optional, though they make cleanup and serving easier. Mom always preferred to use them with her muffin recipes.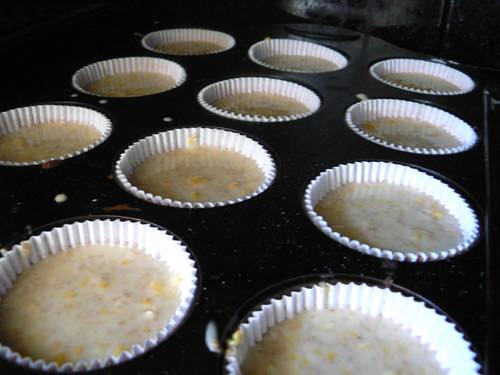 Sweet Corn Muffins Ready for the Hot Oven
(Source: DIYplr)
Bake muffins in hot oven (400°F) for about 20 to 25 minutes until done.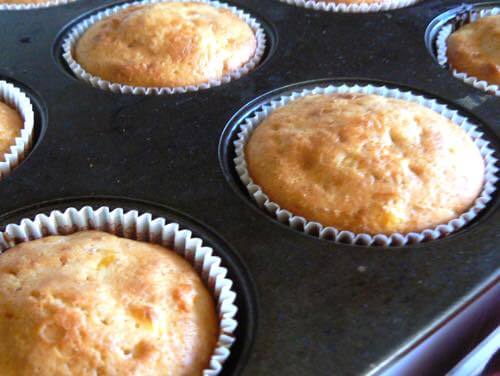 Perfectly Baked Sweet Corn Muffins Ready to Enjoy
(Source: DIYplr)
You'll know your muffins are done when you can gently press your finger on the top, and the muffin springs back. Serve warm with a little butter, honey, or fruit preserves.

Cornbread Muffins With Cornmeal

In contrast to the corn muffin recipe without cornmeal above, this old fashioned muffin recipe calls for the traditional cornmeal

Grandma's Tip
Left over muffins from breakfast may be pulled, not cut apart, and toasted for lunch.

Ingredients:
2 cup white cornmeal
1 teaspoon salt
2 cups boiling water
2 cups milk
4 egg whites
4 teaspoons baking powder
1 tablespoon butter, melted
Directions:
Preheat the oven to 425°F. Either grease or spray a muffin tin well with a non stick cooking spray. Place the cornmeal and salt in a large mixing bowl and blend together. Pour the boiling water over the cornmeal and quickly stir until the cornmeal is moistened well. Add the milk and again stir quickly or the cornmeal will ball up.
With an electric egg beater on low speed, beat in the egg whites until mixed in well. Add the baking powder and continue to beat for 1 minute. Add the melted butter and mix with a rubber spatula until incorporated into the mix well.
Pour each muffin cup 3/4 full of the batter. Bake about 20 minutes or until muffins are golden brown and a toothpick inserted in the center comes out clean. Spread a little butter on the top of each muffin before serving.

Hotel St Francis Corn Muffins

Hotel St. Francis Cook Book (1919)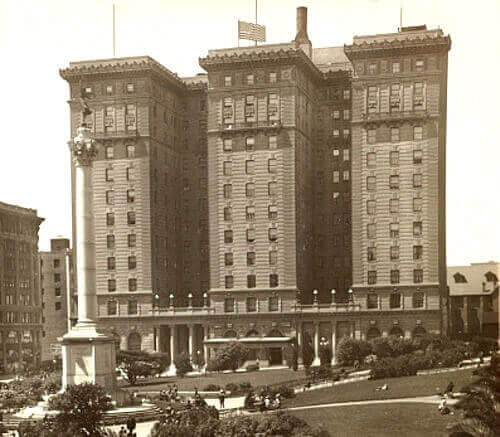 The St. Francis Hotel, San Francisco, CA in 1911
(PD Source: Library of Congress - stereo.1s10576)
Whether you make homemade muffins using the corn muffin recipe without cornmeal or use the following recipes from Chef Victor Hirtzler's 1919 Hotel St. Francis Menu that call for cornmeal, you are bound to enjoy the delicious taste of old fashioned corn muffins.

St Francis Hotel Corn Muffins

One-half pound of cornmeal, one-half pound of flour, two ounces of melted butter, four eggs, one pint of sour milk, one-half cup of molasses, one teaspoonful of soda, and one teaspoonful of salt.
Sift together the cornmeal, flour, and salt. Dissolve the soda in the sour milk, add the eggs, well beaten, the molasses, the butter, and the sifted ingredients. Beat well, and bake in a well-greased muffin pan until done. (400°F)

Maryland Cornbread Muffins

Beat two eggs until very light, and stir in one pint of sweet milk. Then sift one-half pint of coarse cornmeal, add a teaspoonful of yeast powder, half a teaspoonful of salt, and a tablespoonful of melted lard or butter. Stir this into the milk and eggs. Mixture must be a thin batter. Bake in small bread pan or muffin rings (400°F).