Homemade Molasses Cookie Recipes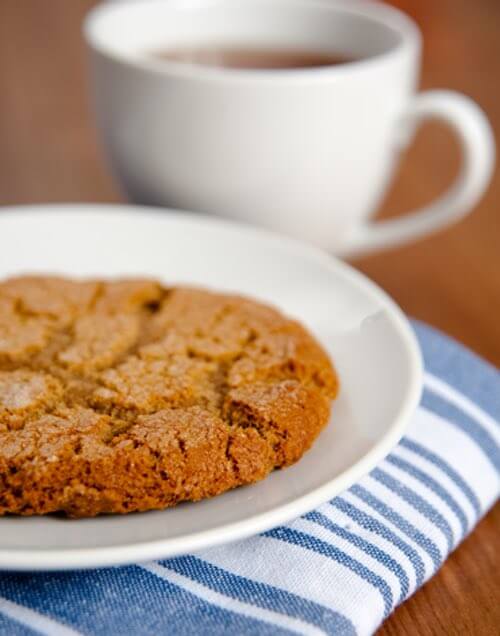 Try the Old Time Molasses Cookie Recipes
(Source: ©annahoychuk/Depositphotos.com)
You'll find some great molasses cookie recipes here. These are some of the best homemade cookie recipes from Grandma's collection, and they are all easy to make. Experience the authentic, old fashioned taste of sweet molasses cookies just like the ones Grandma used to make.


Fannie Farmer's Molasses Cookies

The Boston Cooking-School Cook Book (1916)


Sometimes, instead of rolling the molasses cookie dough into traditional cookie shape, Mom would form the dough into little balls and coat them with sugar before baking. Try it. They're delicious!
Old Time Molasses Cookies
1 cup molasses, 1/2 cup shortening (butter and lard mixed), 1 tablespoon ginger, 1 tablespoon soda, 2 tablespoons warm milk, 2 cups bread flour. You may also wish to add 1/2 teaspoon salt.
Heat molasses to boiling point, add shortening, ginger, soda dissolved in warm milk, and flour. Proceed as for Ginger Snaps.


Soft Molasses Cookies
1 cup molasses, 1-3/4 teaspoons soda, 1 cup sour milk, 1/2 cup shortening melted, 2 teaspoons ginger, 1 teaspoon salt, flour.
Add soda to molasses and beat thoroughly; add milk, shortening, ginger, salt, and flour. Enough flour must be used to make mixture of right consistency to drop easily from spoon. Let stand several hours in a cold place to thoroughly chill.
Toss one-half mixture at a time on slightly floured board and roll lightly to one-fourth inch thickness. Shape with a round cutter, first dipped in flour. Bake on a buttered sheet.


Molasses Drop Cakes
1 cup molasses, 1/2 cup melted butter, 1 cup sugar, 2 teaspoons soda, 1 cup hot water, 1 egg, 2 teaspoons sugar, 1/2 teaspoon salt.
Mix molasses, butter, and sugar. Add soda and beat thoroughly, then add water, egg well beaten, and flour mixed and sifted with ginger and salt. Drop by spoonfuls on a buttered sheet. Bake twelve to fifteen minutes in a hot oven.


Homemade Molasses Cookie Recipes
The Woman Suffrage Cook Book, Second Edition (1890)


Louisa's Molasses Cookies
Put into a large coffee cup one teaspoonful of soda, two tablespoonfuls of hot water and three tablespoonfuls of melted butter. Fill the cup with molasses; add a little ginger if liked. Two cups is enough for one baking. Mix soft and bake quickly. —Louisa G. Aldrich


Molasses Cookies Without Milk or Shortening
One egg, one cup molasses, one-half cup of sugar, one teaspoonful each of salt, soda, and ginger; flour enough to roll easily. This receipt calls for neither milk nor shortening, and makes very nice cookies. Bake in quick oven. —Mrs. Ellie A. Hill


Buckeye Molasses Cookie Recipe
Buckeye Cookery And Practical Housekeeping (1877)


Old Time Molasses Cookies

Two and a half cups of sugar, half cup molasses, a cup butter, half cup sweet milk, two eggs well beaten, a level teaspoon soda, and flour enough to roll out. —Miss J. O. De Forest, Norwalk


Canadian Molasses Cookie Recipe
My Pet Recipes Tried and True (1900)


Canadian Molasses Cookies
Whites and yolks of two eggs (beaten separately), one cup brown sugar, one cup melted lard and butter, one cup New Orleans molasses, one dessert spoon of ginger, one dessert-spoon soda, four tablespoons boiling water, flour to stiffen. Do not roll too thin. —Mrs. C. E. Martin


You May Also Like

Grandma's Homemade Cookies

As an Amazon Associate I earn from qualifying purchases.