Old Fashioned Ginger Cookie Recipe

These old fashioned ginger cookie recipes are easy to make. Enjoy the amazing taste of a homemade gingersnap that's really snappy. Also enjoy the delicious honey ginger cookies that offer the perfect accompaniment to any coffee break.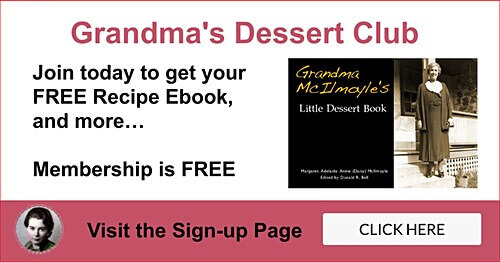 Old Fashioned Ginger Cookie Recipes

Mom's Recipe Scrapbooks (c. 1920s)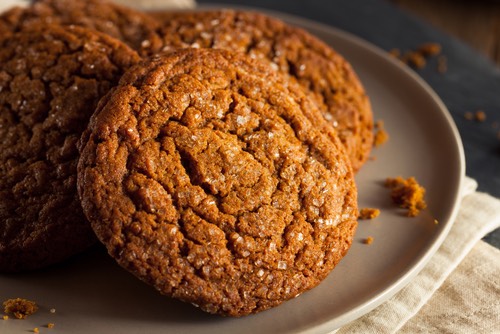 Homemade Ginger Cookies Sparkling with Sugar
(Source: ©bhofack2/Depositphotos.com)
Aunt Daisy's Gingersnaps
Make delicious gingersnap cookies with my Aunt Daisy's old fashioned ginger cookie recipe. Do you remember them, cousin Barb?

2 cups flour
1 tablespoon ginger
2 teaspoons baking soda
1 teaspoon cinnamon
1/2 teaspoon salt
3/4 cup shortening
1 cup sugar
1 egg
1/4 cup molasses
Mix and sift flour and dry ingredients. Beat shortening, sugar, and egg, and add flour mixture. Roll dough into balls, roll in sugar, place 2 inches apart on greased cookie sheet. Bake in 350°F oven for about 12 minutes.

Grandma McIlmoyle's Gingersnaps
1912 Gingersnap Cookie Recipe
(Source: ©Don Bell)
1 cup molasses, 3/4 cup sugar, 3/4 cup butter (or lard), 1 tablespoon ginger, 1 tablespoon cinnamon, 1 tablespoon baking soda, 4 tablespoons hot wate, Flour to make very stiff. Mix, roll out, cut, and bake (350°F) till done. —Margaret McIlmoyle

Ginger Sparkles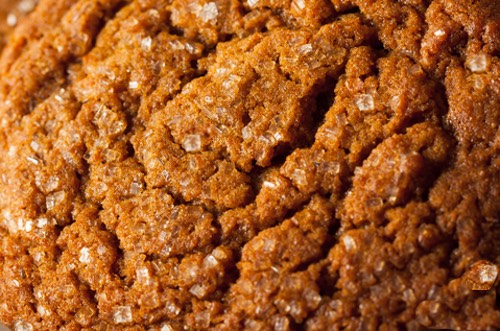 Make Delicious Ginger Cookies Sparkling with Sugar
(Source: ©bhofack2/Depositphotos.com)
Into bowl add 1 egg, 1 scant cup white sugar, 1/4 cup molasses, 3/4 cup shortening. Sift in 2 cups bread flour, 2 teaspoons baking soda, 1 teaspoon salt, 1 teaspoon cinnamon, 1 tablespoon ground ginger.
Beat until mixed, then shape into balls. Dip in white granulated sugar and flatten. Bake at 350°F until judged to be done.

Honey Ginger Cookies

This old fashioned ginger cookie recipe features organic, home-grown honey and was prepared in the 1920s by the food specialists at Macdonald Institute, O.A.C., Guelph, for the farmers of Ontario. So, you know they must be good!

1/2 cup sugar, 1/3 cup honey, 1/2 teaspoon baking powder, 1 egg, 1/2 cup sour cream, 2 teaspoons ginger, 1/8 cup butter, 1/2 teaspoon baking soda. Flour to roll out, about 4 cups.
Cream the butter, add sugar, honey, and well-beaten eggs. Sift flour, soda, baking powder, and ginger. Add alternately to egg mixture with sour cream. Roll dough to one-quarter inch thickness, cut, and bake on greased cookie tins in a moderate oven (350°F).

Snappy Ginger Snaps

These are indeed SNAPS, the thinner the snappier! They are also the makings of gingerbread men, animals, and any other bit of whimsy you want to cut and bake. And so easy!
Heat 1/2 cup of dark molasses till it boils. Meantime, in a teacup dissolve 1/2 teaspoon of baking soda in three tablespoons of hot water and set aside.

Mix together (so the spices won't lump) 3 tablespoons of sugar with 2/3 teaspoon of powdered ginger and 1/3 teaspoon of cinnamon. Cut 1/3 cup of butter into the sugar mix, pour the hot molasses over it, and stir till butter and sugar melt. Add the hot soda water (and don't be astonished if it foams). Then gradually stir in 2 cups of flour. This gives you a nice firm dough which, when chilled, is easy to roll.
Cover it well and place in the icebox for a couple of hours. When you're ready to roll the dough, dust the board, and the rolling pin with as little flour as possible to prevent sticking — or spread waxed paper on the rolling surface and also wrap it around the rolling pin.
Cut with biscuit cutters or cookie cutters — or trace the outline with a knife, put into oven (preheated to 350°F), and bake for 10 minutes.
When you get expert, the cookies will be so thin you can almost see through them, and so crisp they practically disappear at the first chew.
This recipe makes between 50 and 75 snaps, depending on size. —Calling All Girls Magazine, January 1945

Old Fashioned Ginger Cookie Recipe

Dr. Chase's Third, Last and Complete Receipt Book (1891)

Evangeline's Ginger Snaps
This lady, Evangeline, says:
Somebody wanted a ginger snap recipe that would stay hard, and not get soft. Use one cup of butter, 1 cup of lard, 1 cup of brown sugar, 1 pint of molasses, 1 tablespoonful of ginger, 1 cup of sour milk, 2 teaspoonfuls of soda, 1 pint of flour — use more flour, if needed.
Melt lard and butter together, stir in the ginger, sugar, and molasses; dissolve the soda in the milk; stir all together, put in the flour, roll out thin, cut and bake in a quick oven.
Remarks. —If made sufficiently stiff, properly baked, allowed to get cold, then kept from the air, they will keep hard a very long time.

Old Fashioned Ginger Cookie Recipe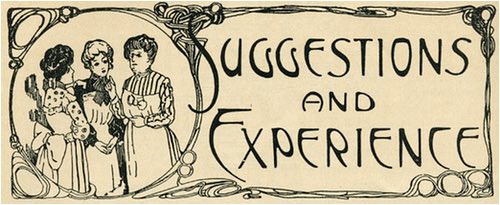 Suggestions and Experience (1908)

Baker's Homemade Gingersnaps
Boil together the following ingredients: Two cupfuls of brown sugar, two cupfuls of cooking molasses, one cupful of butter and lard mixed, one tablespoonful of ginger, one tablespoonful of cinnamon, and one teaspoonful of cloves.
Remove from the fire, and allow to cool. In the meantime, sift four cupfuls of flour, and when the above mixture has cooled, stir into it about half the flour. Dissolve a teaspoonful of soda in a tablespoonful of warm water, and beat into the mixture.
Stir in the remainder of the flour, making the dough stiff enough to roll into half-inch pieces, and place on well buttered tins, leaving plenty of room to spread.
Bake in a moderate oven and let the cookies cool before taking them from the tins. —Mary E. Underwood, Illinois.

Your old fashioned dessert recipes are wonderful! —Joanne, California, USA