Raisin Filled Sugar Cookie Recipe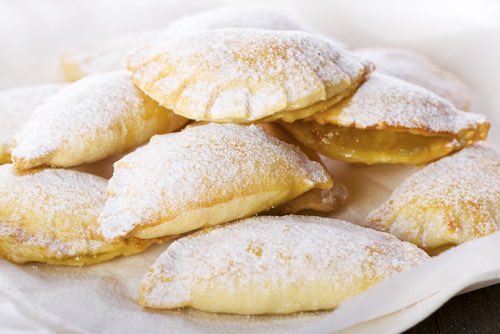 Enjoy Grandma McIlmoyle's Raisin Filled Cookies
(Source: ©p_studio66/Depositphotos.com)
You'll love this old fashioned raisin filled sugar cookie recipe. This treasured family recipe was Grandma Catharine Louise McIlmoyle's favorite, and it was handed down through generations of her family. The filled sugar cookies taste amazing, and now this special recipe is yours.

Grandma McIlmoyle's Old Fashioned Raisin Filled Sugar Cookie Recipe
by Maureen Stephan, USA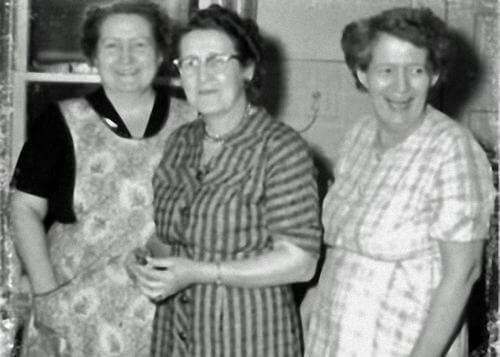 Catharine Louise McIlmoyle (Right), and Her Sisters
(Source: ©Maureen Stephan, Used with Permission
Maureen, thank you so much for sharing your grandmother's wonderful cookie recipe. I'm sure that many readers will love having it.
Maureen and I both have Grandma McIlmoyles. She read about my own Grandma McIlmoyle on this website, and it turns out that we share a common ancestor, Hugh McIlmoyle (1749-1838), my great-great-great grandfather from whom she is descended also. It's truly a small world.
I'll let my cousin Maureen Stephan share the recipe and its history.
I got a copy of this old fashioned raisin filled sugar cookie recipe from my Aunt Berenice. She has a copy of the recipe that was written out by hand by my Grandma McIlmoyle.
Above is a picture of Grandma, Catharine Louise McIlmoyle, with two of her sisters. My Grandma is seen on the far right of the picture. —Maureen Stephen

Raisin Filled Sugar Cookies
Helpful Tip

Easier to make if you put the dough in a bowl and cover it overnight. Cookies dry out quickly. Let them cool on wax paper and cover or put into cookie jar. —Charles McIlmoyle

Here's Grandma Catharine Louise McIlmoyle's wonderful homemade cookie recipe:
Stir together flour mixture:
4-1/2 cups of flour
1/2 teaspoon of salt
1 teaspoon baking soda
Cream together:
1-1/2 cups of sugar
1 cup of butter
1 teaspoon vanilla
1/2 teaspoon grated lemon rind
3 eggs
Combine above with flour mixture. Dough will be very stiff. Chill for two hours for easy handling. Add optional Raisin Cookie Filling (below) or...
Make into walnut-sized balls, press down and flatten out, and sprinkle with sugar on a lightly greased cookie sheet.
Bake at 400°F on bottom oven rack until they rise (approx. 4 to 6 minutes). Turn sheet around and put on top oven rack until they flatten and turn light brown (approx. 4 to 6 minutes).
Remove from oven. Put on waxed paper and sprinkle with sugar. Cool.

Raisin Cookie Filling

1-1/2 cups chopped raisins
1/2 cup sugar
2 teaspoons lemon juice
1/2 cup chopped nuts
Cook for five minutes. Cool.
Roll sugar cookie dough (see above) out on floured/sugared surface and cut in circles (Mother used the lip of a glass to cut the circles).
Put filling into center of cut circle of sugar dough and top with another circle, pinch the edges to make a seal. Bake at 400°F for 8 to 12 minutes.
Variation:
Cut dough in large circles. Put filling into center of cut circles and fold over, similar to a turnover, pinch edges to seal (see top photo), and bake as indicated above.

At Last I Have It

I have been searching for this old fashioned sugar cookie recipe! My grandmother used to make cookies similar to these. She gave me the recipe along with one for her cinnamon rolls, and I have it, but I can't it.
I haven't made these yet, but I am sure that they will be close to what my grandmother made. Thank you so very much for sharing. —Debbie Deems

Thank You

Thank you! I have been trying to find this old fashioned raisin filled sugar cookie recipe for a long time now.
My mother used to make these sugar cookies at Christmas time, but she would divide the dough in half and color one part red and the other part green and use Christmas cookie cutters like Santa, Stars, and Reindeers!
I can't wait to make them myself as it has been years since I've had them. —Anonymous

Related Pages You May Like

Homemade Cookies Menu