Cream Soda Recipes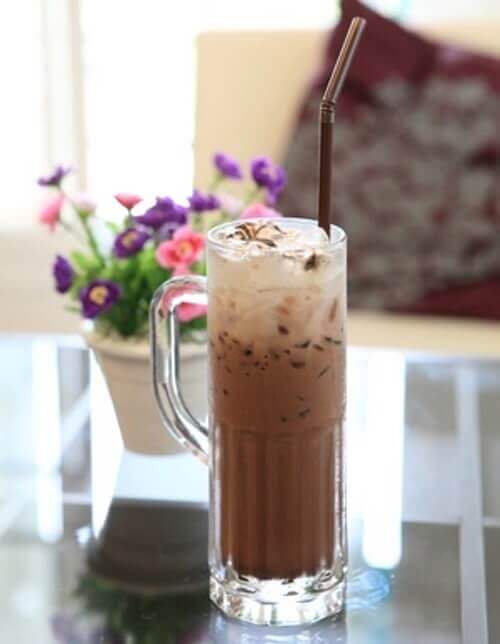 Creamy Cocoa Coffee Soda with Straw
(Source: ©piyato/123RF Stock Photo)
Step back in time with these old fashioned cream soda recipes. It's great fun to taste the actual soda fountain beverages that our great-great grandparents enjoyed in their youth. Besides being unique, these vintage sodas are delicious and very refreshing to drink.


Old Fashioned Cream Soda Recipes
The Dispenser's Formulary or Soda Water Guide (1915)


The Dispenser's Formulary or Soda Water Guide (1915)
(PD Source: The Dispenser's Formulary)
Chocolate Arctic
Grandma's Tip

Carbonated water (soda water) can be found for sale in the soft drink section of most food and convenience stores.

Serve in a 12-ounce glass. Use 1-1/2 ounces of chocolate syrup, fill one-third full of shaved ice, 1 ounce of pure rich cream, shake thoroughly, withdraw the glass from the shaker, allowing the syrup, etc., to remain in the shaker.
Now fill with carbonated water, using the fine stream only, until the shaker contains sufficient to more than fill the glass. Pour into glass and back once, then strain into clean glass.
Much is added to the appearance of this drink if it is topped with whipped cream. A spoonful of ice cream may be used instead of cream.


Grape Syllabub
2 ounces grape juice, 1 ounce simple syrup, 2 ounces lukewarm cream. Mix the grape juice and syrup, adding the cream slowly so as to froth. Ten ounces, ten cents.


Hokie Pokie Cooler
1 ounce simple syrup, 1/2 ounce pure cream, 1 dash vanilla extract, 3/4 glass carbonated water, shaved ice to fill glass. Serve with whipped cream and spoon. Price—8 ounces, 10 cents.


Creamed Orange
1-1/2 ounces vanilla syrup, 1 tablespoonful shaved ice, 1-1/2 tablespoonfuls orange pulp, 1 ounce pure cream. Fill with carbonated water. This feature has also been recommended as a flavor for ice cream soda. Price—12 ounces, 10 cents.


Frozen Chocolate Cream Soda

This is an easily made and a satisfactory chocolate beverage. Shake together 1-1/2 ounces of chocolate syrup and 2 ounces of light, sweet cream, or rich milk, with 2 ounces of shaved ice, then add carbonated water to fill a 12-ounce glass. Charge 10 cents.


Dorian Cream Soda
3/4 ounce orange syrup, 3/4 ounce maple syrup, 1 ounce plain cream, 1/3 glassful shaved ice. Place in a suitable glass, fill with carbonated water, sprinkle nutmeg on top, and serve with straws and crackers. Makes a delicious drink. Charge 10 cents for a 12-ounce glass. —F. Mintzer


Koko Cream Soda

For each glass of soda water mix equal parts of chocolate and vanilla syrups (to taste), and add one tablespoonful of cream. —Chas. R. Rhodes


Allee Samee

3/4 ounce strawberry syrup, 3/4 ounce vanilla syrup, 1/2 ounce rich cream, 1 teaspoonful powdered sugar. Place in a glass and mix with fine stream carbonated water, filling glass with coarse stream.


Mixed Fruit Soda

1 ounce vanilla syrup, 1/2 ounce cream, 1/2 glass carbonated water, fine stream. Add 2 tablespoonfuls of the mixed fruit, finely cut, and thoroughly saturated with simple syrup. Serve with spoon and straws.


Creamy Cocoa-Coffee Soda
1-1/2 ounces chocolate syrup, 1/2 ounce coffee syrup, 2 ounces cream. Mix well and add carbonated water. Garnish with shaved chocolate.


Creme de Chocolate
Two fluid ounces chocolate syrup, 1 ounce shaved ice, fill with whipped cream. Half fill another glass with cream, and mix by pouring one glass into the other. Price—12 ounces, 15 cents.


About the Old Fashioned Cream Soda Recipes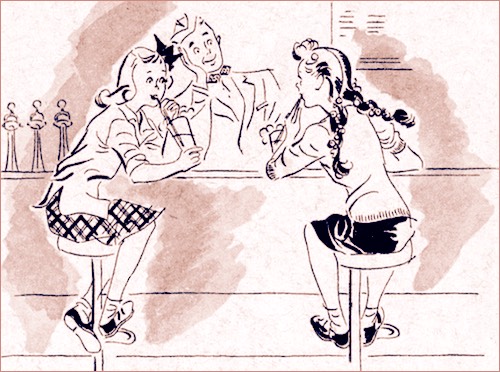 Enjoying Cream Sodas at the Soda Fountain
(PD Source: Calling All Girls, circa 1940)
When it comes to vintage soda fountain recipes, these old fashioned cream soda recipes are some of the earliest published.
Since the early 1800s, it had become the common practice for pharmacists to add fountain syrup — vanilla was the favorite flavor — and a tablespoonful of heavy, sweet cream to soda water.
The resulting Cream Soda became very popular with the public and made extra money for the fountain operators.


Old Fashioned Cream Soda Recipe
Here's how to make an original Cream Soda:
After making your favorite soda with a flavored fountain syrup and chilled soda water, simply add a tablespoonful, or two, of unwhipped whipping cream to the glass. Fountain syrup flavors such as chocolate, vanilla, and coffee all go great with cream.
Next, give it a very brief stir and you have a historic treat dating from the early days of the marble soda fountain. Serve it in a tall fountain glass with a couple of soda straws.
Modern Variations:

Heavy cream may be added to almost any soda beverage if you want to re-create a traditional cream soda.
Instead of soda water and fountain syrup, you may substitute your favorite flavor of soda pop, but be forewarned, not all brand-name soda flavors will taste good with cream. But, as a rule of thumb, any soda flavor that tastes good in an ice cream float will usually taste okay with just cream added.
If you are looking for easy non-alcoholic drink recipes, these old fashioned soda fountain beverages are truly unique.


Affordable Soda Fountain Syrups

Prairie Moon Has Everything You Need
Make your beverages with  flavored syrup concentrates from The Prairie Moon Company. Choose from over 50 old fashioned soft drink flavors including Root Beer, Sarsaparilla, and Cola. Simply add water and your own sugar or sweetener.
Prairie Moon offers low cost shipping to U.S. and Canadian customers. I highly recommend them!
Disclosure: This is an affiliate link, which means that if you purchase a Prairie Moon product through this link, I receive a small compensation to help support this site — at no extra cost to you.

Related Pages You May Like