Cold Picnic Salad Recipes
Cold Picnic Salad Recipes

Grandma's old fashioned cold picnic salad recipes are so handy when you want to pack a tasty cold salad for a picnic or for enjoying anytime at home on the patio.
With their unique flavor combinations and nutritional goodness, these homemade salads offer a delicious change from today's typical store-bought variety.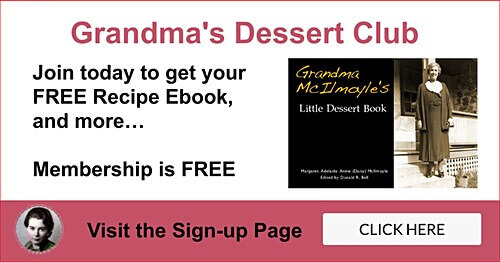 Old Fashioned Cold Picnic Salad Recipes

One Hundred Picnic Suggestions (1915)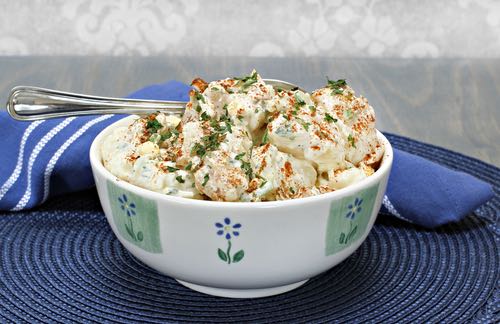 Homemade Picnic Potato Salad with Parsely and Paprika
(Source: ©rojoimages/Depositphotos.com)
Egg Salad Gone Wild

To make this old fashioned cold picnic salad recipe, boil eggs, remove shells, and cut them in halves lengthwise. Remove yolks and soften them with melted butter, add minced chicken, or any minced cold meat, and a little chili sauce. Fill the whites, place the two halves together, and wrap in waxed paper.
Serve eggs on lettuce with a cold dressing of choice. Carry eggs, lettuce in a wet cloth covered with paper, and dressing in a container chilled with ice.

Tasty Chicken Salad

Cook chicken in boiling water, when half-done add salt, a slice each of salt pork, lemon, and onion, a bit of bay leaf, and a piece of red pepper, then continue cooking until done.

Cool in the stock, drain, and cut chicken in cubes. Cover them with French dressing for an hour or more.
To 1-1/2 cups of the chicken add 1 cup of celery dice, or use same amount of fresh cooked and cooled green peas and cucumber dice. Or blanched and shredded almonds may be used instead of the peas.
Add 1/2 cup of mayonnaise, turn into a tin box lined with wax paper, garnish with capers and slices of gherkins, cover, wrap the box in a cloth wet in ice water and then in strong paper.

Green Pepper Salad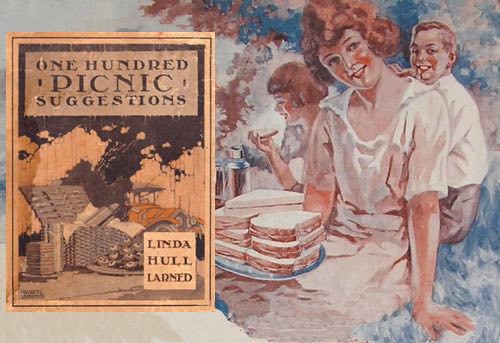 Enjoy the Old Time Cold Picnic Salad Recipe Ideas
(PD Source: Adapted by Don Bell)
Select small peppers of uniform size, having one for each person. Cut off tops and remove seeds and membranes.
Fill with any salad mixture or with the following: Mix 1/2 cup of chopped celery or cabbage with 2 or 3 large tomatoes, diced, a small piece each of Spanish onion and pimento, diced, and add a French dressing to which add a little Worcestershire sauce.
Wrap each pepper in waxed paper and pack them in a cardboard box.

Mexican Salad
Peel and chop 3 tomatoes, 1 cucumber, and 1 green pepper. Add a French dressing made very hot with paprika and minced chili pepper and pack in a glass jar.
Take in another jar chopped red cabbage or lettuce hearts cut in small pieces and serve the two together. This may be served with cold meat of choice.

Tasty Mixed Salad
Toss together 2 cups of celery, diced, 3 peeled and minced radishes, 6 minced pimolas, 1 cup of minced nuts, and a spoonful each of grated raw carrot and boiled and chopped beets.
Pack in a glass jar and serve with a mayonnaise dressing carried in a glass jar or open-mouthed bottle. If both are wrapped in a napkin wet in very cold water and then wrapped in plenty of paper they will keep cool and fresh. Eat with cold meat.

Amazing Potato Salad
For this old fashioned cold picnic salad recipe, peel and cut boiled new potatoes in thin, small slices, add 1 hard-boiled egg, cut in small slices, for each two medium-sized potatoes. Put them in a deep bowl and add the following dressing:
Mix 1 teaspoon salt, 1/4 teaspoon paprika, and a little black pepper with 4 tablespoons salad oil and 2 tablespoons of seasoned and strained vinegar (add 2 slices of onion, 4 sprigs parsley, and 1 chili pepper or 3 peppercorns to vinegar and let stand a day).
Toss the salad and place in the icebox for an hour or more. Add 1/2 cup of mayonnaise and garnish with capers and slices of cucumber pickles. Minced onions and cucumbers may be added if desired.

Roast Beef Salad
Cut thin slices of rare roast beef in small pieces, add 1/4 the amount of crisp, broiled bacon, diced, and 1 or 2 tablespoons of pimento, also diced. Mix with French dressing to which a little chili sauce or tomato catsup has been added.
Pack in a tin box lined with waxed paper, or in a large-mouth glass jar, and carry lettuce leaves wrapped in a wet cloth and then in paper.

Russian Salad Dressing

Oscar Sauce

Substitute either Hollandaise or Bearnaise sauce for Oscar.
Add to a cup of mayonnaise dressing 2 tablespoons of pimento pulp, 1 tablespoon minced green pepper, and 1/2 cup of chili or Oscar sauce.
Carry in a glass jar and serve on lettuce hearts, celery dice, or shaved cabbage packed in another jar or tin box.

Sensational Salmon Salad
For this tasty old fashioned cold picnic salad recipe, drain, cool, and flake freshly boiled salmon or use canned salmon, add half the amount of cold boiled rice, toss lightly in French dressing and pack in a glass jar or tin box lined with wax paper.
Serve with mayonnaise or rich boiled dressing to which has been added 1/2 cup of minced boiled spinach. Garnish with capers, cucumber pickles, and pearl onions. Cold boiled eggs and fresh cucumber may be used instead of the rice.

Sardine and Egg Salad

Mash the yolks of cold boiled eggs with skinned and boned sardines, and fill the whites.
Pack in layers in a tin box with wax paper between each layer, and serve with mayonnaise made quite red with paprika and sour with lemon juice. Carry the dressing in a glass jar wrapped in a cold wet cloth and then in paper.

Savory Salad Dressing

Oscar Sauce

Substitute either Hollandaise or Bearnaise sauce.

This dressing may be used for lettuce hearts, French endive, tomatoes, or cold boiled asparagus. It should be taken in a glass jar and beaten with a fork just before serving.
Mix 1/2 cup of salad oil with the juice of a lemon and a small sour orange. Add 1 tablespoon of minced chives or grated onion, 1/2 teaspoon each of salt and paprika, 1 teaspoon Worcestershire sauce, 1 of minced parsley, 1 of minced capers, and 2 of chili or Oscar sauce.

Tomato and Cauliflower Salad
Peel and remove stem ends from tomatoes, scoop out the pulp, dust with salt and pepper, and stand upside down to drain and cool. Fill with cold boiled cauliflower mixed with either mayonnaise, boiled or French dressing. If the latter be used add a tablespoon of chili sauce or tomato catsup.
Wrap each tomato in waxed paper and carry them in a tin or pasteboard box.

Tongue Salad
For this old fashioned cold picnic salad recipe, cut and trim cold boiled tongue, cut in small pieces, add same amount of celery dice or watercress, or even cabbage shaved fine and 1/4 the amount of diced pimento.
Put this in a glass jar or tin box lined with waxed paper, and carry a bottle of boiled or mayonnaise dressing.

Egg and Tuna Fish Salad
The tuna fish, which may be bought in cans, should be flaked, and to 2 cups of the fish add 1 cup of diced celery or shaved cabbage, 1 hard-boiled egg, diced, 1 tablespoon of shredded green pepper, 1/2 dozen minced pimolas or olives, and about 4 tablespoons of French dressing made with onion or garlic-flavored vinegar.
Pack in a tin, paper-lined box, or in a glass jar. Serve with boiled dressing or mayonnaise.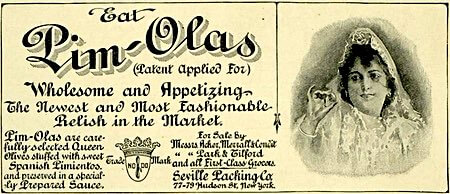 Pimolas are called for in two cold picnic salad recipes above. They are simply green Spanish olives stuffed with sweet red pimiento pepper.

Mom's Healthy Cold Picnic Salad Recipe Ideas

Mom's Recipe Scrapbooks (c. 1920s)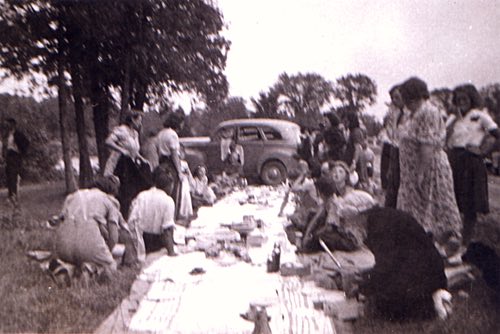 Range Pals Picnic at Rice Lake, Ontario, circa 1950
(Source: ©Don Bell)
Mom used these homemade cold picnic salad recipes to make tasty salads for taking on picnics and for family gatherings where a lunch was served.

Tasty Bean Salad

1 15-ounce tin green beans
1 15-ounce tin yellow beans
1 tin kidney beans
1/2 cup chopped onion
1/2 cup chopped green pepper
Drain the tinned beans well, then mix above ingredients.
Marinate with:
1/2 cup salad oil
1/2 cup cider vinegar
3/4 cup white sugar
1 teaspoon salt
1/4 teaspoon pepper
This old fashioned cold picnic salad recipe can be made ahead of time, and the salad will keep for 1-1/2 weeks in refrigerator. —Myrtle Choate

Cauliflower Salad
Cold cooked cauliflower, watercress, 2 tomatoes, 1 hard boiled egg, salad dressing, capers optional.
Cut some cold cooked cauliflower in small pieces, line salad bowl with watercress, cut tomatoes in quarters, and arrange in center; place border of cauliflower around, then cut hard boiled egg in slices and place in center of tomatoes.
Serve with salad dressing and sprinkle capers on top.

Six Cup Cold Picnic Salad Recipe

1 cup desiccated coconut
1 cup sour cream
1 cup mandarins or orange slices
1 cup miniature marshmallows
1 cup red and green cherries
1 cup drained crushed pineapple pieces
Combine above ingredients thoroughly and chill. Tastes best if made several hours in advance.

Waldorf-Style Salad

2 cups diced apples
1/2 cups dates
1/2 cup chopped celery
1/2 cup chopped nuts
Arrange on lettuce or Romaine and serve with favorite dressing.

Cherry Nut Salad Made In Heaven

One pound pitted cherries; 1/2 cup walnut meats coarsely cut; 1/2 cup mayonnaise; 2 teaspoons confectioner's sugar; 1/2 cup cream, whipped. Stuff cherries with walnuts.
Arrange cherries on crisp lettuce and serve with dressing made by folding mayonnaise and sugar into the whipped cream.

Pear Salad With Ginger Mayonnaise
3 cups pears diced, 1-1/2 tablespoons lemon juice, dash of salt, 4 tablespoons chopped preserved ginger and syrup, 1/3 cup mayonnaise, 1/3 cup whipped cream.
Sprinkle diced pears with lemon juice and salt. Toss lightly together with dressing made by folding ginger and mayonnaise into whipped cream. Serve on crisp lettuce leaves.

Mom's Favorite Salad Dressing Recipes

Mom's Recipe Scrapbooks (c. 1920s)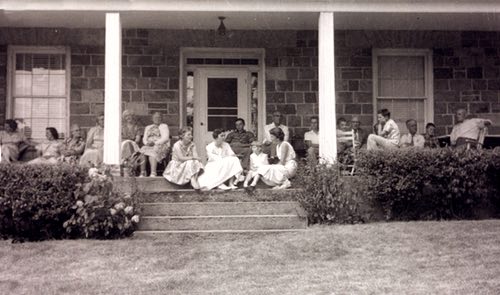 Herbert McIlmoyle Family Sunday Lunch, circa 1958
(Source: ©Don Bell)
Grandma McIlmoyle's Mayonnaise Dressing

I always loved the taste of Grandma's homemade mayonnaise dressing. It's so much tastier than the store-bought kind. Use it with your old fashioned cold picnic salad recipes for an authentic old time taste.

1 tablespoon flour
1 tablespoon butter
1 teaspoon dry mustard
1 tablespoon granulated sugar
1/2 teaspoon salt
3 tablespoons vinegar
1 egg, beaten
3 or 4 tablespoons milk
Mix flour, butter, mustard, sugar, and salt together to a cream, then add 3 tablespoons vinegar. Put on the stove and let come to a boil.
Have ready 1 well-beaten egg, and stir into the mixture when taken off the stove, and let cool. Now add enough milk to make the right stiffness, about 3 or 4 tablespoons. Good with the old fashioned cold picnic salad recipes.

Cream Dressing Ambrosia

Blend 2 tablespoons cream with 2 tablespoons liquid honey, add 2 tablespoons salad dressing, chill. So very good on any fruit salad.

Green Salad Dressing With Spinach

Press cold boiled spinach through a sieve; mix the juice with salad dressing to make a delicate green sauce that is so cool to look at, so appetizing to taste. After you pour it over the salad, sprinkle with capers.

Old Fashioned Boiled Salad Dressing

3 eggs, 1 cup cream or milk, 1 large teaspoon mustard, 1/2 cup vinegar, 3 tablespoons white sugar. Cook all ingredients in double boiler until like thick cream. Put salt and pepper on salad before adding dressing.