Spice Cake Recipes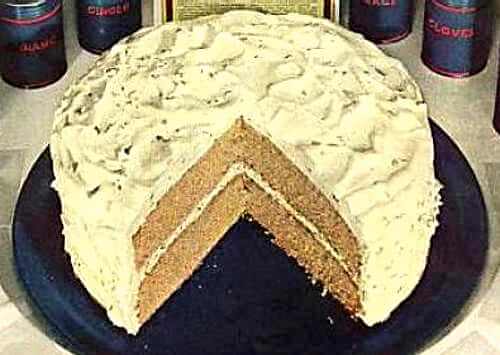 Homemade Spice Layer Cake
(Source: Don Bell)
Enjoy Grandma's old fashioned spice cake recipes that call for either a single spice or a mixture of two or more such as cinnamon, cloves, and nutmeg. All are delicious.

When you bake these cakes, the comforting aroma will make your kitchen inviting. You can choose to ice your cakes, add a sugar glaze, or serve them plain for packing in lunches.


Old Fashioned Spice Cake Recipes
Mom's Recipe Scrapbooks (c. 1920s)


Basic Spice Cake Recipe

2 eggs, 1 cup brown sugar, 1/3 cup butter, 1 teaspoon cinnamon, 1/2 teaspoon cloves, 1/2 cup warm water, 2 teaspoons baking powder, 1-1/2 cups bread flour.
Cream butter and sugar, add eggs and beat well, then add water; mix spices and baking powder with flour and sift into batter. Bake about 45 minutes in moderate oven (350°F). —Mrs. Robert Johnston


Tomato Soup Cake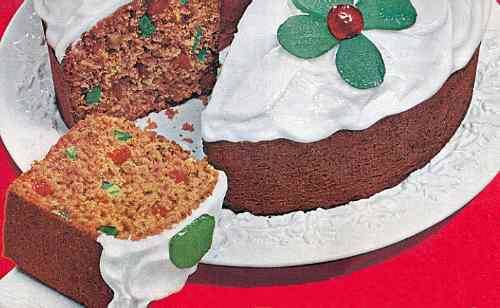 Vintage Tomato Soup Spice Cake with White Icing
(Source: Unknown Magazine, c.1940)
This vintage spice cake recipe dates from the 1940s. Don't let the tomato soup fool you, as it's really a delicious cake. It's also known by some chefs as the Mystery Spice Cake.
1 can Campbell's® tomato soup, 1 teaspoon baking soda in soup, then add 1 cup white sugar, 1/2 cup melted butter or shortening, 1 cup raisins (or 1 cup chopped candied fruit may be added for special occasions), 1 cup chopped walnuts, 1 teaspoon cinnamon, 1 teaspoon nutmeg or mace, pinch of salt, 1/2 teaspoon vanilla, 2 cups flour (I prefer bread flour), 2 teaspoons baking powder.
Mix ingredients in the order listed and cook in medium (350°F) oven. This vintage spice cake recipe makes a delicious cake!  —Mrs. H. Beatty


Spice Cake with Fruit

1/4 cup dates stoned and cut fine, 1/4 cup raisins cut fine, 1 teaspoon baking soda, 1 cup boiling water, 1/2 cup butter, 1 cup granulated sugar, 2 eggs, 1 cup walnuts (less will do), 1-1/2 to 1-3/4 cups flour, 1 teaspoon baking powder, 1/4 teaspoon cinnamon, 1/4 teaspoon cloves.
Cook for 10 minutes dates, raisins, soda, water; cool, cream butter and sugar; add well-beaten eggs, fruit mixture, walnuts, flour with baking powder and spice sifted together. Bake in moderate oven till done. —Mrs. K. M. Denoon


Old Time Pepper Cake
1 cup raisins, stoned
1 cup corn syrup or baking syrup
2 eggs
1/2 cup butter
1/2 cup sour cream
1/2 cup sugar
2 cups flour
1 teaspoon baking soda
1 teaspoon cinnamon
Nutmeg to taste
1 teaspoon black pepper
Mix as usual and bake in moderate oven for about 40 minutes.


Poppy Seed Cake
Evaporated Milk

To substitute 1 cup evaporated milk, gently simmer 2-1/4 cups whole milk in a saucepan until reduced to 1 cup.

1 cup white sugar
2 cups flour
1 cup Carnation® Evaporated Milk
1 cup corn oil (or 1 cup melted butter)
4 teaspoons baking powder
2 eggs
3 teaspoons poppy seeds
1/2 teaspoon salt
1/4 teaspoon vanilla
Mix in order given above, and beat until no lumps remain. Bake in moderate oven (350°F) for 35 minutes in angel cake tin.


Berry Spice Layer Cake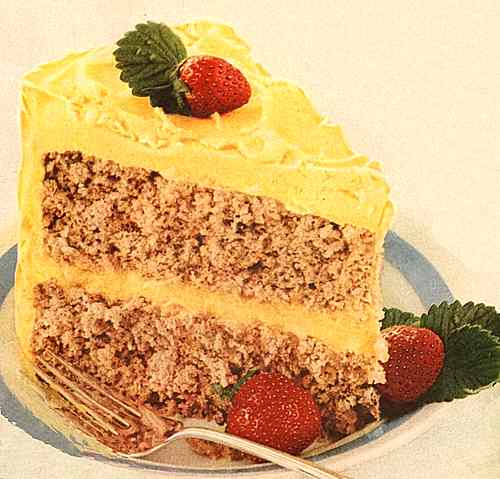 Homemade Berry Spice Layer Cake
(Source: Don Bell)
1/2 cup butter or shortening
1 cup sugar
2 eggs
1 cup preserves (strawberry, raspberry, etc.)
2 cups cake flour, sifted
2 teaspoons baking powder
1/2 teaspoon salt
1 teaspoon cinnamon
1 teaspoon ginger
1/2 teaspoon cloves
1/2 cup milk
1/3 cup nuts, chopped
2/3 cup raisins
Set oven at 350°F. Blend butter and sugar. Add eggs one at a time, beat thoroughly. Beat in preserves. Sift together dry ingredients and add alternately with milk to mixture. Beat thoroughly to blend. Stir in nuts and raisins.
Pour into two 9-inch was paper lined pans. Bake 35 minutes or until done. Frost with your favorite lemon frosting.


Nutty Spice Cake Recipe

1/2 cup butter
1 cup brown sugar
1/2 cup molasses
Yolks 4 eggs
1 cup sour milk
2-1/2 cups cake flour
1 teaspoon baking soda
1 teaspoon cinnamon
1/2 teaspoon cloves
1/2 teaspoon grated nutmeg
1 cup raisins, chopped
1/2 cup currants
1/2 cup walnuts, chopped
1-1/2 teaspoons baking powder
Cream shortening, add the sugar, gradually. Add the beaten egg yolks and beat hard. Mix and sift the dry ingredients. Add the soda and molasses to the sour milk. Add alternately with the dry ingredients to the first mixture, beating after each addition. Add the floured nuts and fruit, mixing thoroughly.
Bake slowly (300° to 350°F) one hour.


Hope Chest Spice Cake
Here's an old fashioned spice cake recipe that's easy to make, and it tastes and looks totally delicious. Like a Hope Chest, it's filled with all the best ingredients.
And it's perfect for serving at your next bridal shower, anniversary, or any party. It'll be a real conversation starter.


Hope Chest
In Grandma's day, it was a common tradition that a young girl anticipating her eventual married life would begin to store special clothing and household linens in a Hope Chest or Wedding Chest.
Girls in Great Britain, Canada, and other Commonwealth countries sometimes called them Glory Boxes.

Ingredients:
1/2 cup shortening
1 cup sugar
2 eggs
3 cups flour
2 teaspoons baking powder
1/2 teaspoon baking soda
1/4 teaspoon salt
1/4 teaspoon cinnamon
1/4 teaspoon cloves
1/4 teaspoon allspice
3/4 cup sour milk
1 teaspoon vanilla extract
1 orange, rind and juice
3/4 cup almonds
1 cup raisins
1/2 cup dates
Method:
Cream the shortening, add sugar and cream in well, then work in the eggs. Sift dry ingredients and add alternately with the milk (save a little flour for dredging the fruit mixture). Then add the vanilla extract, and orange juice.
After removing all of the white skin, grind the orange rind, nuts, and fruit, and add the mixture, floured, to the batter. Turn into loaf pan that has been lined with wax paper. Bake in moderate oven (350°F) for 1-1/2 hours.
Decorate with hinges and a lock made of banana icing, or an icing of choice; or, cover completely with icing, and add hinges, and a lock of a contrasting color.


Black Hill Cake
One cup sugar, butter size of an egg, 1 egg, 1 cup sweet milk, 2 teaspoons cream of tartar (level), 1 teaspoon baking soda, 1 pint flour.
Beat sugar and butter together well. Add other ingredients. Pour into buttered tin two-thirds of mixture, and to remaining third add: 2 tablespoons molasses, 1/2 teaspoon ground cloves, 1/2 teaspoon allspice. Stir together, and pour over top of first mixture.
Bake in moderate oven. This is a great cake recipe if you love cakes with an old time spicy flavor.


Old Fashioned Spice Cake Recipe

Dishes & Beverages of the Old South (1913)


Southern Spice Cake
Cream a coffee cup of butter, with two cups yellow sugar and one cup black molasses. Add to it one after the other, seven egg yolks, beating hard between.
When all are in, add one tablespoonful whiskey, or brandy, one teaspoonful grated chocolate, one teaspoonful each of powdered cloves, allspice, ginger, mace, and cinnamon, a grated nutmeg, and half a saltspoonful of powdered black pepper. Add also a pinch of salt, and the barest dusting of paprika.
If whiskey is for any reason disapproved or unavailable, use strong, clear coffee instead, putting in two spoonfuls, and leaving out the chocolate.
Beat all together hard for ten minutes, then add four scant cups flour browned in the oven but not burned. Sift after browning, adding to it two teaspoonfuls baking powder.
Beat hard for five minutes after the flour is all in, then pour in a deep, well greased pan, lined with buttered paper. Heat oven, let it rise ten minutes with the oven door open, then close door and bake in quick heat until done through.
Spice cake is an old fashioned favorite, and this Old Southern homemade spice cake recipe makes one of the richest, most flavorful cakes you have ever tasted. Enjoy.


Mom's Old Fashioned Spice Cake Recipe

Submitted by Pam


This old fashioned recipe for apple spice cake was passed down from my Mom (who's in her 80s), and now my children make it for their families. —Pam

Apple Spice Cake
2 cups Cake Flour and 1-1/2 teaspoons Baking Powder
(or replace above with 2 cups Self-Raising Flour)
2 tablespoon Cocoa
1/2 teaspoon Salt
1-1/2 teaspoons Cinnamon
1/2 teaspoon Cloves
1/2 teaspoon Nutmeg
1/2 teaspoon Allspice
1/2 teaspoon Bicarbonate of Soda (Baking Soda)
125 grams (4 ounces) Margarine
1-1/2 cups Sugar
1 Egg
1/2 cup Applesauce (or chopped fresh apples with 1 tablespoon sugar)
1 cup Raisins or Dates
1/2 cup Walnuts (optional)
Sift the first 9 ingredients together. Mix in the raisins and nuts. Cream margarine and sugar, and add eggs. Mix this into the dry ingredients, together with the applesauce.
Turn into a greased and lined cake pan. Bake at 180°C (350°F) for about 50 minutes.
Suggestion: Ice with caramel or coffee icing. Enjoy.


Related Pages You May Like