Recipe Ingredient Substitutions
Recipe Ingredient Substitutions
Grandma relied on common recipe ingredient substitutions whenever she was missing an essential last minute ingredient that her recipe called for.
Back in her day, trips to the grocery store were infrequent as most baking supplies were purchased in bulk. So, she learned how to substitute a common ingredient she had on hand.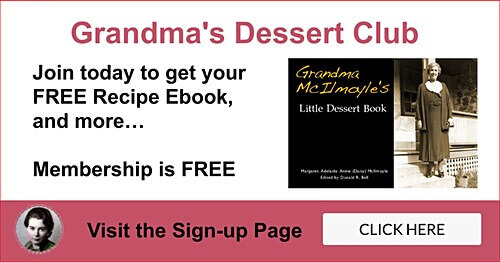 Grandma's Favorite Recipe Ingredient Substitutions
Vintage Cookbooks, Almanacs, Newspapers
Grandma's Recipe Notes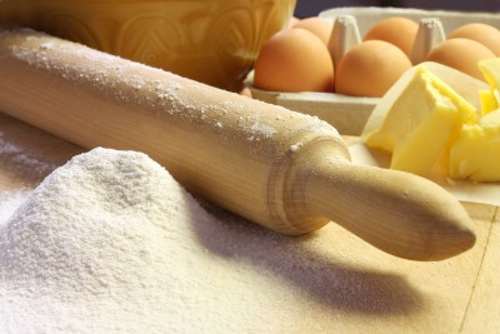 Use Grandma's Recipe Ingredient Substitutions
(Source: ©robyn-mackenzie/123RF)
Some common recipe ingredient substitutions might alter the flavor and texture of the food, so the results cannot always be guaranteed. However, most times they will be perfectly fine.
Baking Powder
To replace 1 teaspoon baking powder, use 1/2 teaspoon cream of tartar plus 1/4 teaspoon baking soda.

Baking Soda
In a pinch, you can try substituting 1 teaspoon of baking powder for every 1/4 teaspoon of baking soda called for. This works best in baking recipes that have acidic ingredients such as lemon juice, buttermilk, or honey. Otherwise, there's no "effective" recipe ingredient substitution for baking soda.

Honey
For 1 cup of honey, use 1-1/4 cups granulated sugar plus 1/4 cup liquid. You could also try using 3/4 cup corn syrup plus 1/2 cup granulated sugar. Molasses can be used in equal measure as a honey substitute, but it will affect the flavor.

Chocolate
For 1 square of chocolate, use 3 tablespoons of cocoa powder and 1 tablespoon of either butter or shortening.

Loaf Sugar
Refined granulated sugars can be substituted for old fashioned loaf sugar.

Fresh, Whole Milk
For 1 cup fresh milk, use 1 cup skim plus 2 teaspoons butter.

Heavy Cream
A good recipe ingredient substitution for heavy cream in baking can be made with 3/4 cup whole milk plus 1/2 to 1/3 cup butter and a little flour. You can also try using an equal quantity of plain yogurt in some dishes.

Potato Meal

Potato meal isn't often found for sale nowadays, but potato flour (below) offers a common recipe ingredient substitution, though it's a finer grind or texture than meal.

Potato Flour
If potato flour is unavailable, twice the amount of instant potato flakes can be substituted with good taste results in recipes. For example, 2 ounces potato flour equals 4 ounces potato flakes.

Maple Syrup
For 1 cup maple sugar, use 3/4 cup corn syrup plus 1/4 cup butter and flavor to taste with maple extract. You can also substitute honey in equal measure, but the flavor will be affected.

Shortening
Butter or margarine may be substituted for shortening in equal measure.

Brown Sugar
Use 3/4 cup granulated sugar and 1/4 cup molasses to replace 1 cup brown sugar.

Powdered Confectioners' Sugar
For every 4 cups powdered confectioners' sugar, use 3 cups granulated sugar well dissolved.

Castor Sugar

Castor sugar (also spelled "caster" sugar) is most common in Britain where it's also called Super Fine or Baker's Sugar.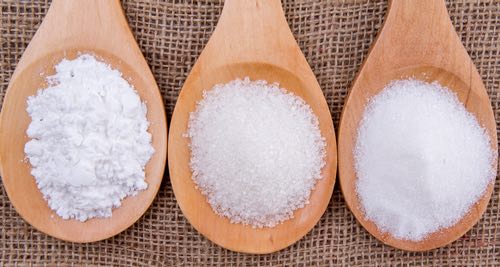 3 Types of Sugar — Confectioners', Granular, and Castor
(Source: ©akulamatiau/Depositphotos.com)
Castor sugar is finer than granular sugar but not as fine as powdered confectioners' sugar. It dissolves easily and lends its own taste when used in a recipe.
For old fashioned recipe ingredient substitutions:

In the USA use Super Fine sugar, sometimes called Bar Sugar.

In Canada use Super Fine or Berry Sugar.

These sugars are finely ground versions of granulated sugar, yet they are not powdered like icing sugar.
Or, if you're unable to purchase Castor Sugar where you live, you can make your own simply by grinding granulated sugar to a finer texture in your kitchen blender, but not so much that it powders.

Ammonium Bicarbonate
For 1 teaspoon ammonium bicarbonate, use 1-1/4 teaspoons baking soda. Ammonium bicarbonate is sometimes used in baking cookies.

White Granulated Sugar
1/2 cup molasses or corn syrup can be used for 1 cup sugar, but liquid in the recipe must be reduced by 1/2 cup.

3/4 cup honey can replace 1 cup granulated sugar, but reduce liquid in recipe by 1/4 cup.

If you don't mind the change in flavor, you can use 1 cup firmly packed brown sugar for 1 cup granulated sugar.
Corn Syrup
For a common recipe ingredient substitution for corn syrup, replace 1 cup corn syrup with 1 cup granulated sugar and increase liquid in recipe by 1/4 cup.

Citron
A common recipe ingredient substitution for citron is another candied or dried fruit of equal amount.

Raisins
Almost any kind of chopped dried fruit can be substituted for raisins. Currants or chopped dates can be used in a recipe with good results.

Candied Cherries and Pineapple
Substitute a fruit mix of the same weight called for in the recipe.

Cocoa Powder / Cacao Powder
Are you needing recipe ingredient substitutions for cocoa powder? You can freely substitute cacao powder when cocoa powder is called for in any recipe.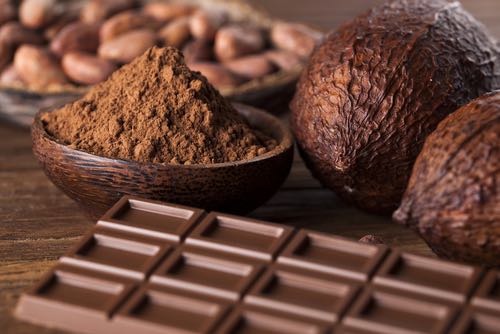 Cacao Powder from Seed Pods of the Theobroma Cacao Tree
(Source: ©JanPietruszka/Depositphotos.com)
Both forms of powdered chocolate are absolutely delicious, but cacao is less processed containing more nutrients and greater antioxidant capabilities.
It's also a little less sweet than the more processed cocoa powder, so some recipes might need to be tweaked to achieve the sweetness you're used to tasting.

Chocolate Square
You can replace 1 chocolate square with 3 tablespoons cocoa and 1 tablespoon butter.

Chocolate Chips
Chop about 6 ounces of semisweet chocolate to replace 1 cup of semisweet chocolate chips.

Treacle
Corn syrup or light molasses can be substituted for treacle in equal measure.

Eggs
2 egg whites or 2 egg yolks can be used for 1 whole egg.

Sour Milk
Simply stir in about 1 tsp of white vinegar to 1 cup milk. Buttermilk can also be substituted in equal measure.

Sour Cream
As a baking substitute for sour cream, simply use an equal measure of plain yogurt in most recipes.

Cornstarch
For thickening purposes, you can use 2 tablespoons all-purpose flour to replace 1 tablespoon cornstarch.

Cinnamon
Use 1/2 teaspoon ground all spice to replace 1 teaspoon ground cinnamon.

Cream of Tartar
There is no effective cream of tartar baking substitute, but you can try using an equal quantity of white vinegar in a pinch.

Molasses
Honey may be used in equal measure, but it will affect the flavor.

Buttermilk
For 1 cup buttermilk, add 1 teaspoon white vinegar to 1 cup whole milk. You can also use 1/3 cup whole milk with 2/3 cup plain yogurt as a buttermilk substitute.

Allspice
Use 1/2 teaspoon ground cloves and 1/2 teaspoon cinnamon to replace 1 teaspoon allspice.

Brandy
You can replace brandy with wine or even a fruit juice of your choice.

Cooking Wine
You can replace red cooking wine with the same quantity of grape juice or cranberry juice. To replace white cooking wine use apple juice or white grape juice. The flavor will be affected somewhat.

Lemon Zest
For 1 teaspoon of fresh lemon zest, use 1/2 teaspoon lemon extract.

Marshmallows
Use 1 cup of miniature marshmallows to replace 10 large marshmallows.

Mixed Ground Spice

Equal quantities of cinnamon, cloves, nutmeg, allspice, and ginger (optional).

Rum
As a baking substitute for rum when baking, use 1 part rum extract plus 3 parts water.

Evaporated Milk

One cup "half and half" or 1 cup light whipping cream can be substituted, but for the closest flavor to evaporated milk, gently simmer 2-1/4 cups whole milk in a saucepan until reduced to 1 cup.

Whipping Cream Substitute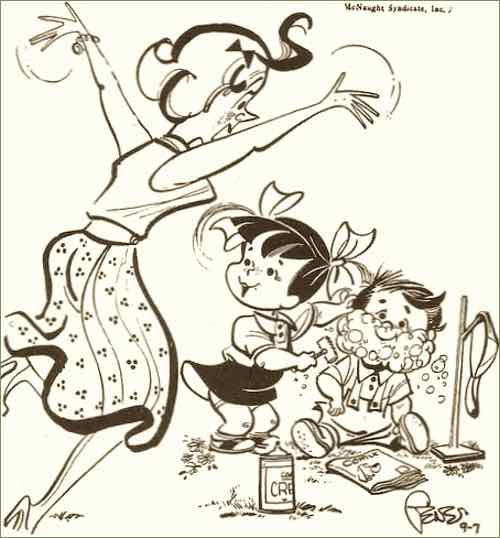 "It's all right, Mrs. Doran—it's only whipping cream."
(PD Source: Angel Face 1957)
Are you needing good recipe ingredient substitutions for whipping cream? Try the following alternatives:
Use light cream or cereal cream or coffee cream after allowing it to stand undisturbed for 48 hours in the refrigerator. Whip as you would whipping cream.

Prepare cream as given above. Soak 1 teaspoon plain gelatine in 2 tablespoons cold water and dissolve over hot water. Allow to cool; then add to the cream and whip.

Use Evaporated Milk. Milk prepared with gelatine holds up better and longer, but it may be more convenient to chill it on occasion. Chill evaporated milk 12 hours. Use medium speed on your electric beater when whipping.

Combine equal parts of dry milk powder and water. Beat with beater at medium speed. Add 1-1/2 teaspoons lemon juice to each cupful of this mixture, if a more stable foam is desired.
About the Common Recipe Ingredient Substitutions

When substituting ingredients, always keep in mind that different ingredients might cause a slight change in taste or texture. Often, the change will depend on whether the ingredient being substituted is a major or minor item called for.
Unfortunately, there were never any 100% "effective" recipe ingredient substitutions for some essential ingredients such as baking soda and cream of tartar. These you must always have on hand in your baking cupboard.
Read over Grandma's common recipe ingredient substitutions. There's bound to be a day when you'll find one or two useful in your kitchen.
Reminiscing

Are you old enough to remember when milk came to the door in glass bottles? They had a little cardboard stopper on the top imprinted with the dairy's logo.
And most householders carefully poured the top inch or two of thick cream for use in coffee. Ah, those were the days!