Old Fashioned Orange Cake Recipes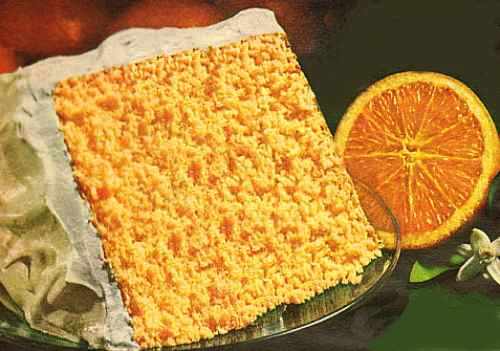 Good Homemade Orange Cake with Frosting
(Source: Adapted by Don Bell)
These old fashioned orange cake recipes make healthy cakes that are full flavored and delicious without the need for frosting, though frosting can be added if you prefer.
The fresh orange flavor in these deliciously moist cakes is what sets them apart. Mom always said that a slice of orange cake went well with a good cup of tea. Try one of these homemade orange cakes and see for yourself.

Old Fashioned Orange Cake Recipes
Mom's Recipe Scrapbooks (c. 1920s)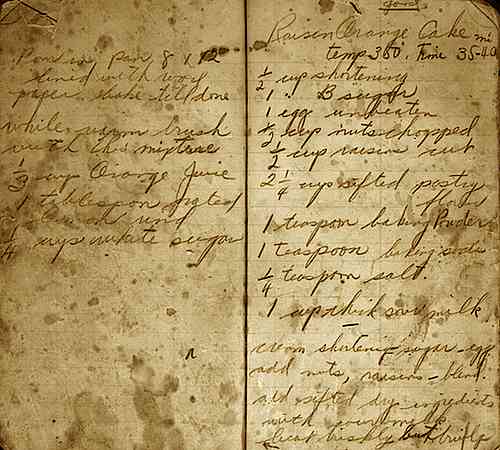 Grandma's Handwritten Old Fashioned Orange Cake Recipe
(Source: ©Don Bell)
Orange cakes are unique in that you can simply drizzle freshly squeezed orange juice over them for a simple, healthy topping that's refreshingly delicious. Nothing could be easier.
But, if you're a big fan of cake icing, you can ice your orange cakes too, and they will still taste and look extra special. It's your choice.

Grandma McIlmoyle's Raisin and Orange Cake
1/2 cup shortening
1 cup brown sugar
1 egg unbeaten
1/2 cup nuts chopped
1/2 cup raisins cut
2-1/4 cups sifted pastry flour
1 teaspoon baking powder
1 teaspoon baking soda
1/4 teaspoon salt
1 cup thick sour milk
Cream shortening, brown sugar, and egg. Add nuts, raisins, and blend. Add sifted dry ingredients with sour milk, beat briskly.
Pour in 8x12-inch pan lined with waxed paper and bake at 350°F for 35-40 minutes, or until done.
While warm, brush with this mixture: 1/3 cup orange juice, 1 tablespoon grated lemon rind, 1/4 cup white sugar.

Old Fashioned Orange Cake Recipe
1/2 cup shortening
3/4 cup sugar
2 eggs
1/2 orange, grated rind and juice
1-1/2 cups pastry flour
2 teaspoons baking powder
1/4 teaspoon baking soda
1/3 teaspoon salt
1/4 to 1/2 cup water
Cream shortening, add the sugar gradually, blending thoroughly. Add eggs beaten until very light, grated rind and juice. Add the mixed and sifted dry ingredients alternately with water.
Bake in a greased and floured pan about 20 to 25 minutes in moderate oven (350°F to 375°F).
Just before removing from the oven the top may be spread with 1/2 cup granulated sugar mixed with 1/4 cup orange juice.

Glazed Orange Loaf

One egg, 1/2 cup shortening, 1 cup brown sugar, 1 cup sour milk, 1/2 cup dates cut fine, 1/2 cup raisins cut fine, grated rind of 1 orange, 1 small teaspoon baking soda, 1 teaspoon baking powder, 2 cups flour. Mix and bake in moderate 350°F oven.
Juice of 1 orange and 1/2 cup white sugar poured over the cake about 5 minutes after it is taken from the oven. —Mrs. W. Thompson.

Orange and Raisin Cake
Rind of 1 orange, 1 cup raisins and dates mixed and put through chopper; cream together 1 cup white sugar, 1/2 cup butter, 2 eggs beaten, 3/4 cup sour milk; add alternately with 2 cups flour in which has been sifted, 1 teaspoon baking soda, 1/2 teaspoon salt; add raisins and orange, vanilla; bake in moderate (350°F) oven 30 to 40 minutes.
If desired, the juice of the orange may be drizzled over the cake for added flavor. —Mrs. C. R. Pogue

Moist Old Fashioned Orange Cake Recipe

4 eggs
6 ounces granulated sugar
1/2 pound flour (2 cups bread flour)
1 orange
1 teaspoon baking powder
1/2 teacup milk
1/2 cup butter
Put the eggs and sugar into a large bowl and beat for 10 minutes. Add the rind of the orange grated. Sift in the flour and baking powder. Pour in the milk and mix all together.
Butter a cake tin and bake in a moderate (350°F) oven for 1/2 hour. Use the juice of the orange for the icing.

Orange Cream Cake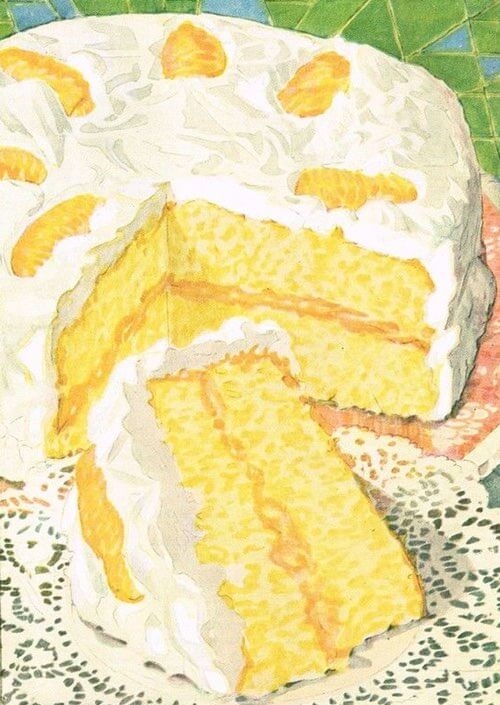 Refreshing Orange Cream Cake c.1920s
(Source: Adapted by Don Bell)
2 cups sifted flour
3 teaspoons baking powder
1/2 cup butter or shortening
1 cup sugar
2 egg yolks, well beaten
3/4 cup milk
1 teaspoon vanilla
2 egg whites, stiffly beaten
Sift flour once, measure, add baking powder, and sift together three times. Cream butter thoroughly, add sugar gradually, and cream together until light and fluffy.
Add egg yolks; then flour alternately with milk, a small amount at a time. Beat after each addition until smooth. Add vanilla; fold in egg whites. (All measurements level.)
Bake in two greased 9-inch layer pans in moderate oven (375°F) 30 minutes. Spread Orange Filling between layers and cover with a boiled frosting.
Decorate with candied orange peel or fresh orange sections. Double this old fashioned orange cake recipe to make three 10-inch layers.
Orange Filling:
5 tablespoons flour
1 cup sugar
Grated rind 1 orange
1/2 cup orange juice
3 tablespoons lemon juice
4 tablespoons water
1 egg, slightly beaten
2 teaspoons butter
Mix ingredients in order given. Cook in double boiler 10 minutes, stirring constantly. Cool before spreading. Makes filling for two layers.

Prize-Winning Light Orange Cake

The following old fashioned orange cake recipe is for a prize-winning orange cake by Mrs. F. Kelcey.
Ingredients:
1 orange
1 banana
1 cup Sultana or seedless raisins
1/2 cup butter
1 cup fine white sugar
2 eggs
2 cups pastry flour
1/8 teaspoon salt
3/4 teaspoon baking soda
1/2 cup sour milk
1/2 teaspoon vanilla
Method:
Put through food chopper: 1 orange (1/2 cupful), 1 banana (1/4 cupful), 1 cup raisins.
Cream well 1/2 cup butter. Blend in 1 cup sugar. Beat well and add 2 eggs. Sift and measure 2 cups pastry flour and sift again with 1/8 teaspoon salt and 3/4 teaspoon baking soda. Add 1/4 flour mixture to butter mixture.
Add the chopped fruit. Then add remainder of dry ingredients alternately with 1/2 cup sour milk. Beat in 1/2 teaspoon vanilla flavoring. Turn into cake pan and bake in a moderate oven (350°F).
When cake begins to draw away from sides of pan, and slight finger pressure in the center of cake leaves no permanent mark, remove from oven.
Turn cake out gently, and cool in a place free from draught. Frost with Mocha Icing Recipe (below).

Mocha Icing Recipe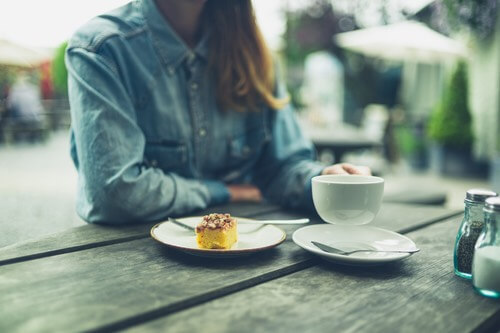 Enjoy Orange Cake with an Amazing Mocha Walnut Icing
(Source: ©lofilolo/Depositphotos.com)
Ingredients:
2 tablespoons butter
2 tablespoons icing sugar
2 tablespoons hot strong coffee
1 teaspoon cocoa powder
1 cup icing sugar
1/3 teaspoon vanilla
Chopped walnuts (optional)
Chocolate (optional)
Cream very light 2 tablespoons butter. Blend in well 2 tablespoons sifted icing sugar. Gradually add 2 tablespoons of hot strong coffee. Sift together and add gradually 1 teaspoon cocoa powder with 1 cup, or more, icing sugar.
When judged thick enough to spread, add 1/3 teaspoon vanilla flavoring. Beat thoroughly to make fluffy.
Cover cake with icing, and stew the top with finely chopped walnuts or grated chocolate curls. —Mrs. F. Kelcey

Old Fashioned Orange Cake Recipe

Annie Bell Henson (1916-1995)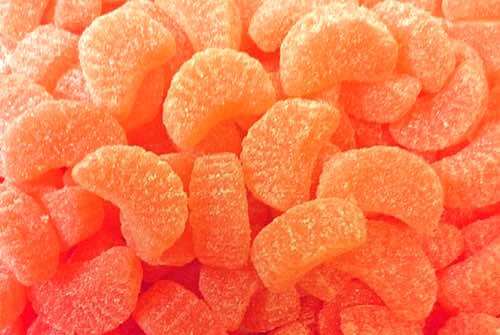 Get Candy Orange Slices at Bulk Stores and Supermarkets
(Source: ©Don Bell)
Candy Orange Slice Cake
Ingredients:
1-1/2 cups butter (3 sticks)
1-1/2 cups sugar
3 eggs
3 cups flour
1/4 teaspoon salt
1/2 cup buttermilk
1 teaspoon baking soda

Cream butter and sugar, add eggs one at a time and beat, then add flour, salt, buttermilk, and soda, and continue beating.
Then, add 1 8-ounce package of pitted dates, 1-1/2 cups pecans, 1 cup coconut, 1 pound Orange Slice Candy cut into small pieces (coat the orange slice pieces well with 1/2 cup flour).
Bake slow in greased bunt pan until done (250°F for about 2-1/2 hours).
Glaze while still hot with 1/2 cup orange juice and 2 cups powdered sugar, and pour over cake.

Candied Orange Peel Recipe
Waste not, want not as Grandma would say. Since the old fashioned orange cake recipes call for oranges, you can always candy the leftover peel while waiting for your cake to bake.
Make Candied Orange Peel by carefully cutting leftover peel in strips, place in saucepan in cold water, and bring to boil.
Repeat process three times, then measure orange peel and add an equal quantity of white sugar, and hot water to cover, and cook until pulp is translucent.
Remove from syrup; roll in sugar; place on plates to dry. Makes a super delicious candy treat.

Related Pages You May Like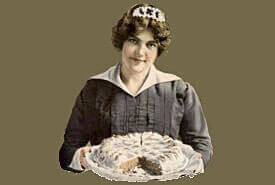 Homemade Cakes Menu