Old Fashioned Applesauce Cake Recipe
Enjoy Making an Old Fashioned Applesauce Cake
(Source: ©Anjela30/Depositphotos.com)
Grandma's old fashioned applesauce cake recipes make superbly moist dessert cakes with the unforgettable flavor of apples and spices. And they taste even nicer when the applesauce is homemade, so I've also included an easy recipe for making it.
You'll love the wonderful spicy apple fragrance wafting throughout your house while these easy cakes bake in the oven. Just close your eyes and imagine you're in Grandma's old farmhouse kitchen.

Old Fashioned Applesauce Cake Recipe

Submitted by J. Anthony

Scroll lower on this page for a printable recipe card with a full ingredient list and instructions!

I recently acquired two recipe boxes full of old time recipes going back 50 to 60 years ago. This recipe for making an old fashioned applesauce cake was one of them. —Anthony

What does adding applesauce to cake do?

Applesauce adds healthy sweetness and fiber, reduces calories compared to butter or oil, and its water content ensures your cakes are moist and fresh.

What's the best applesauce to use in cake?
Homemade applesauce is always the best, but if you must use a prepared store-bought kind, choose one with a chunky texture.

What can I substitute if I don't have applesauce?
You can substitute mashed bananas or even mashed sweet potatoes, and your cake will turn out delicious.
However, to make the batter consistency similar to applesauce, try adding a little more water and slightly less banana or sweet potato.

How to serve applesauce cake
Grandma used to cut it in generous pieces and serve it plain, warm from the pan. Top with a dusting of powdered sugar, if desired. You can also serve it frosted with your favorite vanilla icing or a scoop of vanilla ice cream.

How to store applesauce cake
This cake can be stored for up to five days when sealed in a container to keep it moist and fresh. To freeze for up to 3 months, cool to room temperature, then cover completely in plastic wrap, and then seal in aluminum foil before placing in freezer. Allow cake to thaw overnight before slicing and serving.

applesauce cake, homemade, traditional, snack cake
Dessert
American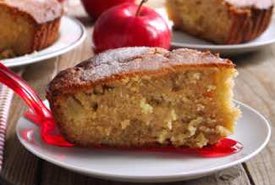 Old Fashioned Applesauce Cake
Prep time: 20 Min
Cook time: 50 Min
Total time: 1 H & 10 M
This old fashioned applesauce cake recipe is easy to make and perfectly spiced with cinnamon, cloves and allspice. It's moist and delicious on its own or when frosted or served with your favorite ice cream.
Ingredients
1/2 cup shortening
2 cups sugar
1 large egg (1/3 cup)
1 1/2 cups applesauce (thick and unsweetened)
2 1/2 cups sifted flour
1 1/2 teaspoons baking soda
1 teaspoon salt
3/4 teaspoon cinnamon
1/2 teaspoon cloves
1/2 teaspoon allspice
1/2 cup water
1 cup walnuts (chopped)
Instructions
Cream shortening and sugar till fluffy.
Beat in egg, then applesauce.
Mix and sift flour, baking soda, salt, and spices together.
Stir in alternately with water.
Bake 45-50 minutes at 350°F, minimally, in greased and floured 13 x 9 x 2-inch oblong pan.
Cool on cake rack.
Serve plain, dusted with sugar, or frosted.
Notes:
Serve from the pan or you might prefer to first line pan with parchment paper and lift cake onto a serving tray after baking.
You could also use the same batter to make delicious applesauce muffins instead of a cake.
Sodium (milligrams)
341.84
Approximate nutrition information is provided as a courtesy and is an estimate only.
Recipe compilation, images, and content © Don Bell, unless otherwise noted.
Easy Applesauce Recipe

The Book of Household Management (1861)

How to Make Applesauce

Ingredients:
1 Pound apples
1-1/2 ounces sugar, or to taste (about 3 tablespoons sugar)
1 Ounce butter (1 tablespoon soft butter, well rounded)
A little water, if necessary
Method:
Peel, core, and slice the apples, put them into a saucepan with the sugar, butter, and a very little water, and cook them until tender. Add more sugar if necessary, before serving.

Old Fashioned Applesauce Cake Recipes

Mom's Recipe Scrapbooks (c. 1920s)

traditional Applesauce Spice Cake
1 cup brown sugar
3/4 cup butter
1 cup raisins
1/4 pound mixed peel
1-1/2 cups hot applesauce
1 teaspoon cinnamon
Nutmeg to taste
2-1/2 cups flour
2 level teaspoons baking soda dissolved in the hot applesauce
3 tablespoons molasses are sometimes added.
Mix all ingredients and bake in a loaf pan in a moderate oven (about 350°F) till done. Dust with powdered sugar to decorate.

Applesauce and Raisin Cake
2 cups sugar
1 cup butter, or lard
2-1/2 cups unsweetened applesauce
4 cups flour
1 teaspoon ground cloves
1 teaspoon ground cinnamon
3 teaspoons baking soda
2 cups stoned raisins
Bake in a moderate oven (350°F) till done.

Chocolate Applesauce Cake
1 cup white sugar (3/4 cup if using sweetened applesauce)
1/2 cup butter
1 egg
1 cup applesauce (unsweetened)
1 cup chopped nuts
1 cup raisins
2 cups flour
1 teaspoon cinnamon and salt
1/2 teaspoon nutmeg and allspice
2 tablespoons cocoa powder
1/2 teaspoon baking soda dissolved in hot water
Directions:
Cream butter and sugar thoroughly, add egg beating well. Add flour mixture alternately with applesauce, beating after each addition.
Add raisins and nuts last with flour addition. Mix in baking soda dissolved. Bake in greased loaf pan for 1 hour at 325°F.

About Old Fashioned Applesauce Cake Recipes

You'll enjoy these moist and delicious snack cakes anytime, Be  sure to store them in a covered container after you've baked them so they don't dry out.

These homemade cakes are famous for being moist and flavorful, especially when they're made with homemade applesauce (see the easy recipe above).

And not only will these cakes make your dinner party special, but they are also the perfect treat for serving when you want to enjoy a quiet coffee break with a close friend. Even after a big meal, you'll always find room for a generous slice.
We're talking comfort food, pure and simple! Why not make an old fashioned applesauce cake recipe tonight?

Related Pages You May Like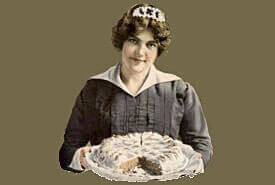 Homemade Cakes Menu