Milk Shake Recipes

There's Nothing Like an Old Fashioned Chocolate Milk Shake
(Source: ©gurinaleksandr/Depositphotos.com)
Old fashioned milk shake recipes are very easy to make once you know how. Milk shakes, frothy combinations of milk and fountain syrup flavoring, were a refreshingly frosty beverage sold at ice cream parlors and soda fountains.
"Shakes" came in numerous flavors and often bore distinctive names, such as "Brown Cow." Malted milk shakes or "malts" as they were commonly called were also very popular, especially the chocolate malts.
Chilled shakes are refreshing to drink anytime, but they taste especially good on a hot summer's day. However, you can enjoy a cold, refreshing milk shake anytime.


How to Make Milk Shakes
Making Frothy Milk Shakes with a Modern Hand Mixer
(Source: ©Yganko/Depositphotos.com)
The old fashioned soda fountain milk shakes were usually made without carbonated water simply by shaking together flavor syrups and rich milk, either with or without crushed ice, and then serving immediately after straining.
Cream was sometimes added with the milk to make a thicker, richer-tasting shake. See the Cream Shake Recipes farther down the page.
For the coolest, most refreshing, most flavorful milk shakes, always chill the milk before making your shake and use quality flavor syrups when called for in the old time milk shake recipes, or you can make your own fountain syrups for a fresher more natural taste.

Shakes may be made quickly using your kitchen blender, but you can also make them the old fashioned way by placing all the ingredients in a sealed container and vigorously shaking it until it's thoroughly mixed and frothy — the classic milk shake.


Vintage Milk Shake Recipes

The Dispenser's Formulary or Soda Water Guide (1915)


Old Fashioned Milk Shake Recipe

Put 4 ounces, or less, of shaved ice into a thick 12-ounce tumbler, add 1 ounce vanilla syrup, fill the glass with milk and agitate the whole thoroughly.
The shaking may be done in the special machine know as a "milk shaker," or by means of a small hand shaker like that used for making egg drinks.
After shaking, strain mixture into another glass and serve. Sprinkle on some powdered nutmeg, if desired. Chocolate or any other non-acidulous syrup may be used if desired (acid syrups tend to curdle the milk). Price—12 ounces, 10 cents.


Coffee Milk Shake

1-1/2 ounces coffee syrup, 1 tablespoonful powdered sugar, 1/2 glassful shaved or cracked ice, milk enough to fill glass. Shake well, strain, and top off with whipped cream.


Pineapple Milk Shake

1/2 glassful shaved or cracked ice, 1 ounce vanilla syrup, 1 ounce pineapple syrup, enough milk to fill glass. Mix and shake as in the preceding coffee shake. Price—10 ounces, 5 cents.


Peach Milk Shake

1 ounce peach syrup, 1/2 ounce grape juice, 1/2 ounce pineapple syrup, 1/2 glass shaved ice. Fill the glass with milk, shake well, and serve with two straws. The amount of syrup in this formula may be reduced.


Frosty Coffee Shake

Serve in a 12-glass. One-half fluid ounce of coffee, fill glass half full of shaved ice, then add sugar or simple syrup to sweeten to taste, fill glass with milk and shake thoroughly, top off with nutmeg or cinnamon, and serve with straws.


Clam Milk Shake

1-1/2 fluid ounces clam juice, 2 fluid ounces milk, 5 fluid ounces soda water. Add a pinch of salt and a little white pepper to each glass; shake well. Price—8 ounces, 5 cents.


Fruity Vanilla Milk Shake

Fill a glass two-thirds full of milk, sweeten to taste with any fruit syrup or with sugar, and then flavor with vanilla. Fill glass up with cracked ice and shake well together until thoroughly mixed. —Neighborhood Cook Book


Chocolate Milk Shake

1 ounce chocolate syrup and enough sweet milk. Fill a glass full of shaved ice, put in the chocolate syrup and add the milk until the glass is almost full. Shake well, but do not strain. Top off with whipped cream and serve with straws. Price—10 ounces, 10 cents.


Chocolate Bouche

2 fluid ounces of chocolate syrup, 1/2 glassful shaved or cracked ice, enough milk to make 12 ounces. Mix, shake well, strain, and top off with whipped cream.


Creme de Cocoa
One-third glass of shaved ice, 1-1/2 ounces chocolate syrup, 2 ounces sweet cream, 3/4 tumbler of pure milk.
Shake and strain into another tumbler into which has been placed 1 tablespoon whipped cream. Grate chocolate on top and serve. This milk shake recipe makes up a genuine creme de cocoa milk shake.


Strawberry Milkshake Recipe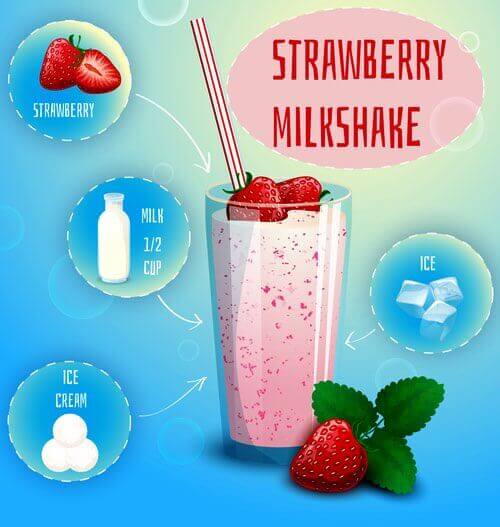 Try This Easy Strawberry Milkshake Recipe
(Source: ©macrovector/Depositphotos.com)
Easy Strawberry Shake

Strawberries, 1/2 cup milk, ice cream, and ice. What could be simpler?


Malted Milk Shake Recipe

Malted milk shakes or "Malts" were once very popular, but they are not often seen on today's fast-food menus. This always puzzles me since there is nothing like the rich, full-bodied taste of a Malt.
Believe me, you haven't lived till you've tasted an old fashioned "Chocolate Malt" in a fluted glass. They are so good tasting!


Malted Shakes
To make this old time soda parlor treat, simply make your favorite milk shake recipe as usual, but first add to it a tablespoonful or two of malted milk powder.
Malted milk powder is available at some food stores or it can be easily purchased online from the Prairie Moon Company website.


Cream Shake Recipes

The Dispenser's Formulary or Soda Water Guide (1915)


Frosty Homemade Milk Shakes
(Source: ©iStock/sad444)
When rich, heavy, sweet cream is added to the milk BEFORE shaking it, it becomes known as a Cream Shake.
Much is added to the appearance of this drink if it is topped with whipped cream. A spoonful of ice cream may be used instead of cream in any of the cream shake recipes.
Creamed Pineapple

1-1/2 ounces crushed pineapple, 2 ounces cream, 1/4 ounce shaved ice. Fill 12-ounce glass with rich milk. Shake, toss and serve. Charge 15 cents.


Creme de Maple

2 ounces maple syrup, 2 ounces ice cream, 1 ounce plain cream. Mix, thoroughly, shake, then fill with milk and add a spray of mint. A slice of orange goes well here, but such addition is at the option of the dispenser.


Cream Shake a la Orleans

2 ounces cream, 1 ounce chocolate syrup, 1/2 ounce orange syrup. Fill one-fourth of the glass with ice and add cream and syrups and milk enough to fill.
Shake well and strain into bell-shaped glass. Serve with straws. This formula makes up as a real ice cream shake by adding a scoopful of ice cream.


Chocolate Arctic

Serve in a 12-ounce glass. Use 1-1/2 ounces of chocolate syrup, fill one-third full of shaved ice, 1 ounce of pure rich cream, shake thoroughly, withdraw the glass from the shaker, allowing the syrup, etc., to remain in the shaker.
Now fill with carbonated water, using the fine stream only, until the shaker contains sufficient to more than fill the glass. Pour into glass and back once, then strain into clean glass. Much is added to the appearance of this drink if it is topped with whipped cream.


Any of the milk shake recipes can be made extra special simply by topping the shake with whipped cream and a maraschino cherry!

Affordable Soda Fountain Syrups


Prairie Moon Has Everything You Need
Make your beverages with  flavored syrup concentrates from The Prairie Moon Company. Choose from over 50 old fashioned soft drink flavors including Root Beer, Sarsaparilla, and Cola. Simply add water and your own sugar or sweetener.
Prairie Moon offers low cost shipping to U.S. and Canadian customers. I highly recommend them!
Disclosure: This is an affiliate link, which means that if you purchase a Prairie Moon product through this link, I receive a small compensation to help support this site — at no extra cost to you.

You May Also Like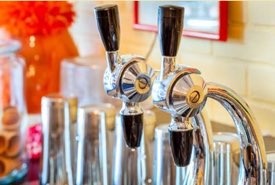 Homemade Soft Drink Menu

As an Amazon Associate I earn from qualifying purchases.