Homemade Fruit Tea Recipes
Homemade Fruit Tea Recipes
Grandma's homemade fruit tea recipes make delicious beverages you'll be proud to serve to your guests. Back in her day, a gesture of true hospitality meant making a fresh pot of tea when company came.
The fruit teas she loved to serve had a perfectly satisfying, all-natural, fruity taste. Impress your friends by serving these refreshing beverages at your next get-together. Make them feel really special.
Enjoy refreshing iced teas, comforting hot teas, a delicious dessert tea a la mode, and the authentic Russian tea served with lemon. Summer or winter, there's a delicious fruit tea beverage to brew.

Homemade Fruit Tea Recipes
Mom's Recipe Scrapbooks (c. 1920s)


Enjoying an Afternoon Fruit Tea Beverage, c. 1920s
(Source: Don Bell)
Strawberry and Black Currant Tea
Strawberry and black currant leaves make a very good substitute for tea when properly treated.

Rhubarb Iced Tea Drink
Enjoy Serving Refreshing Fruit Tea Beverages
(Source: ©iStock/coramueller)
Tea freshly brewed, 1 quart; juice and rinds of 2 lemons or 1 orange; 1 lemon, cut into thick wedges; sugar, 1-1/2 cups; rhubarb to taste.
Mix together tea, rhubarb, lemon, and sugar. Cook until rhubarb is tender. Strain and cool. Pour over broken ice in cups or glasses. Rhubarb iced tea is especially refreshing and delicious.

Hot or Cold Homemade Fruit Tea Recipe
Wright's Book of 3000 Practical Receipts (1869)


Raisin Iced Tea
Stoned raisins, 1 pound; water, 5 quarts. Boil to one gallon and strain. Serve hot or chilled with ice.

Lemon Tea à La Russe

Aunt Babette's Cook Book (1889)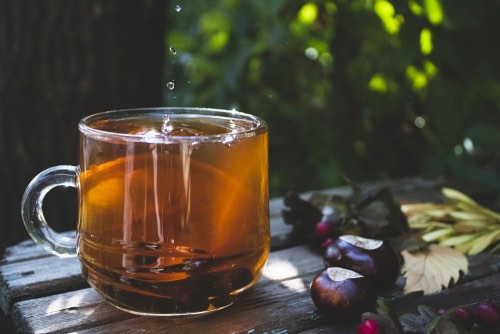 Enjoy a Refreshing Cup of Russian Lemon Tea
(Source: ©An_Y_kA/Depositphotos.com)
The perfect beverage to serve with an authentic Russian dessert for an afternoon get-together.

Russian Lemon Tea
Lay a slice of lemon in the bottom of each cup, sprinkle with sugar, and pour hot, strong tea over it. Use no cream.

Homemade Iced Tea Recipe with Lemon

Buckeye Cookery and Practical Housekeeping (1877)


Cracked Ice Lemon Tea

Tea made as for iced tea (or that left in the teapot after a meal), with sugar to taste, a slice or two of lemon, a little of the juice, and some pieces of cracked ice, makes a delightful drink. Serve in glasses.

Orange Iced Tea with Lemon and Ice Cream
Second Edition of the Neighborhood Cook Book (1914)


Tea à la Mode

You simply have to try this dessert-like homemade fruit tea recipe! This would be perfect to serve on a special occasion. Indeed, it would make any occasion special.
Chill a pitcher of freshly made tea of the desired strength. Sweeten with orange soda syrup instead of sugar, being careful not to get it too sweet. Then squeeze in enough lemon juice to give it a little twang, and set on ice again to get thoroughly chilled.
Have ready a bowl of chipped ice, a bowl of vanilla ice cream, and a pitcher of prepared cold tea. Fill a dainty glass one-third full of ice, pour on tea until it is two-thirds full, and then drop a spoonful of ice cream on top and serve at once on a plate.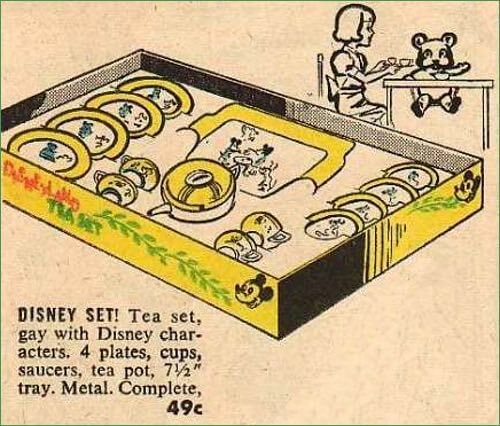 Ask Your Grandma If She Had This 1953 Toy Tea Set
(PD Source: Dell Comics, 1953)
If you purchase a product through a link on this page, I receive a small commission at no extra cost to you. I recommend only products I have purchased or would purchase myself, products I think you would like. See my FTC compliance policy for more information.

Torani Soda Syrups can be found for sale at Amazon in dozens of flavors ranging from Classic Root Beer to Watermelon.

Carbonated Water (soda water) can be found for sale in the soft drink section of most food and convenience stores.
Related Pages You Might Like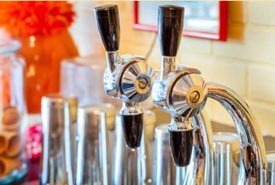 Soft Drinks & Sodas Menu