Date Pinwheel Cookie Recipe
You will love Mom's favorite old fashioned date pinwheel cookie recipe. If you are partial to the sweet exotic taste of dates, these homemade cookies are the absolute best!
Brown sugar, honey, and dates — everything yummy goes into these date-filled pinwheel cookies.
As a Bonus, I've included a recipe for date-filled sandwich cookies. Mom often made them for special occasions, and they were always a favorite of mine. If you love date squares, you will love these sandwich cookies!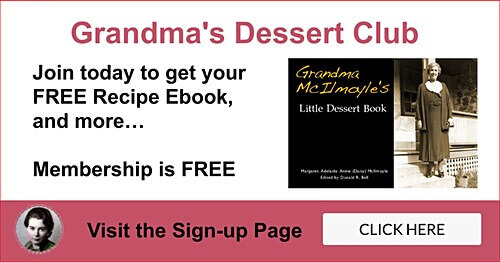 Mom's Date Pinwheel Cookie Recipe

Mom's Recipe Scrapbooks (c. 1920s)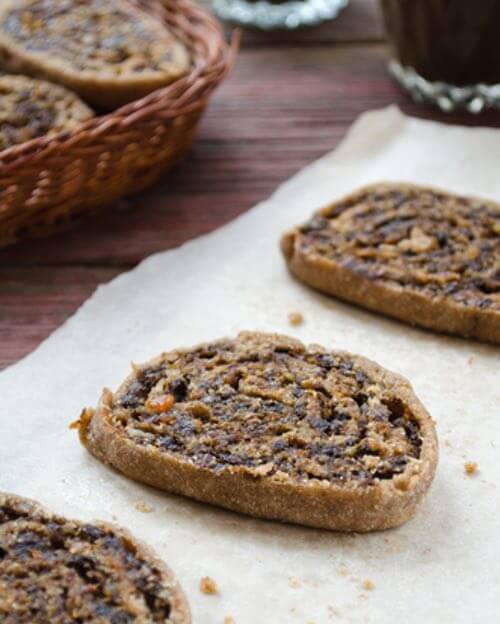 Homemade Date Cookies Made Extra Large
(Source: ©martiapunts/Depositphotos.com)
Honey Date Filled Pinwheel Cookies
These were one of my favorite cookies as a child, as they were always soft and chewy with the sweet taste of dates.
Dad loved them too, and I was always thrilled when Mom made a plateful for us. This old fashioned date pinwheel cookie recipe is a keeper!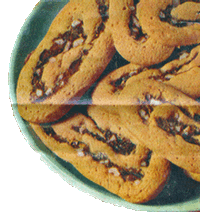 Honey Date Pinwheels
Ingredients:
1 cup shortening
1 cup brown sugar
1 cup honey
3 eggs
4 cups sifted all-purpose flour
1 teaspoon cinnamon
1 teaspoon baking soda
1/2 teaspoonful salt
Directions:
Prepare date filling (see recipe below) and set aside to cool.
Then, cream shortening and brown sugar together until fluffy. Add honey gradually and continue creaming. Add eggs, one at a time, beating well.
Sift dry ingredients together and add to creamed mixture.
Divide cookie dough into 2 parts. Chill 1/2 hour in refrigerator. Roll each part into a 12-inch by 10-inch rectangle about 1/2 inch thick on a floured board.
Spread dough gently with cooled filling to within 1 inch of edges. Roll up like a jelly roll. Wrap each roll in waxed paper. Place rolls in coldest part of refrigerator overnight. Slice thin.
Bake cookie slices on ungreased baking sheet, in moderate oven (375°F), about 12 minutes. Makes about 4 dozen cookies.
Date Filling Recipe:
1-1/2 cups pitted dates, cut-up
3/4 cup honey
1/3 cup water
1-1/4 teaspoons lemon juice
1/2 cup finely chopped nuts
Cook dates, honey, and water until dates are soft. Remove from heat. Add lemon juice and nuts. Cool before spreading on the dough.

Fig and Date Sandwich Cookies
This homemade date cookie recipe is so easy to make, and the date filled cookies are delicious and will satisfy that craving for comfort food, and they will also offer a change from date squares.

Because they look so good on a plate, people will think you spent hours making them. But, don't worry, they won't know your secret.
1/2 cup butter, 1/2 cup sour milk, 1 cup sugar, 1/2 teaspoon soda, 1 egg, 1 lemon (juice), 1/4 teaspoon salt, 2 cups flour, 1/4 cup nutmeats, 1/2 cup each figs and dates.
Cream butter and sugar; add egg and sour milk. Combine dry ingredients and add to mixture. Add enough more flour to roll on board. Roll in thin sheets and cut in rounds.
Grind figs, dates, and nuts, and mix with lemon juice. Spread mixture thinly on each of one-half the cookies. Place one of the plain cookies over the mixture and press edges together. Bake in a moderate (375°F) oven.