Butter Pecan Cookie Recipe
This old fashioned butter pecan cookie recipe brings back fond memories. When I had been a young boy, my Mother's McIlmoyle Family held large family reunions attended by all the aunts, uncles, and cousins.
You could always count on large platters of wonderful picnic-style food and plenty of delicious desserts — all deliciously homemade.
We stuffed ourselves with frosted layer cakes, pies, chewy chocolate brownies, jellied fruit salads, cinnamon rolls, and trays of cookies. Yeah, there was a large main course, but we kids had only eyes for the desserts!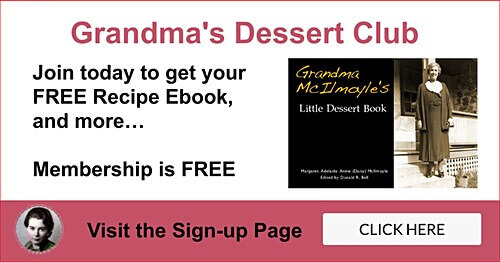 Mom's Butter Pecan Cookie Recipe
Mom's Recipe Scrapbooks (c. 1920s)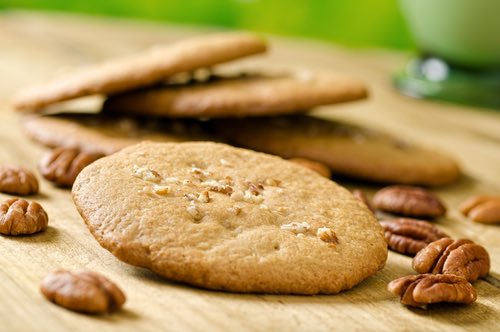 Mom's Homemade Southern Butter Pecan Cookies
(Source: ©fudio/Depositphotos.com)
Southern Butter Pecans
Give Mom's favorite mouth-watering cookies a try. They're perfect for taking on family picnics and for serving on special occasions like a family reunion, or anytime. I know you'll love eating them yourself too!
Ingredients:
1/2 cup butter
1 teaspoon vanilla extract
1 cup confectioner's sugar, sifted
1 cup cake flour, sifted
1/8 teaspoon salt
1/2 cup chopped pecans
Directions:
Cream the butter, add vanilla, and sugar, and gradually beat till light. Sift flour with salt, then add to sugar mixture. Finally, add pecans and mix well.
Drop by teaspoonful onto ungreased cookie pans. Flatten cookies with a fork and bake about 20 minutes in a 325°F oven. Enjoy!

The McIlmoyle Family Reunion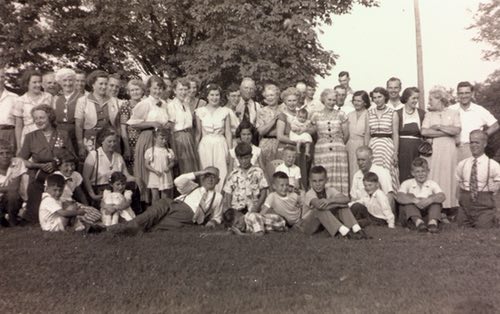 McIlmoyle Family Reunion Group Photo in 1956
(Source: ©Don Bell)
The McIlmoyle family reunions called for lots of good, homemade food, and every family contributed their share.
Mom usually took a casserole, a plateful of fancy-cut sandwiches, and at least a couple of dessert items, including a tin full of her delicious Southern Butter Pecan Cookies. Everybody loved them!
While the adults had sat beneath the shady maple trees and caught up on the latest family news, we kids played games of tag or tossed a ball around, and longed for the eventual picnic supper served on a long row of tables.
That's me at age 10, second on the right, next to my Dad in the photo below. And nearby there was a plateful of Mom's wonderful homemade cookies.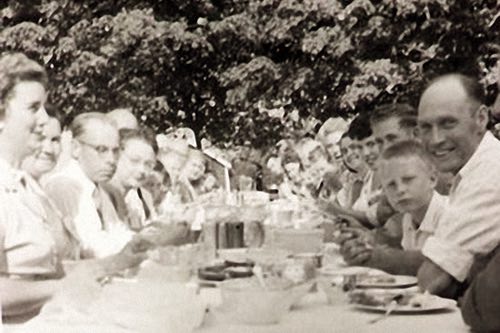 McIlmoyle Family Reunion Picnic Supper in 1956
(Source: ©Don Bell)
Best cookies I ever had. Shared to all of my classes. Thanks! Loved them! Hope you try them. —Anon.

Thank you for sharing your family's Southern Butter Pecan Cookie recipe. The pecan cookies are delicious! —Anon.