Easy Cupcake Recipe from Scratch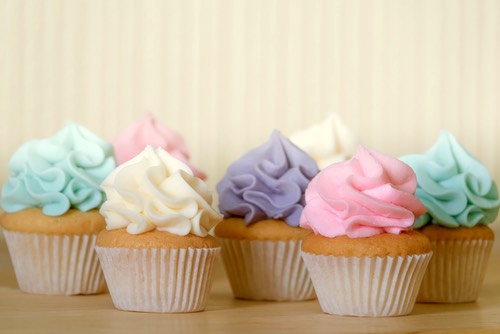 Vintage Vanilla Cupcakes Crowned with Colorful Frosting
(Source: ©yvonnestewarth/Depositphotos.com)
When it comes to making an easy cupcake recipe from scratch, this one is hard to beat. It was written to instruct young girls on how to make classic cupcakes step by step. The practical tips given below can be followed when making any cupcakes.

Easy Cupcake Recipe from Scratch
Calling All Girls Magazine (April 1946)


Young Girl Making Low-Sugar Vanilla Cupcakes from Scratch
(PD Source: Calling All Girls, April 1946)
Let 'em Eat Cupcakes! And don't think they won't — if you make this good-to-the-last-crumb wartime cupcake recipe from scratch, you'll be needing only one-half cup of sugar.

Vanilla Cupcakes with Lemon Rind
This is a whiz of a recipe. It makes delicious cupcakes. It makes them with the absolute minimum of sugar and no shortening.
Mini two-inch cupcakes — two dozen. Twelve of the larger size! Bake twice as often on the same sugar ration — whee!
Ingredients:
3 eggs, separated
1/2 cup white sugar
1/8 teaspoon salt
1/4 cup boiling water
3/4 cup cake flour
2 teaspoons baking powder
1 teaspoon vanilla
1/2 teaspoon grated lemon rind (optional)
Here we go, then. Separate the yolks and whites of 3 eggs (save 2 of the whites in a separate dish for icing later, if desired). Beat the yolks till they are a light lemon-yellow color.
Measure 1/2 cup of sugar, 1/8 teaspoon of salt and sift them together twice to be sure they are lumpless and evenly combined. Then add them gradually to the egg yolks, beating all the time. Stir into this 1/4 cup of boiling water.
Now you need 3/4 cup of sifted flour. To accomplish this, you measure 3/4 cup of cake flour. Then you sift it. Then you pile it back lightly into the measuring cup, using a spatula, or any other broad, flat blade.
Level the flour by scraping off the excess with the edge of the blade, for you'll have some left over. That's the point. So don't shake the cup or poke the flour down or try to make the rest fit into the measure. It increases in bulk when sifted, and that's why it's important to measure again and correctly for the increase.
Now re-sift this 3/4 cup of cake flour with 2 teaspoons of baking powder. Then add it to the mixture of egg yolks, sugar, salt, and water, beating till you have a smooth batter. Flavor it with 1 teaspoon of vanilla and 1/2 teaspoon of grated lemon rind (optional).
All right, you're ready to bake. Grease your cupcake pan, and fill each division two-thirds full. Set it into the oven preheated to 350°F and bake for about 15 minutes. Let the cupcakes cool in the pan after removing them from the oven.
These cupcakes are delicious when served plain with fruit or for a fancy, tempting display, generously frost with your favorite icing.

By the way, preheating the oven means turning it on a good 15 minutes before you want to use it, setting the control for the temperature that you want, and letting it reach that temperature before you put the cupcakes or cake in. —Jane Richards

Related Pages You May Like

Homemade Cupcakes Menu