Strawberry Cheesecake Recipe
Old Fashioned Strawberry Cheesecake Recipe

Make this old fashioned strawberry cheesecake recipe and enjoy a sensational dessert that's easy to make and always pleases. The rich layer of strawberry glazing infuses the classic cheesecake making a sweet symphony of flavors to tempt your taste buds.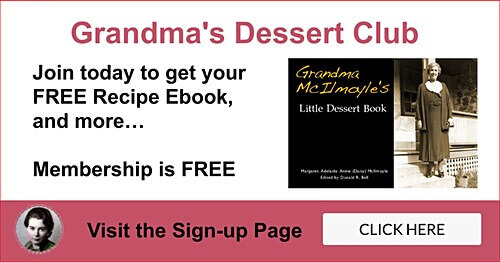 Mom's Old Fashioned Strawberry Cheesecake Recipe

Mom's Recipe Scrapbooks (c.1920s)

Slice of Homemade Glazed Strawberry Cheesecake
(Source: ©ildi_papp/Depositphotos.com)
Baked Cheesecake With Fresh Strawberry Glaze

Baking Tip
Pineapple glaze may be made in a similar fashion for this homemade cheesecake.

Cheesecake Crumb Crust:
1 cup all-purpose flour, sifted
1/4 cup sugar
1/2 cup butter
1 Egg yolk, slightly beaten
1/4 teaspoon vanilla flavor
Combine first 3 ingredients. Cut in butter until mixture is crumbly. Add egg yolk and vanilla, and blend well. Pat 1/3 of dough on bottom of 9-inch spring-form pan (sides removed).
Bake at 400°F about 8 minutes, or until golden in color. Remove from oven and let cool. Now attach sides to bottom of pan, butter sides, and pat remaining dough on the sides to a height of 1-3/4 inches.
Cream Cheese Filling:
5 to 8 ounce package of cream cheese
1/4 teaspoon vanilla flavor
1-3/4 cups sugar
3 tablespoons all-purpose flour
1/4 teaspoon salt
4 or 5 eggs (about 1 cup)
2 egg yolks
1/4 cup whipping cream
Let cheese soften at room temperature, 1 to 1-1/2 hours. Beat until creamy, then add vanilla.
Mix next 3 ingredients, slowly blend in. Add eggs and yolks, one at a time, beat after each just to blend. Gently stir in cream.
Turn filling into crust-lined pan. Bake at 450°F for 12 minutes. Reduce heat to 300°F and bake for 55 minutes. Remove from oven and allow to cool.
Loosen sides with spatula after cooling 1/2 hour. Continue cooling for an additional 2 hours. Glaze with Fresh Strawberry, pineapple, or dust with powdered sugar.
Fresh Strawberry Glaze

1 pound fresh strawberries
1/4 cup sugar
1 tablespoon lemon juice
2 teaspoons cornstarch
Whipped cream to decorate (optional)
About 2 hours before serving, hull strawberries and arrange whole berries on top of cheesecake in whatever manner desired, while saving some for the glaze.
To make the glaze for this old fashioned strawberry cheesecake recipe, slice the remaining berries and add them to sugar and lemon juice in a pot over medium heat. Bring to boil.
Dissolve cornstarch in 2 tablespoonfuls of water, then stir into berry mixture. Let cook while stirring for 1 minute, until mixture thickens.
Strain glaze over a bowl while pressing on the berry pieces with a spoon. Allow the glaze to cool, then brush onto strawberries using a pastry bush. Chill glazed cheesecake for 1 hour before serving.
Whipped cream piping may be used to further decorate your cheesecake, if desired.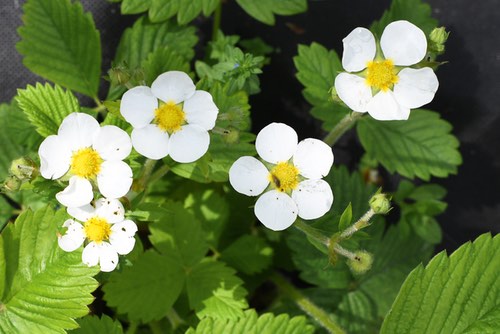 Fresh Buds and Flowers Forming on Strawberry Plants
(Source: ©Alin-Kris/Depositphotos.com)
I don't recall ever tasting cheesecake when I was a boy growing up in the 1950s. It must have been a popular dessert in the cities, but Mom never made it nor can I recall any of our farm relatives making it.
Strange, since Mom had several cheesecake clippings pasted in her scrapbooks including this old fashioned strawberry cheesecake recipe.
Anyway, I got to taste cheesecake for the first time at a high school graduation party and I've loved it ever since. Especially the strawberry kind!