Baked Squares Recipes
You'll want to add Mom's favorite baked squares recipes to your recipe box. Be sure to keep them handy for whenever you need to make an extra-special, mouth-watering treat for friends and family, or for taking to a party. They're the best.
And, my thanks to Robert for taking time to share his family's treasured hermit squares recipe with us. I'm sure many will want to try it. And his Aunt Rose's homemade Ga Ga Hermits are also mouth-watering and delicious!

Mom's Baked Squares Recipes

Mom's Recipe Scrapbooks (c. 1920s)


Magic Cookie Bars with Chocolate and Peanut Butter Chips
(Source: ©AEPhotos/Depositphotos.com)
Squares and bars are always a popular sweet to serve on any occasion, and these old fashioned baked squares recipes were some of Mom's favorites. I just know you'll love them.

Magic Cookie Bars

1/2 cup butter
1-1/2 cups graham cracker crumbs
1 (14 ounce) can Eagle Brand® Sweetened Condensed Milk
1/2 pkg semi-sweet chocolate chips
1/2 pkg Reese's® peanut butter chips
1-1/3 cups sweetened coconut
1 cup chopped nuts
Preheat oven to 350°F (325°F for glass dish). In 13 X 9-inch baking pan, melt butter in oven. Sprinkle crumbs over butter; pour Eagle Brand® evenly over crumbs. Top with remaining ingredients; press down firmly.
Bake 25 to 30 minutes or until lightly browned. Cool. Chill thoroughly in fridge and cut into bars. Store loosely covered at room temperature. Makes 2 to 3 dozen bars, depending on the size you make them.

Magic Cookie Bars Variation
I make cookie bars using this old fashioned baked squares recipe, but I don't prefer coconut so I leave it out.
And when I put the sweetened condensed milk in, I first melt caramels in with the condensed milk — I'm really big on the chocolate/caramel thing!
But, I also don't limit myself to just chocolate chips. I put in whatever I have in my cupboard; it might be white chocolate or butterscotch. I just mix a variety together.
I have also put in some toffee bits to add a little crunch to it. VERY RICH TASTING! —Anon

Fruit Filled Chocolate Bars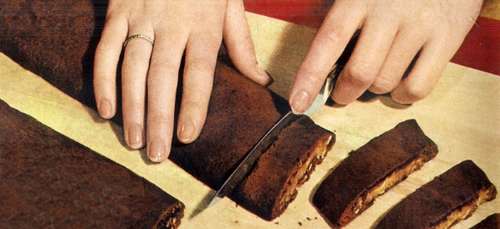 Homemade Fruit Filled Chocolate Bar Cookies
(PD Source: Unknown Magazine Clipping)
This baked squares recipe makes enough cookie dough for both fruit fillings, or for one fruit filling doubled in quantity.

4 Squares Baker's® Unsweetened Chocolate
1/2 Cup milk
1/2 Cup light brown sugar, firmly packed
3 Cups sifted flour
2 Teaspoons baking powder
1/4 Teaspoon salt
1/4 Cup butter or shortening
1 Cup light brown sugar, firmly packed
1 Egg, unbeaten
2 Tablespoons milk
1-1/2 Teaspoons vanilla flavoring
Combine chocolate and milk in top of double boiler. Cook over boiling water until blended and thickened, stirring constantly. Add 1/2 cup brown sugar and continue cooking 5 minutes. Allow to cool.
Sift flour once, measure, add baking powder and salt, and sift again. Cream butter thoroughly, add 1 cup brown sugar gradually, and cream together until light and fluffy. Add egg and beat well.
Stir in chocolate mixture, milk, and vanilla. Add flour all at once and mix well. Chill overnight or until firm enough to roll.
Divide dough in six equal parts. Roll each portion of dough 1/8 inch thick on slightly floured board, into rectangular sheet 4-1/2 x 12 inches.
Spread 1/3 cup filling (below) in 1-1/2 inch strip down center of dough. Fold dough over filling, brush edges with milk, and seal. Place seam-side down on ungreased baking sheet and brush with milk.
Bake in moderate oven (350°F) 20 minutes, or until done. Let cool in pan 5 minutes, then cut diagonally in bars, 1 inch wide. Makes about 5-1/2 dozen bars.
Fig Filling with Walnuts:
Combine 2/3 cup ground figs, 3 tablespoons sugar, 1/3 cup water, and 4 teaspoons grated orange rind in saucepan. Cook about 4 minutes, or until thickened, stirring constantly.
Add 1-1/2 teaspoons lemon juice and 1/2 cup coarsely chopped walnut meats. Cool. Makes about 1 cup filling.
Pineapple Coconut Filling:
Mix 3 tablespoons sugar, 2 1/2 teaspoons cornstarch, a dash of salt, and 2 tablespoons canned pineapple juice in top of double boiler. Add 2/3 cup canned crushed pineapple, well drained.
Place over boiling water and cook 12 minutes, stirring occasionally. Add 1 1/2 teaspoons lemon juice and 2/3 cup flaked coconut. Cool. Makes 1 cup filling.

Old Time Nut Dessert Squares
This baked squares recipe is taken from an old time newspaper clipping. Baked treats like these were quite popular in the first half of the 20th century.
Cream 1/2 cup shortening. Blend in 1 cup white sugar, 2 eggs beaten well, and 1/2 teaspoon vanilla. Add 1-1/2 cups flour which has been sifted with 1 teaspoon baking powder and 1/2 teaspoon salt. Pour into a shallow greased cake tin. Sprinkle with chopped nuts.
Beat the white of 1 egg until stiff and then fold in 1 cup of brown sugar and 1/2 teaspoon of vanilla. Spread carefully over the nuts and bake in a slow oven (275°F) for 15 to 20 minutes. Makes about 15 delicious squares.

Vintage Raisin Squares

1 cup seedless raisins
1/2 cup shortening
2/3 cup brown sugar
2 tablespoons molasses
1 egg
1/2 cup all-purpose flour, sifted
1/4 teaspoon salt
1/4 teaspoon baking soda
3/4 cup quick cooking oats
Rinse raisins and drain liquid. Melt shortening, stir in brown sugar and molasses. Add unbeaten egg and beat thoroughly. Sift together flour, salt, and baking soda. Add with oats and raisins to first mixture.
Turn all into greased 8-inch square pan and bake at 350°F for about 25 minutes until done.

Raspberry Cream Squares

Fluffy and fruity and so vintage, this baked squares recipe is a keeper!

Ingredients:
16 Graham wafers
1/4 cup brown sugar
1/4 cup butter
1 package frozen raspberries
1 tablespoon cornstarch
1 package whipped topping
Roll Graham wafers and mix with sugar and butter. Set aside 1/4 cup of crumbs for topping. Press remaining crumbs in 8 x 8-inch pan and bake at 325°F for 5 minutes or until brown.
Defrost package of frozen raspberries. Drain off juice, then heat, and thicken with 1 tablespoon cornstarch. When cool, add berries and spread on crust.
Whip 1 package of topping and when stiff, spread evenly on berries and sprinkle remaining crumbs on top.

Colored Marshmallow Squares
Shortbread Base Layer:
3/4 cup butter
1/2 cup sugar
1-1/2 cups flour
Pinch of salt
Mix as shortbread, press in pan, and prick with fork. Bake 15 to 20 minutes at 350°F.
Marshmallow Topping:
2 tablespoons gelatin powder in 1/2 cup water; soak as directed on gelatin package.
Bring to a boil 2 cups white sugar and 1/2 cup water, let boil 2 minutes. Add hot sugar mixture to gelatin and beat by hand or mixer until like marshmallow. Spread over baked layer.
May add chopped cherries, or almond flakes with a bit of almond extract to all or part of mixture.
Color all or part of mixture pink, white, or green to suit the occasion.

Old Fashioned Baked Squares Recipe

Submitted by E. Pearson


Marshmallow Shortbread Squares
Hi! Here's a really good baked squares recipe. My grandmother got it from a neighbor back in her day. We make these marshmallow shortbread treats every year for Christmas and other holidays.
The recipe for Marshmallow Shortbread Squares is written on Grandma's recipe card with brackets and directions on each side of the sets of ingredients, so I'll try to make it clear. —E. Pearson

Baked Layer:
Mix...
3/4 cup brown sugar
3/4 cup butter
1-1/2 cups flour
Pat in 8 x 8 inch or larger pan — bake 15 minutes at 350°F.
(We double this quantity for a 9 x 13 inch pan and then it's a little thick, so it has to bake longer; check at 25 minutes, in this case.)
Topping Layer:
Bring to boil, simmer 15 minutes...
1 envelope Knox gelatin
3/4 cup cold water
3/4 cup sugar
Add coloring of choice, 1 teaspoon vanilla extract (or almond, as desired), dash of salt. Add 3/4 cup powdered confectioners sugar slowly to gelatin mixture. Beat until stiff, then pour over baked layer. Optionally, sprinkle coconut on top.
I hope this dessert recipe is close enough that you can make it like the ones that you fondly remember! :)

Old Fashioned Baked Squares Recipe
Second Edition of the Neighborhood Cook Book (1914)


Chocolate Walnut Squares
Beat one egg with one cup brown sugar. Pinch of salt; then add one cup of chopped walnuts, one tablespoon grated chocolate, six tablespoons sifted flour with a little, very little, baking soda. Bake for twenty minutes. When cold, cut in squares.

Grandma's Baked Squares Recipes
Submitted by Robert of Portland, PA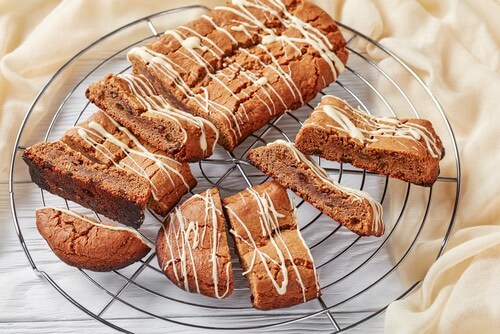 Homemade Hermit Squares with Raisins and Icing Drizzle
(Source: ©myviewpoint/Depositphotos.com)
Hermits are a type of spiced cookie bar. These old fashioned recipes for hermit squares have been passed down in my family for generations.
The first baked squares recipe is from my Grandmother's cookbook, and the second is from my Aunt Rose's cookbook, Aunt Rose was my Grandmother's sister.
I suspect that my Grandmother's recipe is a version of my Aunt Rose's modified by my Great Grandfather.
My Great Grandfather was in the food service industry for much of his life. He worked as the head chef/kitchen manager in a country club for many years and at one time owned and ran an old time ice cream parlor.
I believe he modified the hermit recipe during the Great Depression or possibly during Wartime when fresh milk was not readily available; hence, the nonfat dry milk powder. —Robert

Grandma's Hermit Squares
3 cups flour
1/3 cup nonfat dry milk powder
2 teaspoons baking powder
1/2 teaspoon baking soda
2 teaspoons salt
2 teaspoons cinnamon
1 teaspoon nutmeg
1/2 cup margarine
1 cup sugar
1 cup dark corn syrup (Karo)
2 tablespoons water
1 egg
1/2 cup raisins
Stir together dry ingredients in a large bowl. Cream margarine and sugar, add corn syrup, water, and egg. Gradually beat in flour mixture and stir in raisins. Spread in a greased and floured 13x9-inch pan.
Bake at 375°F until done — about 25 to 35 minutes. Let cool and cut in squares. Store in a tight box or tin.

Ga Ga Hermit Squares
I found this old cookie-style baked squares recipe in my Aunt Rose's cookbook:
1 cup dark corn syrup (Karo®)
1 cup shortening (Crisco®)
1 teaspoon cloves
1 teaspoon cinnamon
1 teaspoon nutmeg
1/2 cup hot water
1/2 cup brown sugar
1 teaspoon baking soda
2 eggs
3 cups flour
1 cup raisins
Mix Crisco®, Karo®, brown sugar and spices. Mix baking soda with hot water; add. Beat in whole eggs. Add flour and raisins.
Bake in a shallow sheet pan (jellyroll pan) that has been greased and floured. Bake at 350°F until done — about 20-25 minutes. Cool and cut in squares. Keep in closed tin for freshness.

WOW! This is a baked squares recipe that's really great! Hermits were always served at our family functions, and this one was REALLY tasty. :)
Thanks for the great recipe! —yamfry50

Fannie Farmer's Baked Squares Recipes
The Boston Cooking-School Cook Book (1916)


Spicy Walnut Molasses Bars

1/4 cup butter, 1/4 cup lard, 1/4 cup boiling water, 1/2 cup brown sugar, 1/2 cup molasses, 1 teaspoon soda, 3 cups flour, 1/2 tablespoon ginger, 1/3 teaspoon grated nutmeg, 1/8 teaspoon clove, 1 teaspoon salt, chopped walnut meat.
Pour water over butter and lard, then add sugar, molasses mixed with soda, flour, salt, and spices. Chill thoroughly, roll one-fourth inch thick, cut in strips three and one-half inches long by one and one-half inches wide. Sprinkle with nutmeat and bake ten minutes (325°F).

Caramel Nut Bars

2 tablespoons brown sugar, 1/8 teaspoon salt, 1/4 cup butter, 1/4 cup boiling water, 1/2 cup brown sugar, 1/2 cup flour, 2 tablespoons English walnut meat finely chopped, halves of walnuts or almonds to garnish.
Caramelize two tablespoons sugar, add butter and water, and boil two minutes. Remove from fire, add remaining sugar, flour mixed with salt, and walnut meat.
Spread in pan. Crease in two-inch squares, and decorate with nutmeats. Bake in a slow oven (325°F), and remove from pan at once.

Related Pages You Might Like

Bars and Squares Menu