Baked Pumpkin Cheesecake Recipe
Baked Pumpkin Cheesecake Recipe

Be sure to try Grandma's baked pumpkin cheesecake recipes if you're searching for a delicious fall dessert to serve at Thanksgiving or Christmas, or at any time of the year for that matter.
One cheesecake features a gingersnap crust with crushed pecans that's amazingly delicious, and another has a crust made with chocolate wafer crumbs that goes well with a real whipped cream topping. Enjoy!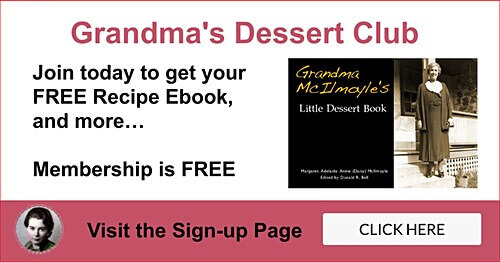 Easy Baked Pumpkin Cheesecake Recipes
Mom's Recipe Scrapbooks (1920s)

Enjoy a Slice of Grandma's Pumpkin Swirl Cheesecake
(Source: ©HuongSon/Depositphotos.com)
Easy Pumpkin Swirl Cheesecake

Grandma's Tip
You can slice the cheesecake before decorating, if you want to make all the decorated pieces appear even.
9-Inch Gingersnap Crust:
1-1/2 cups gingersnap cookie crumbs
1/2 cup finely chopped pecans
1/3 cup butter, melted
Combine crumbs, pecans and butter in a bowl. Press dough onto bottom and one inch up sides of 9-inch spring-form pan.
Bake at 350°F for just a few minutes, until done. Remove from oven and let cool before adding the filling.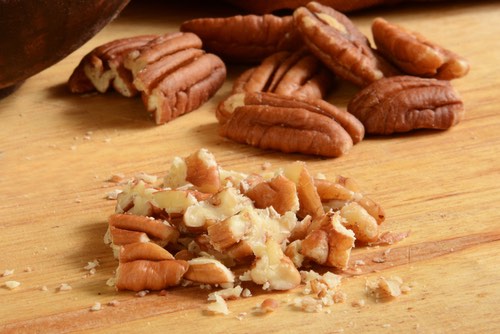 Pecans Are Delicious in Cheesecake Crusts and Toppings
(Source: ©MSPhotographic/Depositphotos.com)
Cream Cheese Filling:
2 (8 ounce / 250 gram) packages cream cheese, softened
1 cup canned pumpkin
3/4 cup sugar
3/4 teaspoon cinnamon
1 teaspoon vanilla
1/4 teaspoon nutmeg
3 eggs
1/8 teaspoon ground cloves
Method:
Combine cream cheese, 1/2 cup sugar, and vanilla, until well blended. Add eggs, one at a time, mix well. Reserve 1 cup of batter, setting it aside. Add remaining sugar, pumpkin, and spices to remaining batter and mix well.
Spoon the pumpkin and cream cheese batters alternately over crust. Gently cut through batters with a knife for a marbled or swirl effect.
Bake at 350°F for 55 minutes. Loosen cheesecake from rim of pan, using a sharp knife dipped in hot water. Cool completely before removing rim of pan.
Chill your cheesecake thoroughly before serving. Decorate with whipped cream piping, and add a sprinkle of crushed pecans, if desired.
Delicious Basic Pumpkin Cheesecake

Crumb Crust Ingredients:
1-3/4 cups chocolate wafer crumbs
1/4 cup butter, melted
Filling Ingredients:
3 8-ounce packages cream cheese, softened
3/4 cup white sugar
1/2 cup packed brown sugar
3 eggs
2 cups (15 ounce can) canned pumpkin
2 tablespoons cornstarch
3 teaspoons vanilla extract
1-1/2 teaspoons pumpkin pie spice
Topping Ingredients:
2 cups sour cream
3 tablespoons sugar
2 teaspoons vanilla extract
Whipped cream for decorating, if desired
Instructions:
To make this recipe for baked pumpkin cheesecake, combine crushed wafer crumbs and butter, then press crumb mixture into bottom of and sides of your greased spring-form pan to form the crust.
In a large mixing bowl beat cream cheese and sugars until creamy smooth. Add the eggs and beat on low speed. Then whisk in the canned pumpkin, cornstarch, vanilla, and pumpkin pie spice.
Pour pumpkin filling into crust and bake at 350°F for 1 hour. Remove from oven and cool for 10 minutes or so while mixing the topping, but don't turn off the oven just yet.
Mix up the topping ingredients and spread this over top of the filling. Return cheesecake to oven for 6 minutes to melt. Remove from oven and carefully run a table knife around the edge of the pan to loosen the crust to allow an easier release later on.
Cool cheesecake to room temperature and then refrigerate overnight to chill completely. Remove the spring-form sides and decorate top with whipped cream, if desired, before serving.