Using Cookie Cutters
Just thinking about using cookie cutters brings back fond memories of those shaped cookies we've seen at Christmas time, birthdays, and other special occasions.
Who could ever forget the animal shaped cookies from their childhood? They were so special. Cut out cookies can help to create warm memories that can last a lifetime.

Using Cookie Cutters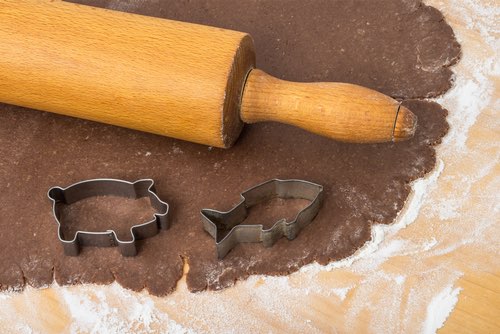 Favorite Cookie Cutters Help to Create Fond Memories
(Source: akaplummer©iStock.com)
I can still recall a vintage pig-shaped cutter that I used as a young child. I had such fun cutting the cookies and decorating them with colored icing.
Even without the icing, those "piggy cookies" always seemed to taste so much better than any plain ones. I'm sure you know what I mean.
Aside from using colored icing, cookie shapes can also be hand decorated by placing bits of candied fruit, maraschino cherries, nuts, raisins, or colored sugar sprinkles on the cookie before baking.
As a rule, the simpler the decoration, the better the appearance. Just use your creative imagination, and you'll be pleased with the results.

Vintage Cookie Shapes
And it isn't only kids who love specialty dough cutters. Nowadays, adults love to collect them, especially the old fashioned kind.
Metal cutters manufactured from tin and copper can last for generations and became family heirlooms.
Serious collectors can join the national Cookie Cutter Collectors Club (CCCC) and attend regional conventions where they can share old favorites and discuss new shapes.
The club also supports the National Cookie Cutter Historical Museum in Joplin, MO. The museum not only displays antique cutters, but it features vintage hand-crafted cutters created by artistic tinsmiths.

Using Cookie Cutters

Enjoy watching this short YouTube video that shows how to cut out cookies so they keep their shape every single time.

How to Make Cookie Cutters

Sometimes, you might want to bake a cookie in a special custom shape that you cannot find a cutter for. No problem.

The following YouTube video describes an easy method to create your own cutters so you can cut cookies in any shapes you desire.

Ideas for Using Cookie Cutters

Besides cutting amazing looking cookie shapes, you can also use your cutters on a variety of foods to create attractive party tidbits:

Melon Slices
Watermelon Slices
Pancakes
French Toast
Jello
Fudge
Fondant
Sheet Cake
Brownies
Sandwiches

Nowadays, you can find a large selection of cutters in plastic or metal at very affordable prices. There's everything from mini to giant sizes in interesting, imaginative shapes. Simply get a set now, and get creative.

Related Pages You Might Like

Homemade Cookies