Forgotten Cookie Recipes

You will love these old fashioned forgotten cookie recipes that I discovered in Grandma's recipe collection. Some of these homemade cookies are rarely seen today, and it's a mystery why since they taste so delicious.
Surprise your friends with chewy rolled oatmeal wafers, or maybe a plateful of Grandma's butter cookies, or tasty toffee nut cookies.
Once enjoyed in farm kitchens, these are perfect cookies for serving to your family today. Make yourself a special treat to munch on!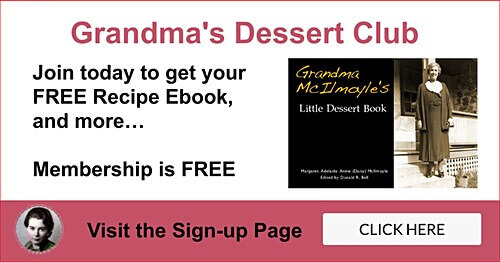 Old Fashioned Forgotten Cookie Recipes

Mom's Recipe Scrapbooks (c. 1920s)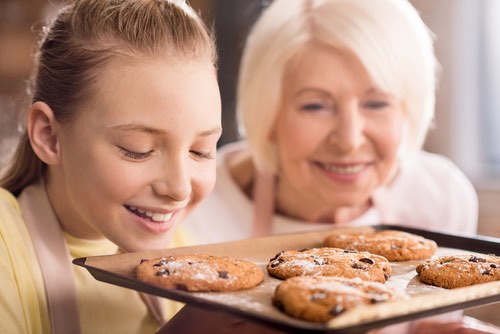 Baking School Cookies With Raisins and Cinnamon
(Source: ©TarasMalyarevich/Depositphotos.com)
Cut Out School Cookies

1/2 cupful (1/4 pound) shortening
1 level cupful (1/2 pound) dark brown sugar
1 egg
1/3 cupful milk
2-1/2 level cupfuls (3/4 pound) flour
2 level teaspoonfuls baking powder
1/2 level teaspoonful salt
1/2 level teaspoonful powdered cinnamon
1 level cupful (1/2 pound) finely chopped raisins
Cream the sugar and shortening. Add well-beaten egg and milk. Sift together flour, salt, and baking powder, adding to the above mixture. To this add the cinnamon and raisins.
Roll out dough evenly and cut out in any shape desired. Place on a greased pan and bake about fifteen minutes in a hot 425°F oven.
This forgotten cookie recipe is sufficient for fifty cookies, depending on size preferred. —Margaret Evans, Lancaster, PA

Rural Cookie In a Cup

Here's a forgotten cookie recipe found in my Great-Grandma's notebook that you'll enjoy trying. These Rural Cookies are so very easy to make when you just want one or two, and they taste so delicious.

Break an egg in a teacup, put in three tablespoonfuls of melted butter, one of sour cream, a little bit of baking soda, then fill up with sugar; mix soft; shape; bake in a quick (400°F) oven.

Rolled Champagne Wafers
Six ounces of powdered sugar, three whole eggs well beaten together as for sponge cake, add one teaspoonful of vanilla extract and three ounces of fine flour.
Butter the baking tins and apply the batter, with a soft brush, as large as buckwheat cakes (pancakes) and very, very thin; bake about three minutes in a good oven (375°F), when they are colored on the edges, they are done.
Roll quickly over a round stick, the thickness of a little finger. —Kate Quattlander, New York.

Rolled Oatmeal Wafers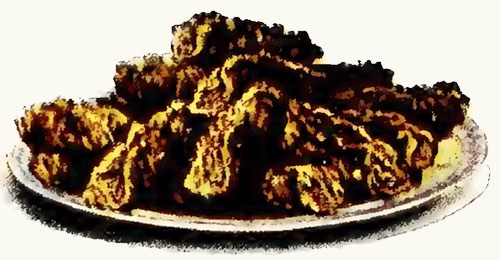 Enjoy Deliciously Chewy Rolled Oatmeal Wafers
(PD Source: Ryzon Baking Book, 1917)
If you love the flavorful taste of oatmeal cookies, you'll love this forgotten cookie recipe. These oatmeal wafers mightn't be the prettiest, but you'll agree they are the tastiest!

2-1/2 level cupfuls dry oatmeal
2 eggs
1 level cupful sugar
4 level tablespoonfuls shortening
2 level teaspoonfuls baking powder
1/2 level teaspoonful salt
1 teaspoonful vanilla
Put all ingredients into mixing bowl together and mix very thoroughly. Drop by teaspoonfuls on greased baking sheet and bake in a moderate oven (375°F).
While still hot, roll into shape of a cigar. If the cookie hardens so as to prevent rolling, return it to the hot oven for only a moment and then roll. Sufficient for 18 to 20 rolled wafers. —Forecast Modern School of Cookery

Old Time Spice Cookies

5 eggs
2 level cupfuls (1 pound) sugar
1 lemon
4 level teaspoonfuls baking powder
4 level cupfuls (1 pound) flour
1/2 level teaspoonful powdered cloves
1/2 level teaspoonful powdered cinnamon
Beat eggs and sugar together for 15 minutes, add grated rind and strained juice of lemon, and gradually flour sifted with baking powder, and spices. Mix carefully and drop by teaspoonfuls onto greased baking tins.
Bake in a fairly hot oven (400°F) for 8 to 10 minutes, until done. Sufficient for 4 dozen cookies. —Master Recipe

Walnut Crescents
Mix together:
1/2 cup butter
1/2 cup shortening
Mix together:
1/3 cup sugar
2 teaspoons water
2 teaspoons vanilla
Add to the batter:
2 cups flour
1/2 cup walnuts (or nut of choice)
Chill 3 or 4 hours. Roll like a cigar and shape in a half-moon. Remove from pan and roll in powdered sugar. Bake at 325°F for about 15 minutes. —Mrs. Betty Stratigos

Old Time Butter Cookies
1 cup butter
1/2 cup confectioners' sugar
2-1/4 cups flour
1/4 teaspoon salt
1 teaspoon vanilla
3/4 cup chopped nuts (optional)
Form into one-inch balls with hands and bake at 400°F for 14 to 17 minutes. They should not be brown. Remove from oven and roll in confectioners' sugar, cool, then roll again. —Mrs. R. Stewart

Butterscotch Strips
1/2 cup butter
1 cup brown sugar
1 teaspoon soda
1 teaspoon vanilla
2 cups rolled oats
Combine sugar and butter in a pan and heat together, but do not boil. Add soda and stir until mixture has consistency of honey. Remove from fire. Add rolled oats and vanilla and mix thoroughly.
Press in greased cake pan and bake in a slow (325°F) oven for about 15 to 20 minutes. Cut into squares or strips before it becomes cold. —Mrs. John Adams

Toffee Nut Cookies
1 cup soft butter
1 cup sugar
1 egg yolk
1 teaspoon vanilla
2 cups flour, sifted
1/2 teaspoons baking soda
1 teaspoon cinnamon
1 cup nuts, chopped
1 egg white
Cream butter, add sugar gradually until smooth. Add egg yolk and vanilla and beat until smooth. Sift dry ingredients. Add slowly until smooth.
Spread in pan, 11 x 16 inches; brush surface with egg white and sprinkle with nut. Bake in a 325°F oven for 35 to 40 minutes. Cut into squares for cookies. —Mrs. George Luttrell

Refrigerator Walnut Slices
1 cup shortening
1 cup brown sugar, sifted
1 cup white sugar
1 teaspoon salt
2 eggs
3 cups flour, sifted
1 cup chopped walnuts
Blend shortening, sugar, salt, and eggs. Add sifted dry ingredients and stir in walnuts. Shape into 2 rolls in waxed paper and chill.
Slice chilled dough about 1/2-inch thick, place slices on greased cookie sheet. Bake at 375°F for 10 to 12 minutes. —Mrs. D. Clark

Homemade Forgotten Cookie Recipes
Selected Recipes and Menus (c.1918)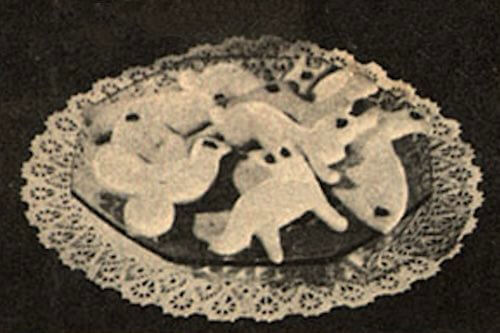 Homemade Spiced Animal Cookies for Tasty Fun
(PD Source: Selected Recipes c.1918)
Animal Cookies

This forgotten cookie recipe is a fun activity for the kids stuck at home on a rainy day.

2 cups sugar
1 cup shortening
2 eggs
3 tablespoons milk
3 level teaspoons baking powder
3 cups sifted flour
1 teaspoon nutmeg
1/2 teaspoon cloves
Cream shortening and sugar, beat in whipped eggs, add sifted baking powder with 1 cup flour, then milk and spices; add remaining flour gradually, working in more flour until dough is stiff enough to roll.
Sprinkle four over pastry board. Make a ball of dough and lay it on board. Flour rolling pin and roll out dough into a sheet 1/4-inch thick.
Cut in shapes of animals, sift granulated sugar over them, if desired. Bake quickly at 400°F.

Cream Cheese Cookies

This old fashioned forgotten cookie recipe makes about 3 dozen delicious cookies.

1 cup sugar
1 cup shortening
1 3-ounce package cream cheese
3-1/2 cups sifted flour
1 level teaspoon baking powder
1 egg
1 teaspoon lemon juice
Rind of 1/2 lemon
Cream shortening, add sugar, lemon juice, and grated rind of lemon, then cream cheese, and mix well. Add the sifted flour and baking powder and mix in.
Shape into balls one inch in diameter. Place an inch apart on greased cookie sheet and bake in a hot oven (375°F) for 15 minutes.
When cool dip in melted fondant or cooled boiled frosting and roll in chopped nuts or coconut. —Marian Jane Parker