Traditional English Pancake Recipe
Traditional English Pancake Recipe

Have fun with this traditional English pancake recipe. Every family enjoys a pancake day and when it comes, it's really a special event. Some British households serve pancakes every other day at breakfast as well as for lunches and special occasions.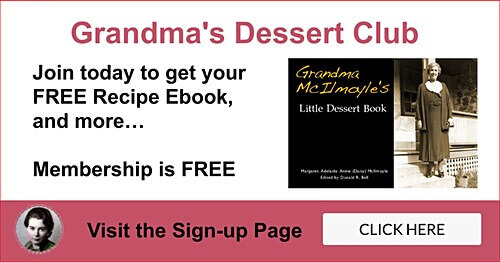 Grandma's Traditional English Pancake Recipe

Mom's Recipe Scrapbooks (1920s)
English-Style Pancakes Suggested Serving
(Source: ©monkeybusiness/Depositphotos.com)
How to Make English Pancakes

For those less accustomed to the art of English pancake making, there are a few rules that should be kept in mind.
First, it is important to sift the flour and salt, or lift it and let it trickle through the fingers two or three times to aerate it.
Do not beat the eggs, but put them straight into a hollow in the center of the flour with a little milk, and gradually work in the flour from the sides, adding a little more milk by degrees. But, never make the batter too moist at first, or it is almost impossible to beat the lumps out of the flour.
Beat until the batter is full of air bubbles then add the rest of the milk gradually. All batters must stand for at least an hour to allow the starch grains in the flour to swell and soften.
Traditional English Pancake Recipe

A good pancake batter is made with 2 eggs, 1 pint of milk, 1/2 pound of flour, and a pinch of salt. This can be made richer by adding more eggs and less milk, or by adding cream.
An alternative plain-style batter is made by adding a teaspoonful of baking powder to the flour, and an ounce of oiled butter, 1 pint of milk, and no eggs.
Oiled Butter: Put two ounces of fresh butter in a saucepan, so it melts gradually, until it becomes an oil; then pour it off carefully from the residue remaining in the pan.
METHOD

For thin, English-style pancakes, choose a perfectly clean, small frying or omelet pan, put in a little lard, dripping, or butter, make it hot, pour it out, and quickly wipe the pan out with soft paper towel.
When ready to fry the pancakes, put in a piece of lard, or butter, about 1 ounce, make it hot, stir the batter, and take up 4 tablespoonfuls (1/4 cup) of batter and pour it quickly into the pan.
Allow batter to run all over the pan, and when set, and pale brown on one side, slip a knife (or spatula) round the edges of the pancake, and toss or turn it over, and let it brown the other side.
When cooked, turn pancake onto a sugared paper, sprinkle with squeezed lemon juice and sugar, roll up, and keep hot while the rest of the batter is fried in the same manner. Add fresh lard to the pan for each pancake.
English Pancake Serving Variations

Serve Your English Pancakes With a Favorite Jam
(Source: ©Tonicav/Depositphotos.com)
Spread a little bit of warmed jam on each pancake before rolling it. Fruit stewed with sugar until stiff, like a marmalade, may also be spread on the pancake before rolling it.

English Pancakes Served With Fresh Berries In Season
(Source: ©amberto4ka/Depositphotos.com)
Roll your favorite ground meat filling into an English pancake for a wholesome savory treat suitable for any breakfast or brunch.

Enjoy Your English Pancakes With a Savory Filling
(Source: ©vapm/Depositphotos.com)
You can also serve your homemade English pancakes unrolled with a sprinkle of lemon juice and sugar and topped with fresh berries in season. Orange juice sprinkled may replace lemon juice, if preferred.