Meringue Cookie Recipes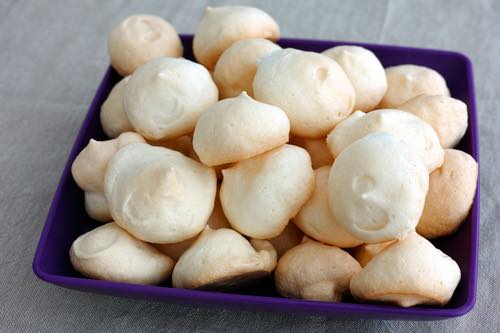 Delicious Old Fashioned Meringue Cookies
(Source: ©Rosinka79/Depositphotos.com)
You will love Grandma's old fashioned meringue cookie recipes. Whether you want fancy cookies for a special occasion or just a special treat for yourself, you cannot beat meringues. They are elegant, sweet-tasting cookies that make any get-together an occasion to be remembered.


Old Fashioned Meringue Cookie Recipes

Miss Parloa's New Cook Book (1880)


Meringues look so light and delicate that they are perfect for serving at a party, and they taste so good. Everyone loves these Victorian-style dainties. So indulge yourself. These old fashioned meringue cookie recipes are so easy to make; it only looks as if you've spent hours in the kitchen.
Meringue Kisses
Grandma's Tip

For a pleasant change from white, try adding a few drops of food coloring to the meringue mixture and your meringues will acquire beautiful pastel shades.

Beat the whites of six eggs to a stiff froth. They should be beaten until so light and dry that they begin to fly off of the beater. Stir in a cupful of powdered sugar, gently and quickly.
Spread paraffin (waxed) paper over three boards, which measure about nine by twelve inches. Drop the mixture by spoonfuls on the boards, having perhaps a dozen on each one.
Dry in a warm oven for about three-quarters of an hour; then brown them slightly. Lift from the paper and stick them together at the base by twos. A dozen and a half can be made from the quantities given.


Cream Meringues
These are made similar to kisses, but are put on the paper in oblong shapes, and dried two hours.
Take from the board and, with a spoon, remove all the soft part. Season half a pint of rich cream with a tablespoonful of sugar and one of wine, or a speck of vanilla, and whip it to a stiff froth.
Fill the shells with this, and join them. Or, they may be filled with ice cream. If the meringues are exposed to much heat they are spoiled.


Old Time Kiss Wafers
Half a pint of blanched bitter almonds, one heaping cupful of powdered sugar, the whites of six eggs, one-third of a cupful of flour, two tablespoonfuls of cornstarch.
Blanch the almonds and pound them in a mortar. As soon as they are a little broken add the white of an egg. Pound until very fine.
When there is a smooth paste add the sugar, a little at a time, the whites of two eggs, one at a time, and the flour, and cornstarch. When thoroughly mixed, add, by degrees, the three remaining whites.
Butter the bottom of a flat baking pan and put the mixture on it in spoonfuls. Spread it very thin, especially in the center, and bake in a quick oven.
The moment the cakes are taken from the oven, roll into the shape of cornucopias. If allowed to cool, they cannot be rolled, and for this reason it is best to bake only half a dozen at a time.
When all are shaped, fill with the Kiss Mixture, made by beating the whites of three eggs to a stiff froth, and stirring into them, lightly, four tablespoonfuls of powdered sugar.
Place the wafers in a warm oven for twenty minutes or half an hour, to dry. With the quantities given two dozen can be made.


Old Fashioned Meringue Cookie Recipe
Second Edition of the Neighborhood Cook Book (1914)


Meringues
Whites of three eggs, beaten stiff, after which fold in carefully a large cup of granulated sugar. Then bake on the bottom of a bread pan, which has been covered with paper dusted with sugar.


Old Fashioned Meringue Cookie Recipes
Mrs. Goodfellow's Cookery as it Should Be (1865)


Meringue Kisses
Take the whites of eggs, beat them very light, and mix with them enough sifted sugar to make them very stiff.
Then drop them on white paper half the size you want them, and let them remain in a slow oven twenty minutes; four eggs will make a cake basket full.


Fruit-Filled Meringues
Beat the whites of ten eggs to a stiff froth, adding slowly ten tablespoonfuls of sifted crushed sugar, but which must be very finely powdered; when well beaten and quite stiff, put it in the form of 2 large eggs on paper; then glaze with the glazing sugar, and lay the paper on a tin in a moderately warmed oven.
When of a light brown take them out, and remove from beneath all that which is not cooked with a spoon; this must be done with care, placing them in the oven when cold to dry; then put any kind of delicate preserves in each, and flavor with anything fancied, and put two together; either quince, calves' foot (gelatin), apple, or wine jelly is very nice in them.


Related Pages You May Like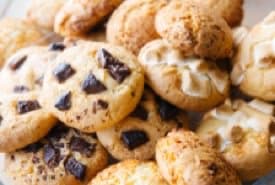 Old Fashioned Cookies
COOKIE ICING & MISCELLANEOUS


As an Amazon Associate I earn from qualifying purchases.