Layer Cake Recipes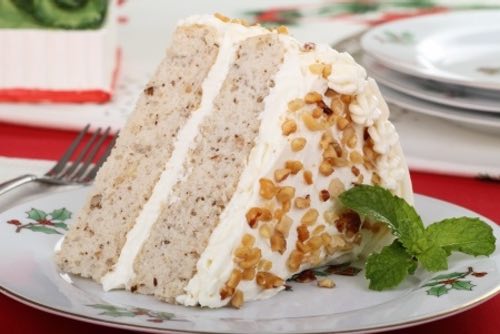 Vintage Peanut Butter Layer Cake Topped with Peanuts
(Source: ©profile_chas53/Depositphotos.com)
Thanks to Grandma's old fashioned layer cake recipes, you can bake beautiful celebration cakes that will delight your family and friends. They make a delicious change from modern cakes, especially the predictable store-bought kind that all taste similar. You cannot beat the baked-in goodness and flavor of a homemade cake.


Old Fashioned Layer Cake Recipes

Mom's Recipe Scrapbooks (c. 1920s)


White Moon Cake with Moon Glow Frosting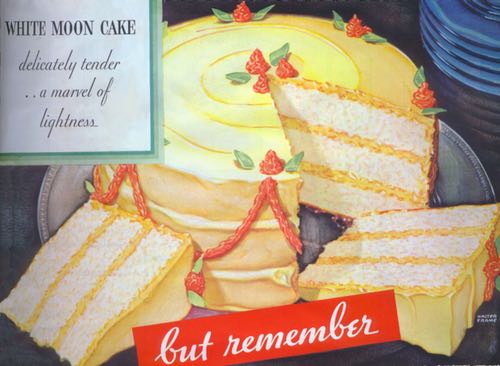 Vintage White Moon Cake for Memorable Occasions
(Source: Adapted by Don Bell)
Now here's an old fashioned layer cake recipe for those times when you really want to impress.
3 cup sifted cake flour
3 teaspoons baking powder
1/2 teaspoon salt
2/3 cup butter or shortening
2 cups sugar
1 cup milk
1 teaspoon vanilla
5 egg whites, stiffly beaten
Sift flour once, measure, add baking powder and salt, and sift together three times. Cream butter thoroughly, add sugar gradually, and cream together until light and fluffy. Add flour mixture, alternately with milk, as small amount at a time. Beat after each addition until smooth. Add vanilla; fold in egg whites.
Bake in three greased 9-inch layer pans in slow oven (325°F) 15 minutes; then increase heat slightly to moderate (350°F) and bake 15 minutes longer. Remove cake from oven when done and allow to cool. Spread Moon Glow Lemon Frosting between layers and on top and sides of cake.
Moon Glow Lemon Frosting:
Grated rind of 1 lemon
4 tablespoons lemon juice
2 egg yolks, unbeaten
4-1/2 cups (about) confectioners sugar
Add lemon rind and juice to egg yolks. Stir in sugar until of right consistency to spread. Makes enough frosting to cover tops and sides of three 9-inch layers. All measurements are level.


Floradora Cake
This old fashioned layer cake recipe makes a richly moist homemade cake that's a good substitute for ice cream and cake, or for a special dinner dessert.

One and one-quarter cups sifted flour, 1 scant cup sugar, 1-1/2 teaspoons baking powder, 1/4 teaspoon salt. Sift all three times.
To 1/3 cup melted butter, add 1 egg, and fill cup with milk. Add dry ingredients and beat vigorously. Bake in two layers in moderate oven (375°F) till done.
Floradora Cake Filling:
One cup milk, 1 tablespoon butter, 1 tablespoon flour, 1/2 cup sugar, 2 egg yolks, 1/2 cup shredded coconut, 1/2 cup crushed pineapple.
Scald milk and butter. Beat egg yolks, add flour and sugar and then add milk. Cook in double boiler till thick and smooth. Remove from fire and add coconut and pineapple.
When cool put filling between the cake layers and on the top. Then cover the whole cake with a meringue made of two egg whites beaten stiff, 3 tablespoons powdered sugar, and 1/4 teaspoon baking powder.
Sprinkle shredded coconut over the top and carefully brown coconut in the oven before serving.


Busy Day Cake with Hungarian Chocolate Frosting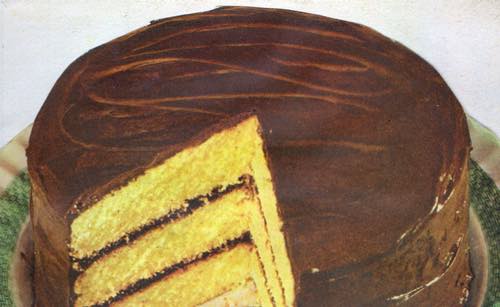 Vintage Busy Day Cake with Dark Chocolate Frosting
(Source: Adapted by Don Bell)
Ingredients:
3 cups sifted flour, 4 teaspoons baking powder, 1/4 teaspoon salt, 2 cups sugar, 4 eggs unbeaten, milk as needed, 10 tablespoons melted butter or other shortening.
Method:
Sift the flour once, measure, add baking powder, salt, and sugar, and sift together three times. Break eggs into cup and fill cup with milk. Add another cup of milk; then melted butter.
Put all ingredients into mixing bowl and beat vigorously 3 minutes. Bake in 3 greased 9-inch layer pans in moderate oven (375°F) for 25 minutes. Spread Hungarian Chocolate Frosting between layers and on top and sides of cake.
Hungarian Chocolate Frosting Recipe:
4 squares Baker's unsweetened chocolate cut in pieces, 2 tablespoons hot water, 2 eggs well beaten, 1 cup confectioners sugar, 1/2 cup butter.
Melt chocolate in double boiler, add hot water, and blend. Add eggs and sugar. Remove from heat, but allow mixture to stand over hot water, stirring constantly until it is slightly thickened (about 3 minutes).
Cool quickly to lukewarm. Add butter, 2 tablespoons at a time, stirring and blending after each addition. Makes enough icing to cover tops and sides of three 9-inch layers.
This chocolate frosting may be kept in the refrigerator until needed for other vintage cake recipes. It can then be spread on cake layers that are nearly cold. This will soften the frosting so that it will spread easily.


Pink and White Lightning Cake

3-1/2 cups all-purpose flour, 2 teaspoons baking powder, 2 eggs, 3/4 cup shortening, 1-2/3 cups milk, 2 cups white sugar, 1 teaspoon vanilla, 1 teaspoon lemon, 1 teaspoon salt.
Divide batter in half and color one half pink. Line two 9-inch greased layer cake tins. Swirl batters in pans for marble effect. Bake 25 minutes or until done at 350-375°F. Very good.
For Making 1/2 Recipe:
1-3/4 cups all-purpose flour, 1 teaspoon baking powder, 1 egg, 1/3 cup shortening, 3/4 cup milk, 1 cup white sugar, 1/2 teaspoon vanilla, 1/2 teaspoon lemon, 1/2 teaspoon salt.


Silver Cake
Old Fashioned Silver Cake or Delicate Cake
(Source: Adapted by Don Bell)
Whites of six eggs, one cupful of sweet (whole) milk, two cupfuls of sugar, four cupfuls of sifted flour, two-thirds of a cup of butter, flavoring, and two teaspoonfuls of baking powder.
Stir the sugar and butter to a cream, then add the milk and flavoring, part of the flour, the beaten whites of eggs, then the rest of the flour.
Bake carefully in two tins lined with buttered white paper in a moderate (375°F) oven for about 25 to 30 minutes. Test with wire for doneness.
Spread white frosting between layers and on top and sides of cake. Keep this old fashioned layer cake recipe handy for when company is coming.


Old Fashioned Layer Cake Recipe

Dr. Chase's Third, Last and Complete Receipt Book (1891)


White Mountain Cake
Here's a delicious layer cake you will enjoy serving on any occasion.
Granulated sugar, 3 cups; butter, 1 cup; 5 eggs; sweet milk, 1 cup; flour, 3 cups; cream of tartar, 2 teaspoonfuls; baking soda, 1 teaspoonful; salt, 1 pinch.
Directions:
Beat the butter, sugar, and yolks of the eggs to a cream; mix soda in the milk and the cream of tartar in the flour; add the whites just before the flour. Bake in jelly cake tins, browning a little.
In Place of Jelly:
Take the whites of 2 eggs, a little water, and the proper amount of powdered sugar to make thick for icing, beat together and with a knife spread over the top of each cake. Grate a fresh coconut and mix it with more sugar, and sprinkle it over the cakes; then layer them up, finishing the top the same.
Remarks. — This old time layer cake recipe is especially applicable for use upon occasions when ice cream is to be served.


Favorite Vintage Layer Cake Recipe
Submitted by Darlene R.


Graham Cracker Cake
While compiling a cookbook of family recipes I came across one for a Graham Cracker Cake from the mother-in-law of my aunt. It seems to be lacking directions for putting it together, but I'll give you what I have. —Darlene
29 graham crackers, rolled fine
1/4 cup butter
1 cup sugar
1 cup milk
2 eggs beaten
1-1/2 teaspoons baking powder
Makes 2 layers. Bake at 350°F for 30 minutes.
Cake Filling:
1 tablespoon butter
1 cup powdered sugar
2 tablespoons milk
1 teaspoon vanilla extract
Beat well.
That's it — that's all there is to this homemade layer cake recipe! Hope it turns out okay for you.


My grandmother got a recipe for Graham Cracker Cake from a newspaper in Minneapolis some 40 to 50 years ago. I never met my grandmother nor did I ever have the cake.
But, it was my Dad's favorite cake, and even though she died almost 30 years ago, he still talks about how much he wishes he had that old fashioned layer cake recipe. And this is it! Thanks Darlene!  —Taylor Anna

Old Fashioned Layer Cake Recipe

The Perry Home Cook Book (1920)


Delmonico's Layer Cake
One-half cup of butter, two cups of sugar, two teaspoonfuls of baking powder, two-thirds of a cup of sweet milk, three cups of sifted flour, the whites of eight eggs, beaten stiff.
To make this Delmonico's Restaurant-style cake, cream the butter and sugar; add the milk; then the flour; beat thoroughly; then add the eggs; and flour, with vanilla. Bake in two layers till done.
Vanilla Cake Filling:
Two cups of maple or brown sugar, one cup of milk, a lump of butter the size of a walnut, a tablespoonful of vanilla, or any flavor.  Boil till it gets like candy; beat to a cream. —Mrs. M. S. Leonard


Looking for Chocolate Layer Cakes?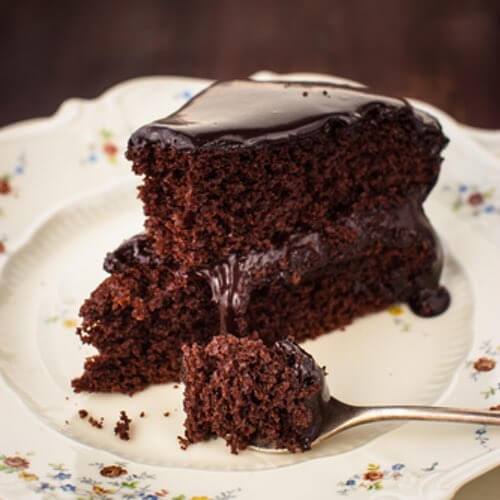 Make Old Fashioned Chocolate Layer Cakes
(Source: ©locrifa/Depositphotos.com)
Get Grandma's favorite old fashioned chocolate layer cake recipes and bake delicious dessert cakes that are certain to delight your family.


Related Pages You May Like