Frozen Drink Recipes

Frozen Drink with Crushed Fruit and Shaved Ice
(Source: ©iStock/ramalisa)
Use these authentic frozen drink recipes to make refreshingly flavorful beverages perfect for a hot summer's day! Forget today's artificial store-bought Slushies, these ice-cold drinks are truly delicious.


What Is a Frozen Fountain Drink?

Soda fountain operators made what they called a Freeze, a fruity ade drink or a punch in which the shaved ice is allowed to remain when serving. Shaved ice gives the drink a very low temperature, suggesting its name.
Freezes were usually served garnished with fresh fruit, a sprig of green mint, and colorful straws. Customers leisurely drank them as the ice melted.

A Smash drink was very similar to a Freeze and generally made with fountain syrups of a rich, fruity flavor. Like Freezes, Smashes also called for shaved ice and carbonated water, and they were traditionally served garnished with a sprig of green mint in thin glasses with straws.


Frosty Frozen Drink Recipes
The Dispenser's Formulary or Soda Water Guide (1915)


Shaved Ice Scraper for Drinks c.1900
Use these old fashioned frozen drink recipes to re-create the nostalgic Freezes and Smashes of the old time soda fountain. You will find these iced beverages delicious and totally refreshing to drink anytime.

Fruited Freeze
Crushed fruits served in the following manner are delicious and refreshing: 1-1/2 ounces crushed fruit, juice of half a lemon, sufficient shaved ice.
Put the shaved ice in a small glass, add the fruit and lemon juice, stir well, and serve with a spoon and straws. Price—8 ounces, 10 cents.


Quaker Freeze
1 ounce pure grape juice, 1/2 ounce raspberry syrup, 1/2 ounce orange syrup, juice of 1/2 orange, 1/2 glassful fine ice shavings. Fill glass with carbonated water; mix with a spoon. Decorate with fresh mint and seasonable fruits; serve with straws. Price—12 ounces, 15 cents.


Helena Freeze
1-1/2 ounces vanilla syrup, 1 tablespoonful orange pulp, 1/4 glassful shaved ice. Place all in a 12-ounce soda glass, fill with carbonated water, fine stream, and top off with whipped cream.


Pineapple Freeze
1 ounce pineapple syrup, 1 teaspoonful powdered sugar, 1/2 glassful shaved ice. Add some carbonated water, stir vigorously in a shaker, strain into an 8-ounce glass, fill the latter with the coarse stream of carbonated water, stir again, and add a piece of pineapple or some crushed pineapple. Serve with a spoon and straws.


Pineapple-Strawberry Freeze
One ounce pineapple syrup, half glass shaved ice. Pour into 12-ounce glass, fill with carbonated water, stir, add spoonful of crushed strawberry; top with a slice of orange; serve with straws.
Or, pour ounce of strawberry syrup into 8-ounce glass; add large spoonful of either canned or fresh grated pineapple; fill with shaved ice, stir, serve with a spoon.


Cracker Jack

1 ounce cherry syrup, cracked ice to fill glass, and then pour in grape juice to  fill glass. Price—8 ounce glass, 10 cents.


Pineapple Smash
1 ounce pineapple syrup, 1 teaspoonful powdered sugar, 1/2 glass shaved ice. Add carbonated water, shake, strain into 8-ounce glass and fill with carbonated water, coarse stream; stir again, and add a piece of pineapple or some crushed pineapple. Add a small amount of lemon juice. Price—10 ounces, 10 cents.


Maple Frostbite
1 ounce maple syrup, 1/2 ounce vanilla syrup, 1/2 glassful shaved ice. Rub the rim of a tall frappe glass with a piece of orange and dip the rim of the glass into powdered sugar, which will adhere to it.
For this frozen drink recipe, shake the syrup and ice, using a heavy glass and a shaker, pour carefully into the frappe glass so as not to wash off the crusting sugar, and fill to about half an inch of the tip with plain soda water. Add a slice of orange. Serve with paper napkin and straws. Price—10 cents.


Carbonated Water (soda water) can be found for sale in the soft drink section of most food and convenience stores.

Affordable Soda Fountain Syrups


Prairie Moon Has Everything You Need
Make your beverages with  flavored syrup concentrates from The Prairie Moon Company. Choose from over 50 old fashioned soft drink flavors including Root Beer, Sarsaparilla, and Cola. Simply add water and your own sugar or sweetener.
Prairie Moon offers low cost shipping to U.S. and Canadian customers. I highly recommend them!
Disclosure: This is an affiliate link, which means that if you purchase a Prairie Moon product through this link, I receive a small compensation to help support this site — at no extra cost to you.

You May Also Like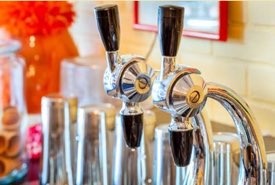 Homemade Soft Drink Menu

As an Amazon Associate I earn from qualifying purchases.