Cold Drink Recipes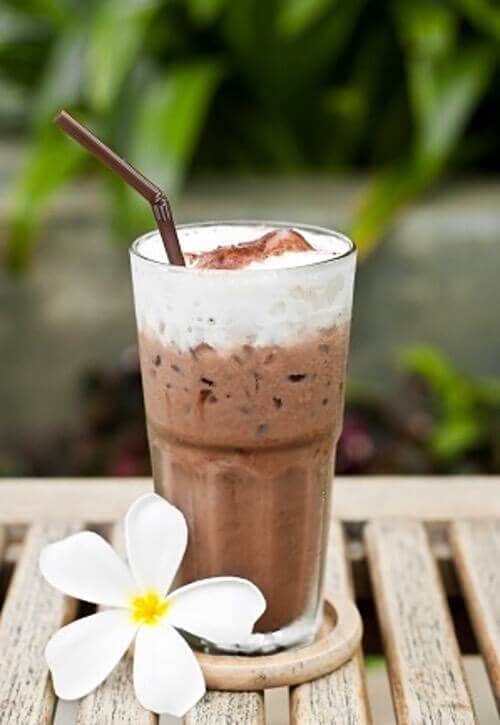 Refreshing Frosty Chocolate Cold Drink
(Source: ©isuaneye/123RF Stock Photo)
Wholesome, old fashioned cold drink recipes were very popular in the 1800s and early 1900s. People made them in the Summer months with seasonal fruits and other all-natural flavor ingredients, and if blocks of ice were available under the sawdust in the old log ice-house, the drinks were served icy cold.
You can easily prepare the same refreshing beverages that your ancestors once enjoyed. After trying them, I think you will agree that there's nothing more refreshing than relaxing with a thirst-quenching ice-cold drink on a hot day.


Old Fashioned Cold Drink Recipes

Mom's Recipe Scrapbooks (c. 1920s)


Summer Chocolate Drink

Note: one gill measures 1/2 cup. This beverage recipe is from an unidentified newspaper clipping published in 1912.
Factoid
Apollinaris is a brand of sparkling mineral water that's well-known in Europe as "The Queen of Table Waters." It has been naturally sourced from a spring in Bad Neuenahr, Germany since 1852.

Put into a tumbler about two tablespoonfuls of broken ice, two tablespoonfuls of chocolate syrup, three tablespoonfuls of whipped cream, one gill of milk, and half a gill of soda water from a siphon bottle or Apollinaris water.
Stir well before drinking. A tablespoonful of vanilla ice cream is a desirable addition.
It is a delicious drink, even if the soda or Apollinaris water and ice cream be omitted. A plainer drink is made by combining the chocolate syrup, a gill and a half of milk, and the ice, and shaking well. —Mrs. F. H. Coman


Wild Frosty Chocolate Drink
1-1/2 tablespoonfuls chocolate fountain syrup, 1/2 cup milk, 4 tablespoonfuls ice cream, soda water. Combine syrup, milk, and ice cream. Stir well. Add soda water to fill glass.


Honey Iced Chocolate Beverage
The following old fashioned cold drink recipe calling for organic, home-grown honey was prepared circa 1920 by the food specialists at Macdonald Institute, O.A.C., Guelph, for the farmers of Ontario.

2 teaspoons cocoa, 2 tablespoons honey, 1 cup milk, 1/8 teaspoon salt. Blend cocoa and honey. Heat milk to boiling point, remove from fire, and add honey mixture and salt. Sir well, pour on cracked ice, and garnish with whipped cream to serve.


Lemon Barley Drink
Pearl barley, 2 ounces; cold water, 1-1/2 pints; l lemon; sugar, 2 tablespoonfuls. Peel off 2 or 3 pieces of lemon rind, a bit larger than a quarter. Put barley into saucepan; add water and lemon peel.
Simmer for an hour; strain liquid into jug. Extract juice from lemon, and add, with sugar, to barley water. Cool.
Before serving, dilute to taste, add sugar if desired, and ice. A great favorite with children of great-grandmother's day, this beverage should not be stored more than a few days.


Apple Julep

Julep Made with Fresh Apple Cider
(Source: ©topphoto/Depositphotos.com)
Squeeze half a lemon into a 12-ounce glass, add a little cracked ice, and two ounces of simple syrup. Arrange green mint leaves in the glass, in the good old Southern style, and then fill the glass with cider.
Sprinkle a little grated nutmeg on the surface before serving. Freshly made cider is preferable as an ingredient in this feature. A good fall beverage.


Old Fashioned Cold Drink Recipes
Second Edition of the Neighborhood Cook Book (1914)


Chilled Coffee Drink
Make as much coffee as you need, but instead of using water, use milk and cream, then sweeten it and put it on the ice for a few hours, serve with whipped cream. Prepare in the morning if you wish to serve it about 4 o'clock in the afternoon.


Iced Chocolate Beverage

Fill glasses one-half full of chopped ice. Pour over them thin hot chocolate, add sugar to taste and thick whipped cream.


Old Fashioned Cold Drink Recipes
Lee's Priceless Recipes (1895)


Ching-Ching
A good orange, a few drops of essence of cloves, ditto peppermint, 3 or 4 lumps of sugar, a tumblerful of ice.


Jelly Water
Put in a tumbler a tablespoonful of current jelly, and a tablespoonful of wine; mix them well together, then fill the glass with ice water.


Old Fashioned Cold Drink Recipes
Aunt Babette's Cook Book (1889)


Strawberry Sherbet
A delicious summer drink is prepared in the following manner: Crush a quart of ripe strawberries, pour a quart of water over them, and add the juice of two lemons.
Let this stand about two hours, then strain over a pound of sugar, stir until the sugar is dissolved, and then set upon ice. You may add one tablespoonful of rose water. Serve with chopped ice.


Toast Water
Take slices of brown toast (be careful not to have them burned), pour boiling water over them, cover closely and steep until cold. Strain and sweeten and add ice.


Flaxseed Lemonade
Steep three hours in a covered, porcelain-lined vessel five tablespoonfuls of whole flaxseed, one quart of boiling water and juice of three lemons (extract the seeds). Sweeten to taste.
If too thick, add more water, and then strain. Add ice for drinking. (Also an excellent remedy for coughs.)


Orgeat, or Orangeade
Take four large, juicy oranges and six tablespoonfuls of sugar. Squeeze the oranges upon the sugar, add a very little water, and let them stand for fifteen minutes; strain and add pounded ice and water.


Rice Water
Wash two tablespoonfuls of rice, put on to boil with two cups of water and a pinch of salt; strain and set on ice.


Fruity Frozen Sherbet Beverage
Buckeye Cookery and Practical Housekeeping (1877)


Fruity Sherbet
Wash ripe fruit (strawberries, currants, pineapples, cherries, or raspberries), and pass first through a coarse sieve and then through a cloth; to every quart juice add a quart water, sweeten to taste by mixing thoroughly with powdered sugar, bottle, and surround with ice, serve in wineglasses.
Pineapples must be grated before straining. Grapes, especially the Catawba and Scuppernong, are excellent for this purpose, and even the wild fox grape may be used. They must be mashed, and the juice washed out with water.


Miss Beecher's Cold Drink with Fruit
Miss Beecher's Housekeeper and Healthkeeper (1873)


Fruity Refresher
Pour boiling water on mashed cranberries, or grated apples, or tamarinds, or mashed currants, or raspberries; pour off the water, sweeten to taste, and in summer cool with ice.


About the Homemade Cold Drink Recipes

Since ancient times, people of every race and culture have enjoyed cold, refreshing soft drinks.
History records that cooling thirst quenchers of sweetened fruit juices called sherbets were enjoyed by the Arabs long before the time of the Crusades and that chilled, honey-sweetened lemonade was sold by licensed sellers on the streets of Paris as early as the summer of 1676.
Thanks to these old fashioned cold drink recipes, you can re-create the nostalgic summer drinks of the past.
Taste the actual beverages your great-great-grandparents once enjoyed in their youth. Healthy, refreshing, and good.


Carbonated Water (soda water) can be found for sale in the soft drink section of most food and convenience stores.

Affordable Soda Fountain Syrups

Prairie Moon Has Everything You Need
Make your beverages with  flavored syrup concentrates from The Prairie Moon Company. Choose from over 50 old fashioned soft drink flavors including Root Beer, Sarsaparilla, and Cola. Simply add water and your own sugar or sweetener.
Prairie Moon offers low cost shipping to U.S. and Canadian customers. I highly recommend them!
Disclosure: This is an affiliate link, which means that if you purchase a Prairie Moon product through this link, I receive a small compensation to help support this site — at no extra cost to you.

Related Pages You May Like