Old Fashioned Buckeye Candy Recipe

Have fun with these old fashioned Buckeye candy recipes. Buckeyes consist of small balls of peanut butter fudge hand-dipped in melted semisweet chocolate.
Do make lots, because these Buckeye candies are irresistible. Buckeye balls are made to closely resemble the appearance of the Ohio Buckeye nut that's related to the common horse chestnut.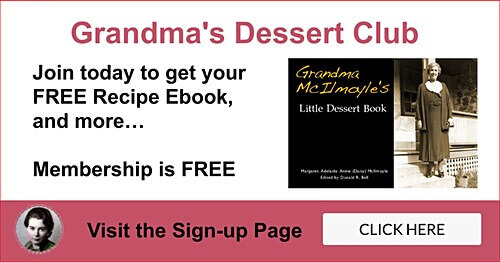 Favorite Old Fashioned Buckeye Candy Recipes

Mom's Recipe Scrapbooks (1920s)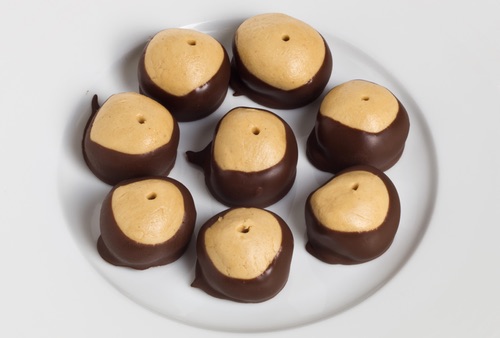 Homemade Buckeye Candy Peanut Butter Balls
(Source: ©zigzagmtart/Depositphotos.com)
Buckeye Candy Balls

1-1/2 cups smooth peanut butter
1/2 cup butter, softened
1 teaspoon vanilla extract
4 cups sifted confectioner's sugar
6 ounces semi-sweet chocolate chips
2 tablespoons shortening
Line a baking sheet with waxed paper; set aside. In a medium bowl, mix peanut butter, butter, vanilla, and confectioner's sugar with hands to form a smooth stiff dough.
Shape into balls using 2 teaspoons of dough for each ball. Place on prepared pan, and refrigerate.
Melt shortening and chocolate together in a double boiler or in a metal bowl over a pan of lightly simmering water. Stir occasionally until smooth, and remove from heat.
Remove balls from refrigerator. Insert a wooden toothpick into a ball, and dip into melted chocolate, except for the top of the ball. Return to wax paper, chocolate side down, and remove toothpick. Repeat with remaining balls.
Refrigerate for 30 minutes to set before serving. Makes about 5 dozen Buckeyes.

Buckeye Candy With Chocolate Chips

Melting Chocolate Chips

You can also melt the chocolate chips easily in a microwave-safe bowl. Microwave for 30-40 seconds on LOW power, stir, and repeat until you have a bowl of creamy, melted chocolate. Watch carefully to prevent scorching.

This Buckeye candy recipe is so good that you will want to double it whenever you make it.
1-1/2 cups peanut butter
6 cups confectioner's sugar
1 cup butter, softened
1/2 teaspoon vanilla extract
4 cups semisweet chocolate chips
Blend peanut butter, sugar, butter, and vanilla. (Dough will look dry). Roll into 1 inch balls and place on a waxed paper-lined cookie sheet.
Poke a toothpick into the top of each ball (to be used later as the handle for dipping) and chill in freezer 1/2 hour until hard.
Melt chocolate chips in the top of a double boiler (use very low heat, not much hotter than tap water, or the chocolate will get grainy — allow time for this).
Dip frozen peanut butter balls in chocolate while holding onto the toothpick. Leave a small portion of peanut butter showing at the top to make them look like the real Buckeye nuts.
Put Buckeyes back on the waxed paper-lined cookie sheet and refrigerate 2 hours until firm. This old fashioned Buckeye Candy Recipe makes about 5 dozen candies.
Graham Cracker Buckeyes

This old fashioned Buckeye candy recipe calls for Graham cracker crumbs. Believe me, if you love the Graham cracker crumb taste, then you will find these Buckeye balls amazingly delicious!
1 cup creamy peanut butter
1/2 cup finely ground graham cracker crumbs
1 cup confectioner's sugar
2 cups semisweet chocolate chips
2 tablespoons shortening
Combine peanut butter, graham cracker crumbs, and confectioner's sugar in a mixing bowl. Refrigerate for at least 1 hour until they become firm.
Form teaspoonfuls of chilled peanut butter mixture into balls. Refrigerate until ready to dip in melted chocolate.
Melt chocolate chips and shortening together in the top of a double boiler until liquid. Using a fork or skewer, dip each ball into chocolate leaving just the very top of the ball exposed.
Carefully place on a greased cookie sheet, setting each ball on its peanut butter end. Refrigerate until the chocolate firms. Makes about 3 dozen Graham Buckeyes.

How to Make Buckeye Candy Balls

Watch the short YouTube video below that demonstrates step-by-step how easy it is to make old fashioned Buckeye candy.

The video plays quickly, so here's a list of the ingredients the Buckeye candy recipe calls for, just in case you missed them:
2 cups creamy peanut butter
1/2 cup salted butter, softened
2 tablespoons brown sugar (optional)
1-1/4 teaspoons vanilla
3-1/4 cups powdered sugar
12 ounces dark chocolate, melted