Violet Ice Cream Recipe

This old fashioned violet ice cream recipe was popular with ice cream lovers during the late Victorian Era and throughout the early years of the 20th century.
This unique homemade ice cream with its delicate flavor of violets is a good conversation starter, and it's bound to please any discriminating ice cream lover and bring rave reviews.
You'll discover there's nothing like original ice creams made from all-natural ingredients. Imagine. A frozen treat that's both healthy AND amazingly delicious. You CAN have it all!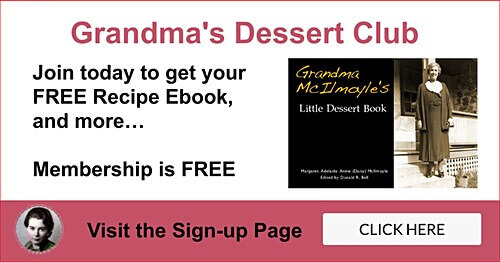 Old Fashioned Violet Ice Cream Recipe
Mom's Recipe Scrapbooks (c. 1920s)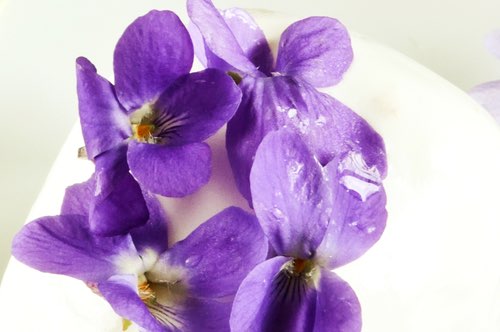 Violet Blossoms for Making Violet Ice Cream
(Source: ©Gisma/Depositphotos.com)
Violet Ice Cream
Caution
Make sure the edible violet blossoms are washed and 100% organically grown without the use of pesticides or chemical fertilizers.

1 quart cream, 1/3 cup Creme Yvette Cordial, 3/4 cup sugar, 1 small bunch violets, few grains salt, violet food coloring. Mix first four ingredients.
Remove stems from violets, and pound violets in a mortar until well macerated, then strain through cheese-cloth. Add extract to first mixture; color, freeze, and mold.
Serve garnished with fresh or candied violets; the light purple cultivated violets should be used and the result will be most gratifying.
A tiny amount of violet syrup or extract can be used should violets not be available and in season.

Creme Yvette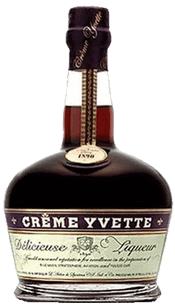 Violet Liqueur
Creme Yvette is a vintage French liqueur introduced about 1890, later re-introduced in 2009 by Charles Jacquin et Cie, after a discontinuation.
It's a unique all-natural blend of blackberry, red raspberry, blackcurrant, strawberry, and dried violet petals from Provence, with an added touch of honey and orange peel.
The liqueur's sweetness and purplish color perfectly complement the homemade violet ice cream recipe.

Victorian Ice Cream Recipe
Second Edition of the Neighborhood Cook Book (1914)

Tutti Frutti Ice Cream

As a BONUS, here's another popular Victorian ice cream. Crystallized fruits kept good without refrigeration, and they were favored in desserts such as Tutti Frutti Ice Cream.

Make a custard with the yolks of four eggs, one pint of milk, and one and one-half cups of sugar.
While this is cooling, finely chop up one pound of crystallized fruits covered with one-half cup sugar, one wineglass of sherry, juice of one lemon.
When custard is cold, add one quart cream and partly freeze, then add chopped fruit.

Vanilla Ice Cream With Violets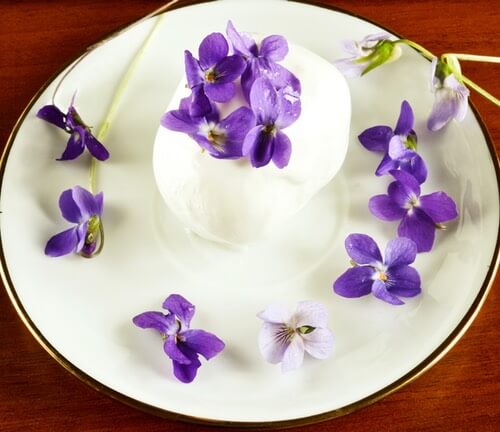 Vanilla Ice Cream Decorated with Violet Blossoms
(Source: ©Gisma/Depositphotos.com)
Here's an easy serving suggestion. Vanilla and other lightly colored ice creams look extremely attractive and tempting when served decorated with colorful edible violet blossoms.