Summer Drink Recipes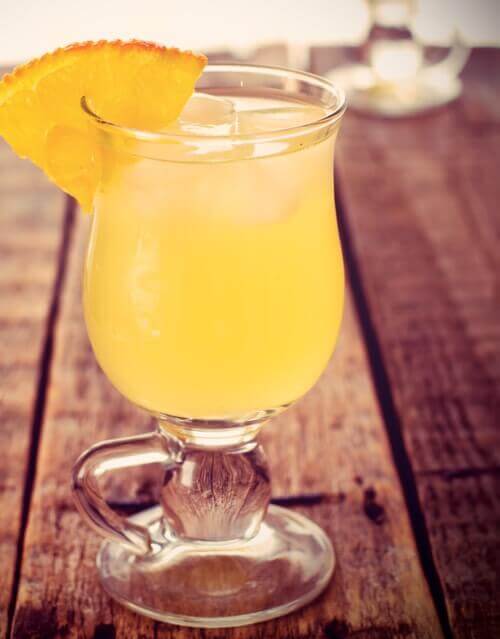 Cool and Fruity Summer Drink
(Source: ©iStock/nata_vkusidey)
These old fashioned summer drink recipes will make deliciously cool beverages, real thirst quenchers for the entire family to enjoy. Generations ago, chilled beverages were well liked in the summer and fall by people of all ages.
Healthy beverages were made using favorite seasonal fruits and other all-natural ingredients. If blocks of ice were still available under the sawdust in the old fashioned log ice-house, the drinks were served chilled. You can easily prepare the same non alcoholic drinks that your ancestors once enjoyed.


Old Fashioned Summer Drink Recipes

Mom's Recipe Scrapbooks (c. 1920s)


Mint Water

I so enjoy the all-natural mint water made using this old fashioned summer drink recipe. So easily made yet so delicious to drink on a hot day.
We have a patch of wild mint growing in a wet area near our house, and we use the leaves to make this refreshing drink. It tastes so good.
Mint leaves, chopped, 1/2 cup; tartaric acid, 1 teaspoonful; white sugar, 1/2 cup, or to taste; water, 2 cups. Mix ingredients thoroughly, strain mixture through a cloth and squeeze out any excess juice from pulp, and add water to make 6 cups. Chill.


Apple Water
Slice three large pippin apples, and pour over them a pint of boiling water, set in a cool place, when perfectly cold, sweeten it to the taste.


Rose Drink
Warning
Make sure the rose petals are 100% organically grown without the use of pesticides or chemical fertilizers.

Red rose petals, 1-1/2 cups; water, 1/2 pint; sugar, 1 cup; whole cloves [to taste]. Put ingredients into a pan and bring to a boil. Cover and simmer for 50 minutes.
Cool and strain into clean bottles, and keep cool. Add 2 ounces to a glass of soda water or use in iced tea.


Honey Eggnog
1 egg, 2 cups milk, 2 tablespoons honey. Beat the eggs until very light. Add honey and milk and mix well. Chill before serving.


Grandma's Harvest Drink
One quart of water, tablespoon sifted ginger, three heaping tablespoons sugar, half pint vinegar.


Old Fashioned Summer Drink Recipe

Wright's Book of 3000 Practical Receipts (1869)


Barley Water
Take a handful of either pearl barley, or the common sort, wash it clean, first in cold and afterwards in boiling water, then simmer it in a quart of water for an hour; when half-done, put into it a bit of fresh lemon peel and a little sugar; cool with ice. Rice water may be prepared as above.


Old Fashioned Summer Drink Recipes
Cookery (1895)


Black Currant Drink
6 large teaspoons black currant jam, 1 pint of boiling water. Pour the water over the jam, stir well, and stand until cold. Strain if necessary.


Lemon Nectar
2 lb of lump sugar, 3 quarts water, 1/2 oz citric acid and 1 teaspoon of fresh essence of lemon, 1 oz burnt sugar. Boil sugar and water five minutes, allow it to cool, then add the citric acid, lemon essence, and burnt sugar. Strain and bottle.
This lemon drink will keep good for several weeks. The sugar must not be burnt too dark a color.


Old Fashioned Summer Drink Recipes
The Complete Confectioner, Pastry Cook, and Baker (1864)


Cherry Water

Pound the cherries with the stones to obtain the flavor of the kernel, and press out the juice through a hair sieve, add a little water to it, and give it a boil; then filter it through a flannel bag; [add] some syrup, a little lemon juice and water, to make it palatable, but rich, although not too sweet, which is often the fault with these; ice as wine, and serve. Apricot and peach water made as cherry water.


Gooseberry, Currant, Raspberry, and Strawberry Waters
Mash either of these fruits when ripe, and press out the juice through a hair sieve, add a little water to it, and give it a boil; then filter it through a flannel bag, [add] some syrup, a little lemon juice, and water, to make it palatable, but rich, although not too sweet, which is often the fault with these; ice them the same as wine, and serve.


Lee's Old Fashioned Summer Drink Recipes
Lee's Priceless Recipes (1895)


Ginger Beer, Unfermented
Lump sugar, 1 pound; first-class unbleached Jamaica ginger (bruised), 1 ounce; cream of tartar, 3/4 ounce or tartaric acid, 1/2 ounce; 2 or 3 lemons (sliced); boiling water of sufficient quantity. Allow to cool.


Jelly Water
Put in a tumbler a tablespoonful of current jelly, and a tablespoonful of wine; mix them well together, then fill the glass with ice water. If feverish, leave out the wine.


Pineapple Water
One large ripe pineapple, 1 pint of boiling syrup, juice of 1 lemon. Peel the pineapple, slice, and mash it well in a basin, then pour on the syrup and lemon juice; stir well and cover. Let it stand 2 hours, then filter through a fine silk sieve, and add a quart of spring water.


Old Time Toast Water
Toast a slice of bread very brown, break it into pieces, and pour over it a cupful of boiling water. When cold and sweetened it becomes a nourishing drink.


Vintage Summer Drink Recipe

The White House Cook Book (1913)


Chilled Strawberry Water
Take one cupful of ripe, hulled berries; crush with a wooden spoon, mixing with the mass a quarter of a pound of pulverized sugar and half a pint of cold water. Pour the mixture into a fine sieve, rub through and filter till clear; add the strained juice of one lemon and one and a half pints of cold water, mix thoroughly and set in ice chest till wanted.
This makes a nice, cool drink on a warm day and is easily made in strawberry season.


Summer Fruit Punch Recipe

Second Edition of the Neighborhood Cook Book (1914)


Summer Pineapple Punch
A refreshing summer beverage, which brings an involuntary grace to one's lips as it is quaffed, is a fruit punch in which the pineapple plays an important part. Put into a bowl the juice of three lemons, two oranges sliced and seeded, one grated pineapple and one cup sugar.
Let stand for one hour to extract the juice, then press and strain. Add to this juice two quarts of iced water and two slices of shredded pineapple, and serve.


Old Fashioned Summer Drink Recipes
Dr. Chase's Third, Last and Complete Receipt Book (1891)


These summer beverages were popular in Great Grandma's day and are surprisingly good thirst quenchers.
Our forebears didn't have the convenience of a corner store to purchase cold beverages nor did they have the ready cash; they used the simple ingredients they had available to make their own thirst quenchers. Try them and see what you think.

Summer Currant Drink
Mash a few currants, and pour on them a little water, strain, sweeten, and add sufficient cold water to suit the taste, though it is best to use the currants pretty freely, and sugar, accordingly, as the acid of the currant makes this drink peculiarly grateful to the sick as well as those in health, satisfying the thirst of either.
Currant jelly in cold water makes a good substitute for currants, and is next to that of tamarinds, which is undoubtedly the best to allay the thirst of fever patients of anything known. Lemons do very well also.


Summer Oatmeal Drink
For the field or workshop, nourishing as well as allaying thirst. Make oatmeal into a thin gruel; then add a little salt, and sugar to taste, with a little grated nutmeg, well stirred in while yet warm.
This [non-alcoholic drink recipe] was first suggested by the Church of England leaflets put out among the farmers and others to discourage them from carrying whiskey into the field.
Remarks. —If the above plan is too much trouble, although it is, indeed, very nourishing and satisfactory, take the Scotch plan of stirring raw oatmeal into the bucket of cold water and stir when dipped up to drink. As near as I could judge, 1/2 to 1 pint was stirred into a common 12-quart pail.
I drank of this at the building of the New York and Brooklyn Bridge, which I visited with my son while in New York in the Centennial year of 1876, on our way to Philadelphia, and we were highly pleased with it. The workmen drank of it freely, preferring it to plain water very much. —Dr. Chase


Old Fashioned Summer Drink Recipes
Mrs. Goodfellow's Cookery As It Should Be (1865)


Egg Safety Tip. Some old fashioned beverage recipes call for raw, uncooked eggs or egg whites. To avoid any health risk, please visit my Eggs and Salmonella page for simple instructions on how to safely use the old time recipes.


Summer Eggnog
Beat the yolk of one egg and a spoonful of white sugar in a bowl to a cream; add a tumbler full of crushed ice — first put the ice in a clean cloth and pound it with a mallet as fine as hail, stir this into the egg; add one spoonful of wine or good brandy and grate a little nutmeg over it; stir this all well. This is refreshing and nutritious as a drink.


Peach Water
A small cupful of dried peaches washed carefully; put them into a pint pitcher, and pour on one pint of boiling water; cover tightly, and when quite cold strain.


Affordable Soda Fountain Syrups

Prairie Moon Has Everything You Need
Make your beverages with  flavored syrup concentrates from The Prairie Moon Company. Choose from over 50 old fashioned soft drink flavors including Root Beer, Sarsaparilla, and Cola. Simply add water and your own sugar or sweetener.
Prairie Moon offers low cost shipping to U.S. and Canadian customers. I highly recommend them!
Disclosure: This is an affiliate link, which means that if you purchase a Prairie Moon product through this link, I receive a small compensation to help support this site — at no extra cost to you.

Related Pages You May Like