Solo Build It Case Study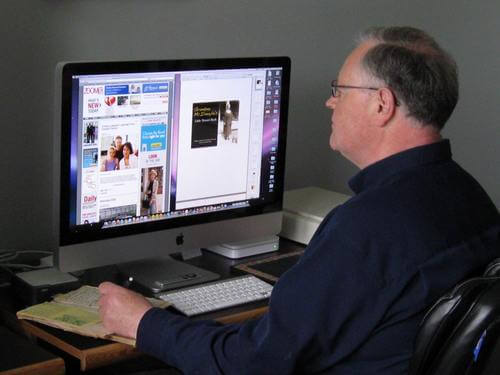 At Work In My Home Office With Solo Build It
(Source: ©Don Bell)
My Solo Build It Case Study takes you behind the scenes and reveals how I used SBI to build a successful website and online business. Each step is shared complete with photos and illustrations. So, let's get started.

My Solo Build It Case Study
Watch as the short video below shows why SBI is called the Complete Online Business Builder.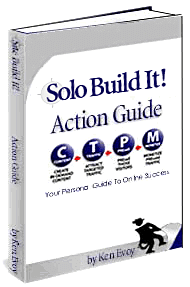 SBI Action Guide
You begin with the Solo Build It manual called the Action Guide. It's what you will use it as your main resource throughout your site building journey.
The Action Guide is quite detailed, and it's available online in both text and video formats.
It's filled with illustrated, easy-to-digest information, and it explains the SBI method of site building in a step-by-step process that's easy to read and understand.
You simply work at your own speed within the time you have available. I like having the freedom to schedule my learning, since I tend to be slow and methodical when learning new skills.
You'll find the videos are a huge help. It's almost like watching over someone's shoulder as they carefully demonstrate how to use every feature of the SBI program.

Everything is kept up-to-date too, so you won't get distracted by changes that are constantly happening with search engines and social media. You can simply concentrate on writing your content articles and building your site.
However, The Action Guide isn't your only resource.
The SBI Forum is a community of fellow SBI users (a.k.a. SBIers) who freely help each other by offering advice and encouragement. It's available 24/7 online, and it's a friendly, social place to hang out. I'm looking forward to seeing you there!
In addition, the SBI Support team will promptly handle any technical issues, but problems seldom arise. SBI is built on a rock-solid platform having its own servers, and your site is always securely backed-up and protected.
Hackers are NEVER a threat to your SBI site!
All in all, the Action Guide is your main source for all the important online business instruction. It leads you through a step-by-step process that's proven to work. It also integrates with a unique set of built-in site-building tools to assist you at every step.
So, let's begin this Solo Build It Case Study by looking closely at the actual the steps you will take when building your new site.

Day 1  - Solo Build It Case Study

Master the All-Important Basics

Other site-builder services will push you to register a domain name as your first step. Why?...
It's because domain registration is often their primary source of business revenue, and they want to lock you in their product. So, don't fall for it.
Registering your domain name as a first step is a HUGE mistake, and it will almost ensure the eventual failure of your site.
Let me explain why.
Solo Build It is presented as a 10-Day process where a "Day" might take one or several days to complete, or even a week, or possibly a month.
Everything depends on the time you have available, and the effort you put into the process. For instance, I began part-time, and it took me over 3 months to complete the 10 Days.
Days 1 to 5 help you to lay a solid foundation for your new business, and it isn't until you complete Day 5 that you are finally ready to name your new site and register the domain.
Therefore, consider the first 5 Days as building the foundation of your future online business.
So, that said...
Day 1 is where you'll master the basics of online marketing.
You will learn the proven Content-Traffic-PREsell-Monetize (a.k.a. C-T-P-M) process and why it always works to create a solid, successful business:
Create In-Demand Content
Attract Targeted Traffic
PREsell Those Visitors
Monetize PREsold Traffic


Don't worry, it's all explained in the Action Guide.

The Solo Build It C T P M Process
(Source: ©SiteSell - Used with Permission)
You'll also learn the importance of writing your content to PREsell and how that differs from normal selling.
Searchers are not looking for you or your website at first. They are searching for credible information or solutions to their problem. By providing that valuable information, you supply a need and generate your own targeted organic traffic.
Visitors to your site will begin to trust you as one who's knowledgeable about the topic, and they'll be open to your recommendations and products.
And PREselling isn't just for products, it's a concept that can also be used to promote your ideas or message content.
You'll also be introduced to the latest concept of Growth Hacking and how it can be used to quickly promote your new site. Don't worry, it's all good and it's all explained in the Action Guide.
By the end of the first day, you'll be prepared for everything you need to do to create a successful online business.

Day 2  - Solo Build It Case Study
Develop Your Best Site Concept

Remember this: It takes the same amount of time to build an unsuccessful site as it does a successful one!
So, it's best to start off on the right foot, and getting your Site Concept (niche topic) right in Day 2 is the way to go.
You start by picking 3 topics that interest you and would appeal to others. Think of a hobby, a skill, or anything you know and love that you could see yourself writing articles about.
For instance, let's say you're definite about starting a recipe site, then pick your 3 favorite recipe topics such as cakes, soups, and breads, or delicious foods you never tire of cooking.
However, even if you have already decided on your site concept, you might need to narrow it further.
For instance, when I began my recipe site in 2004, I choose "Dessert Recipes" as my site concept (niche topic) because even then, "Recipes" would have been too broad a topic to compete in. The big brand companies like Kraft and Martha Stewart had already staked their claims to it.
Competition has significantly increased over the years to the point that now "Dessert Recipes" has become too broad. If I were starting fresh today, I might be considering "Cake Recipes" as a niche, or possibly narrow it further to only "Chocolate Cake Recipes."
This is where SBI's Brainstorm It with its built-in Site Concept Finder becomes absolutely necessary. It reveals what potential visitors are searching for in the topics you've selected.
Niche Choose It helps you to identify the best topic to build your site around. It guides you in choosing the highest potential niche, based on profitability (Can it attract enough targeted visitors?), the time you have available (Will you be able to beat the competition?), and the potential for monetization (Will you have enough ways to earn revenue?).
Niche Choose It will automatically compare and evaluate your choices, and it will help you to decide which niche concept offers the most opportunity for online success. It's totally amazing.

Once you've settled on your site concept, you're ready for Day 3.

Day 3  - Solo Build It Case Study
Brainstorm Profitable Page Topics
Now it's time create an outline or Blueprint for your site. You'll learn from The Action Guide that people go online to search for information, all sorts of information. Yes, some even search for Grandma's old fashioned dessert recipes!
The Brainstorm It tool helps you to clearly identify the sort of information people search for online. This helps you to build a solid content foundation for a profitable information site that will attract the people wanting that information.
Here's a key: You MUST be tuned into what people are searching for!
When people search for information online, they type in a single word or a phrase called a keyword, and if that keyword is not published on your site page, people are unlikely to find your page listed in Google's search results. So, you get little or no traffic.
Brainstorm It is a unique tool that helps you to identify the most common words and phrases (keywords) that people type in their searches.
These common words are called in-demand keywords and by compiling them in your Master Keyword List (MKL) you will have a ready supply of "page topics" for your niche-based content site.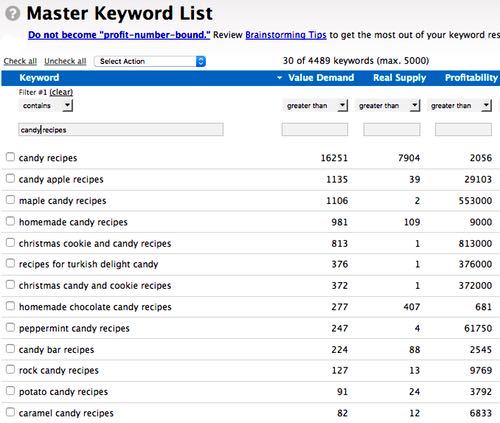 The Solo Build It Master Keyword List (MKL)
(Source: ©SiteSell, Used with Permission)
For example, examine a few keywords in my Master Keyword List (see above). Let's look at "candy recipes" first. Approximately 16,251 people searched for "candy recipes" by entering that keyword into a search engine over a given time (Value Demand).
The clever MKL tool also reveals that 7,904 other sites are competing against you for the same keyword (Real Supply) and its relative profit potential (Profitability) is 2,056.
This valuable information gives you a huge advantage over the other website owners who are your competition!
Since the keyword "candy recipes" has a Real Supply of 7,904, it has significant competition. However, if you chose to work hard and carefully follow the advice given in The Action Guide, then the keyword "candy recipes" could be a good niche topic to build a successful information site around.
Let's look closer.
The keyword "homemade candy recipes" has a Value Demand of 981 and a Real Supply of just 109. While it hasn't enough Value Demand for an entire site concept, it would make an excellent keyword for a main topic page on a site, called a Tier-2 page.
Look at several other keywords and their Value Demand:
candy apple recipes — 1,135
maple candy recipes — 1,106
recipes for Turkish delight candy — 376
peppermint candy recipes — 247
candy bar recipes — 224
rock candy recipes — 127
potato candy recipes — 91
caramel candy recipes — 82


All the above keywords have good Value Demand and low Real Supply. They would be great for specific article pages (Tier-3) that you would link to off a main topic page (Tier-2).
Simply start with the recipe topics (keywords) that have the highest Value Demand and work your way down the list when writing your site content. That way you'll grow your visitor traffic faster.

If a topic (keyword) shows very little or no Value Demand, it's likely not worth your time to write a page for it, since the numbers indicate that very few people are likely to search for it.
That's why it makes sense to target the most popular keywords first and save the others for later when you've a steady stream of visitors. Some call it picking the lower fruit first.

You save valuable time and effort by working the MKL to your advantage, especially when it comes time to plan your site structure.
Ultimately, your Theme-Based Content Site will have a homepage (Tier-1) linking to a series of topic pages (Tier-2) which in turn link to relevant article pages (Tier-3).
This is what's called a 3-Tier Site Structure, and it's designed for easy navigation by search engines and your human visitors.

Solo Build It 3-Tier Site Structure for Easy Site Navigation
(Source: ©SiteSell, Used with Permission)
Something that deserves a special mention is keyword intent. It's important to know the "search intent" of your visitors when they choose a word or phrase to search a topic.
For instance, are they looking for information or do they want to buy something? The Action Guide explains how to tell the difference, so you can match your content to the search request.
All in all, it's really a two-step process using SBI's special tools:
Niche Choose It helps you to identify the best niche topic to build your Tier-1 homepage and site around.


Brainstorm It suggests your Tier-2 and Tier-3 topic pages by helping you to identify keywords that offer the best visitor and profit potential.


Blueprint It is another tool that uses your selected topics to create a "Site Content Blueprint" for you to follow while building your 3-tier site structure. You'll know exactly what pages to write and publish.
No guesswork is involved thanks to Solo Build It!
Solo Build It is truly amazing!

Day 4  - Solo Build It Case Study
Investigate and Plan Monetization Options

The Action Guide will explain how to identify your potential site visitors and how to determine their interests and needs. You will learn to spot solutions with a profit potential that will meet the needs of your visitors.
At the completion of this stage, you would have discovered whether the niche you've chosen has enough earning potential to succeed or not.
But, maybe you're not thinking of earning potential. Maybe you're more interested in building readership. That being the case, you also need a strong visitor potential. You need a site that will meet the interests of your visitors.
If the potential for visitors and profit is lacking, you'll need to either tweak your niche further or brainstorm a completely new niche.
Disappointing? Yes, it can be. But, there's absolutely no point in building a site if it doesn't show enough potential to be successful.
Always remember, it takes the same amount of time to  build an unsuccessful site as it does a successful site, so aim for successful.

Choosing the right niche is crucial. Later, on my Solo Build It Questions page, you can read how I learned this lesson the hard way.

Day 5  - Solo Build It Case Study
Refine Your Site Concept and Domain Name

At last... Here's the Day you've been waiting for!
Now that you've become fully knowledgeable about your niche, you can fine-tune your Site Blueprint and develop your image, otherwise known as your brand.
You've finally reached the stage where you can pick and register a brand-new domain name for your new site. Yay!
It's important you choose a descriptive and memorable domain name, as it becomes part of your brand, not only for your site but also as a name for your social channels which you can also register now
Eventually, as your site expands, you'll determine which of YouTube, Facebook, Twitter, Instagram, Pinterest, and so on best suits your audience, but at least for now you'll have those accounts named and branded for your site.

Do take enough time to think about your image and brand for it's how you will present your site to visitors. There's a ton of competition on today's Web, so you need to give your site a unique angle to ensure it stands out from the crowd.
For example, my site stands out from the crowd by focusing on "old fashioned" dessert recipes. This does tend to reduce my visitor traffic somewhat, as fewer people search for "old fashioned" recipes compared to modern-day recipes, but those who do stand a much better chance of finding my site.
Don't worry, The Action Guide will lead you through this process, and you can always ask for helpful advice from other SBIers in the Forum.

Day 6  - Solo Build It Case Study
Build a Site That Get's the Click

Now it's time to create your site design and publish your home page. Solo Build It offers an entire gallery of modern, ready-made site designs to choose from.
Alternatively, you can use the integrated Site Designer tool to custom design your own "look and feel" from the ground up.

Just a Few of the Solo Build It Responsive Site Designs
(Source: ©SiteSell, Used with Permission)
All the Solo Build It designs are "responsive" and designed to look beautiful on both mobile screens and desktop computers.
I wish it were possible in this Solo Build It Case Study to display all the great designs available in Site Designer, but there are simply too many.
The above image illustrates only a tiny sample of the dozens that are available in a wide variety of categories, and there are many ways they can be altered and tweaked to create just the look and feel you want.
After you've selected your site design, it's time to build your home page. The Block Builder tool makes it easy to create and publish your site pages.
If you can follow simple instructions, write and paste content into empty fields, and use your mouse to slide blocks and click on buttons, you can build an attractive website using the SBI system. It's as easy as pie!

The Solo Build It Block-Builder Tool Makes It Easy
(Source: ©SiteSell, Used with Permission)

Here's the thing that continues to amaze me. Thanks to SBI's Block Builder, I built this entire recipe site with its 400-plus pages myself, and I'm a klutz when it comes to design.
SBI is a complete, all-in-one system of integrated site-building modules that work quietly behind the scenes to ensure your success.
To give an example, one feature that I really like is Analyze It. This clever tool automatically analyses each site page as you build it, recommending areas where your content could be improved to achieve better search engine rankings.
Analyze It ensures that your site pages are properly optimized meeting current Search Engine Optimization (SEO) standards. It's amazing!
The beauty of this system is that it's all online, so you can use it anywhere in the world wherever there's a PC or MAC computer handy. I even worked on my site while attending a Solo Build It conference in Scotland.
Plus there's always 24/7 online Support and the Forum to visit whenever you get stuck and need a little help from experienced SBI users.
Solo Build It Zoom Gathering with SBIers
(Source: ©SiteSell, Used with Permission)
There are also scheduled Zoom meetings for chats with other SBIers and for Action Guide teaching sessions. You always have the help and support you need with SBI!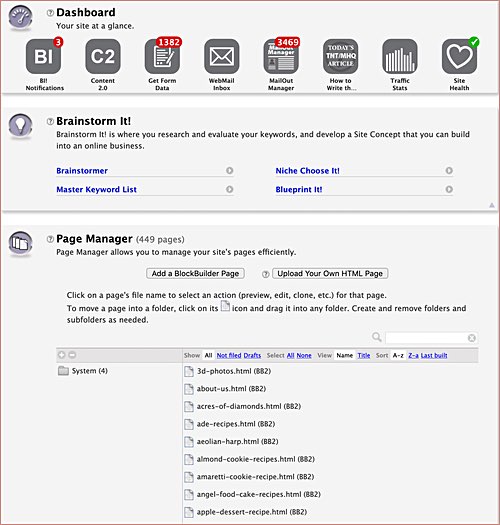 The Solo Build It Dashboard
(Source: ©SiteSell, Used with Permission)
You can even upload your own HTML pages from your favorite page editor, if you prefer.
Even experienced webmasters are discovering that Solo Build It can make their lives a whole lot easier.

Day 7  - Solo Build It Case Study
Build Free Traffic From Many Sources

On Day 7, you will learn how to work closely with the major search engines such as Google and Bing to build a high volume of organic visitor traffic.
You'll also learn how to use Facebook, Twitter, and other social media services to promote your site. For instance, some SBIers report that half their visitor traffic now comes from their Pinterest business pages.
The Action Guide fully explains how to harness social media to your biggest advantage.
This is where I need to make a small confession. I am not a social media fan, and my website traffic often suffers for it. Forgive me, but I cannot get excited about Facebook and Twitter. I tried. I really tried. But, I don't find it fun at all.
So, do as I say not as I do. Get involved in social media!

The Site-Builder Console Features All the Modules Needed
(Source: ©SiteSell, Used with Permission)
Solo Build It features built-in social media modules such as Socialize It, Face It, and RSS/Blog It that provide an automatic passive social media support.
And here's something truly amazing...
The Content 2.0 tool on Solo Build It makes it possible for your visitors and those who are knowledgeable in your topic to automatically create site pages of their own on your site that others can comment on.
This awesome feature can add content to your site without you having to write it, and the search engines love it.

Day 8  - Solo Build It Case Study
Develop Relationships
On Day 8, you'll learn how to use more of the built-in SBI tools to get repeat traffic and attract additional visitors. Solo Build It's powerful tools include:

Mailout Manager for sending newsletters and developing a mailing list


Auto Responder for sending promotions and E-courses


RSS/Blog It for creating blog entries and RSS feeds


Socialize It for social network promotion


Face It for integrating Facebook Likes


Infin It for adding specialized 3rd-party programs


These are just several of many features you'll have available when you're ready to use them. It's not at all difficult.
SBI always has you covered.

Day 9  - Solo Build It Case Study
Get to Know Your Visitors
On Day 9, you'll get to know your visitors and their needs. Once your site grows and your visitor traffic increases, your Solo Build It Traffic Center will start to show some real click data.
Your traffic stats can be integrated with Google Analytics, so you can be sure the reported results are accurate.

It's interesting and fun to monitor your visitor traffic and see how your site is being used, even in real time. It can almost get addicting.


The Solo Build It Traffic Center
(Source: ©SiteSell, Used with Permission)
Among other things, you will learn how to use the Traffic Center to monitor and analyze traffic patterns, keep tabs on page rankings, and develop a winning strategy to achieve your planned-for growth results.

Day 10  - Solo Build It Case Study
Monetize — It's Time to Earn Money

Congratulations!
You've now reached Day 10, the final Day. In many ways, this last step is the most fun. You will really get excited when your site earns its first $1.
You will realize that you simply need to rinse and repeat what you've been doing to earn lots more.
Begin monetizing your site by adding some passive income sources such as Google Ad words and by adding a few affiliate links to quality products that tie in with your site content.
(I explain more about how affiliate links work on my Solo Build It Questions page.)
It's called passive income because it dribbles in night and day as visitors interact with your page content.
Believe me, you'll be running to your computer in your pyjamas first thing in the morning to see how much you've earned during the night while you were sleeping. It can get exciting!
As you gain experience, think about creating and selling your own digital products and add some additional income streams:
Write an Ebook
Publish Kindle books at Amazon
Start a podcast
Create an online E-course
Start a membership site
Promote your music or photograpy

Sell sponsorship ads
Promote an off-line business


What you do is up to you. After all, it's your site! And The Action Guide will always be there to help you with every step along the way.
Step 10 is the final step covered in my Solo Build It Case Study but it's not the end of the site building journey. Far from it!

There will always be new content pages to add and you'll discover new ways to promote and monetize your site.
And rest assured that SBI and the Action Guide will be with you every step of the journey!

Solo Build It Case Study Summary

Stop Wishing. Start Doing! Get Solo Build It Now!
(Source: ©zzoplanet/Depositphotos.com)
I hope my Solo Build It Case Study has helped to shed light on how easily you can build a website on a topic that interests you. Why not begin your website now and realize your dreams?
Wondering what topic to choose? Simply pick a topic you're passionate about that also interests others. There are many successful topics to choose from. Want Proof?

If you click the following link to SBI and subscribe, you can start your own online business today and although I stand to earn a small commission, it does not cost you extra. This is called being an affiliate, and it's one of several ways you will earn online.
Try SBI now. It works better than any other site-building product. It might not be right for you and that's OK. Just trigger the 90 Day Guarantee, turning your purchase into a risk-free trial.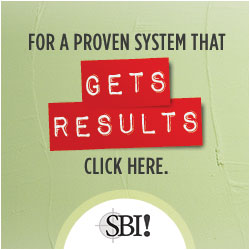 Announcement — In these challenging times of self-isolation and job loss, it's a blessing to have the extra income and self-employment that a website can provide from the safety and comfort of one's home.

SiteSell is making SBI available at a greatly reduced price for a limited time to help people work through these difficult times. Just click on the image below.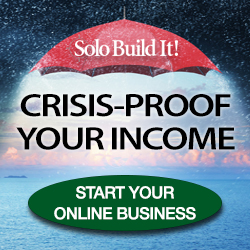 Related Pages About Solo Build It!
Acres of Diamonds