Richard Wilts 1st Aeolian Harp
by Richard Wilts
(Murdock, Minnesota)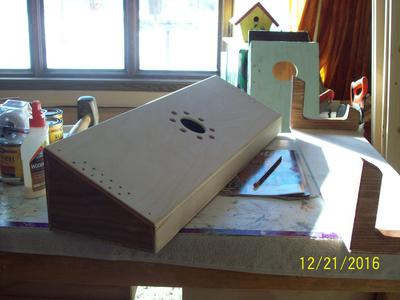 Aeolian Harp Sound Box of 1/4'' Birch Plywood
I saw a picture of an Aeolian Harp in an old 1956 handyman book and decided to make one. I tried to find 1/8" thick wood that was at least 7" wide but couldn't so I used 1/4" birch plywood and very good green treated wood for the ends; also it has a 3/4" square green treated frame running from corner to corner.

It has a 2-1/8" sound hole with eight 1/2" holes around it. The sound box is 26-7/8" long x 7" deep x 1-3/8" front x 5-1/2" back.

There are 12 strings made of 25# test fishing line monofilament. I was going to use 25# braided fishing line but read that the line had to be round, and I don't think braided is round. By the way, braided has a deeper sound. If anyone has used braided fishing line successfully could you tell me.

I used 4 hitch pins to hold the lid in place and 12 hitch pins and 12 tuning pins to hold the strings that I bought at The Music Maker in Stillwater MN. I couldn't find information on the strings, if they should be tight or loose.

After I put it together, I stained it with golden oak and rubbed Tung oil on it (three coats). Then, I burned the design into the lid and the sound box (before I rubbed the Tung oil on it).

I have no idea how to tune an Aeolian harp, so I pluck each string and tighten it until they sound clear. Now, I have to wait until there is a strong wind in the spring.

If there is anyone who knows where to buy 1/8" thick hardwood like maple, etc. that won't cost me an arm and a leg I would be interested to hear about it. If I make another one, I think a thinner skin for the sound box and no frame with hardwood for the ends.

I'm attaching some pictures of my Aeolian Harp.