Old Fashioned Icebox Cookie Recipe
An old fashioned icebox cookie recipe makes baking cookies easy and convenient. After the arrival of kitchen iceboxes, freezing cookie dough in cylindrical rolls and simply slicing off cookies from the frozen roll whenever needed, proved to be a big hit with busy homemakers.
You can take advantage of these vintage cookie dough recipes to make a plateful of homemade cookies whenever you want, for school lunches or for snacking on while watching a movie.
There's no need to buy frozen cookie dough from the supermarket when you can easily make it yourself, and because it's homemade, it's more wholesome too.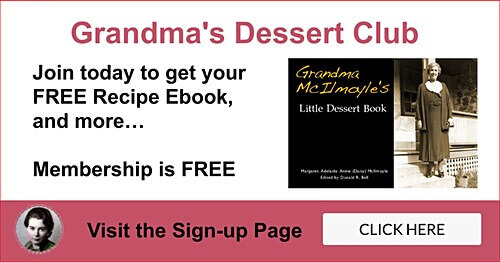 Old Fashioned Icebox Cookie Recipes
Mom's Recipe Scrapbooks (1920s)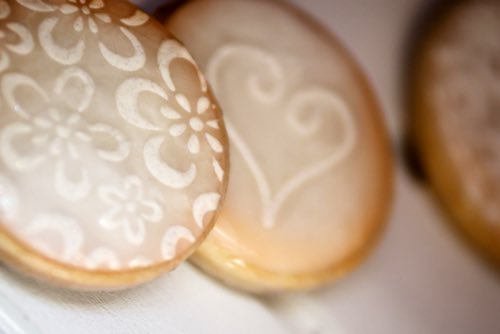 Decorated Icebox Cookies for a Special Occasion
(Source: ©zharate1/Depositphotos.com)
You'll find it's always handy to have a roll of frozen cookie dough in the fridge or freezer. As Mom used to say, "You can never know when company will arrive."
Note that the following instructions were written in the 1920s, when some families didn't have iceboxes, and they needed to take advantage of cold winter weather to use these recipes.
Thankfully, that's seldom the case today with our modern freezers, so why not try an old fashioned icebox cookie recipe tonight?

How to Make Icebox Cookies
If you have a refrigerator or any sort of icebox or freezer, and an old fashioned icebox cookie recipe, you can make homemade cookies the year-round, as it won't hurt the dough to freeze.
The icebox method has two great advantages over rolling out the dough. It is much quicker, and as no flour has to be added after the dough is made, and there is no manipulation of the dough with the hands or rolling pin, the cookies are shorter (richer) and of better texture than when rolled.

How to Freeze Cookie Dough
Mix cookie dough is done as usual, then shape it in long rolls from 1-1/2 to 3 inches in diameter, depending on the size of cookie you want.
Wrap in waxed paper and place in the icebox or in a covered container out-of-doors until the cold has hardened it well.
When well hardened, take a sharp knife and slice off pieces of whatever thickness you want for cookies. Replace remainder of roll in icebox. Place sliced pieces on a baking sheet or pan and bake as usual.

Chewy Icebox Cookies

1 cup butter, 2 cups brown sugar, 2 eggs, 3-1/2 cups flour, 2 teaspoons baking powder, 1/2 cup nuts, 1/2 cup raisins, 1 teaspoon flavoring.
Cream butter and sugar; add beaten eggs. Sift four with baking powder and add to butter and sugar. Add flavoring, nuts and raisins.
Form into a long roll about 2 inches in diameter, wrap in waxed paper, and let stand in the icebox until stiff enough to cut off in thin slices. Bake in a moderate oven (375°F).
These homemade cookies are most satisfactory if you have a refrigerator or icebox. The dough can be kept almost indefinitely, and a few cookies baked at a time, when needed.

Beatrice Little's Icebox Cookies

Beatrice Little, not to be confused with musical comedy star Beatrice Lillie, was a noted Broadway performer in the first half of the twentieth century. This old fashioned icebox cookie recipe was said to be her favorite.

Basic cookie dough recipe: 1/2 cup butter, 1/2 cup white sugar, 1/2 cup brown sugar, 2 cups flour, 1 egg, 1 teaspoon cinnamon, 1/2 teaspoon soda dissolved in tablespoon water.
Knead into roll and place in refrigerator or icebox on waxed paper until it is chilled; cut paper-thin slices and cook in moderate oven (375°F).

Iowa Butterscotch Cookies
You can make three different cookies from this old fashioned icebox cookie recipe — all three are interesting and quite delicious with their rich butterscotch flavoring.
Make these cookies with fine shortening and you will have crisp, snappy homemade cookies with delicious flavors, and they are so easy to bake when the pans are greased.
Ingredients:
One cup shortening, 2 cups brown sugar, 2 eggs unbeaten, 1 cup nutmeats chopped fine, 1 teaspoon vanilla, 3 cups pastry flour, 1 teaspoon salt, 1 teaspoon baking powder, 1/2 teaspoon soda.
Cream shortening and sugar thoroughly; add eggs, nuts, and vanilla. Sift flour, salt, baking powder, and soda together. Mix well.
Turn onto floured board. Divide the batter and knead each half into oblong rolls about 3 inches in diameter.
Lay in greased pans and cover with waxed paper and put in icebox overnight, or until thoroughly chilled.
Nutty Butterscotch: When ready to bake, slice thin and bake in moderate oven (350°F) for 10 minutes. This makes about 75 cookies.

California Chocolate Cookies: Use Butterscotch Recipe. After adding eggs stir in 3/4 cup cocoa. Follow the same method for mixing and baking.

New York Raisin Nut Cookies: Use Butterscotch Recipe. Add 1 teaspoon cinnamon, sifting with dry ingredients. After adding eggs stir in 1 cup raisins with the nutmeats, both having been put through the food chopper.

Icebox Shortbread Cookies
By using this old fashioned icebox cookie recipe, you can have a plate of delicious shortbread cookies ready to bake at a moment's notice!

1 cup icing sugar, 2 cups butter, 4 cups flour. Mix well, knead until the dough begins to crack, shape into a round cake about 1/2 inch thick, crimping the edge like a pie crust, or roll out and cut like cookies, or prepare as you would for icebox cookies.
Bake on ungreased tins in a slow oven until delicately browned. Allow the shortbread to cool on the tin.
For Christmas or special occasions, shortbread cookies are nice when decorated by pressing pieces of blanched almonds, citron, peel or candied cherries in each icebox cookie slice just before baking.

Spicy Icebox Cookies

You probably know the charms of icebox cookies, aside from, their being just plain good to eat. An old fashioned icebox cookie recipe can be made one day and baked the next.
Cream 1/2 cup sifted sugar with 1/2 cup butter, and beat until light and very smooth. Beat together 1 egg and 1/4 cup molasses, and add them to your butter-sugar combination, still beating.
Sift and measure 2-1/4 cups of cake flour, then sift it again with 1/2 teaspoon baking soda, 1/2 teaspoon ginger, 1/2 teaspoon cinnamon, 1/2 teaspoon ground cloves, and 1/2 teaspoon salt. Add these to your moist ingredients, blending thoroughly.
Then shape the resulting dough into a long, thick roll. It should look like a big sausage with flat ends. You make it fat, if you want big cookies, thin, if you want small ones.
Wrap your dough in wax paper and set in the icebox overnight. Then slice it — thin, thin, thin — lay the slices on a greased cookie sheet, and bake at 400°F for 10 minutes.
You certainly won't want to wait longer than overnight to bake these fine, spicy cookies. —Old Fashioned Icebox Cookie Recipe, Calling All Girls Magazine, January 1945

Aunt Audrey's Icebox Cookies

Mom got this old fashioned icebox cookie recipe from her sister Audrey Clysdale, and she often used it to make delicious homemade cookies at a moment's notice whenever people visited.

1/2 cup butter, 1 cup brown sugar, 1 egg, 1/2 teaspoon baking soda, 1/4 teaspoon salt, 1-3/4 cups flour, 2 cups chopped nuts.
Mix first three ingredients, next three, then combine all; pack in waxed paper and put in icebox overnight, then turn out and slice; or, if immediate baking is desired, drop by teaspoon onto greased pan.
Decorate with currants, nuts, raisins, or cherries. Bake in moderate oven (375°F).

Do You Remember the Kitchen Icebox?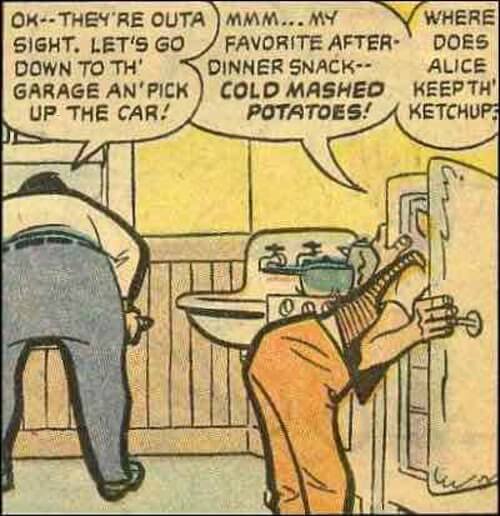 Norton Is Busy Raiding Alice's Icebox
(PD Source: Jackie Gleason Magazine - Sep. 1955)
If you watch reruns of The Honeymooners, the hit comedy series from the mid 1950s, you'll see Alice Kramden's icebox with its pan of water resting beneath it waiting to be emptied.
Try as he might, her husband Ralph always failed to convince Alice that he had provided her with the very latest in modern kitchen appliances.
Neighbor Ed Norton delighted in raiding Alice's icebox between meals, much to Ralph's annoyance. I seem to recall Ed finding a chocolate layer cake once, but he could just as easily have found a roll of icebox cookie dough.
Housewives were sharing their favorite old fashioned icebox cookie recipes when the classic television series was filmed, and you'll find Mom's favorites on this page.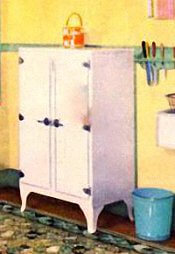 Kitchen Icebox
We never had an icebox on the farm. A trapdoor led to a cold cellar beneath our kitchen floor where Mom kept food and milk cool before Dad purchased our first refrigerator in the early 1950s.
But, I do recall my Aunt Daisy having an icebox. Once, while playing outside with my cousin Barbara, the iceman arrived to install a fresh block of ice in the ice compartment.
It was a sweltering hot day, and as he readied block of ice on his truck's tailgate, he kindly offered us small chips of frozen ice to suck on.
Aunt Daisy happened to be watching us through the kitchen window. She rushed outside and made us throw them away, saying it was frozen lake water and too dirty to eat.

Naturally disappointed, we walked away muttering to ourselves, failing to understand the problem. After all, those frozen ice chips had tasted so cold and refreshing!