Vanilla Ice Cream Recipes
Old Fashioned Vanilla Ice Cream Recipe

Since Grandma's old fashioned vanilla ice cream recipes call for all-natural ingredients, you can be sure your homemade ice cream will taste extremely good AND be good for you too.
Countless polls show that vanilla is still the world's favorite flavor for ice cream. Folks never seem to grow tired of eating it. So, make yourself an old fashioned frozen treat today!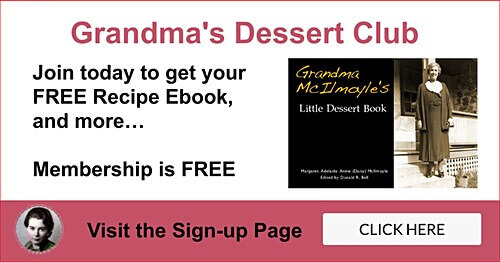 Grandma's Old Fashioned Vanilla Ice Cream Recipe
Grandma McIlmoyle's Handwritten Recipe Books (c. 1912)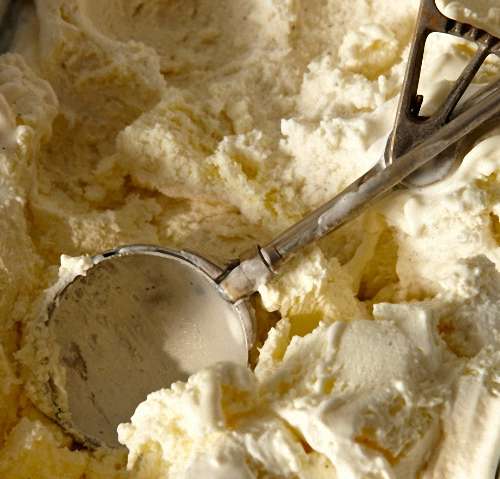 Enjoy a Scoop of Homemade Vanilla Ice Cream
(Source: ©iStock/AbbieImages)
Vanilla Ice Cream

Typical of old time recipes, this is one of the easiest and most inexpensive vanilla custard ice creams to make, yet it's affordable, calling for whole milk instead of cream, and it yields a delicious ice cream.
Ingredients: 6 cups of milk; 4 eggs, whites and yolks separated; 3/4 cup of sugar, 2 small teaspoons vanilla, 2 tablespoons of cornstarch, a little salt.
Method: Heat milk. Mix egg yolks and add sugar, mix cornstarch to sugar and egg, then add to hot milk, then add salt, and flavoring, add beat egg whites last. Freeze. This makes a freezer full.

Old Fashioned Vanilla Ice Cream Recipes
Lee's Priceless Recipes (1895)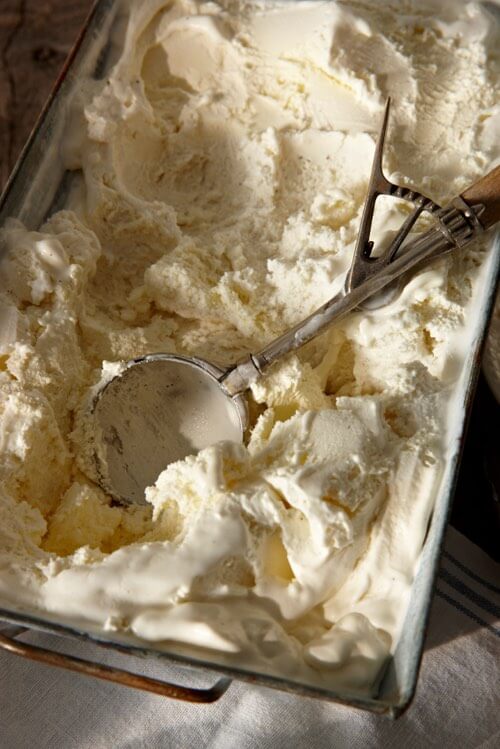 Creamy Philadelphia Style Vanilla Ice Cream
(Source: ©iStock/AbbieImages)
The version below calling for vanilla sugar is similar to the traditional French vanilla bean ice cream recipes that have been popular since the 17th century.
After you sample this elegant blend of rich cream and homemade vanilla sugar, the store-bought variety will seem very ordinary to your taste.

How to Make Philadelphia-Style Vanilla Ice Creams

Philadelphia is a name generally applied in America to all ice creams made with pure cream and no eggs.
Ingredients: One quart cream, 1 scant cup sugar, flavor to taste.
There are three ways of making this ice cream:

Method 1:
Mix the sugar and flavoring with the cream, and when the sugar is dissolved strain it into the freezer. This is the quickest and easiest method; the cream increases in bulk considerably and is of a light snowy texture.
Method 2:
Whip the cream until you have taken off a quart of the froth, mix the sugar and flavoring with the unwhipped cream, strain into the freezer, and when partly frozen add the whipped cream and freeze again until stiff. This gives a very light delicate texture to the cream.
Method 3:
Heat the cream in a double boiler until scalding hot, melt the sugar in it, and when cold add the flavoring. This is considered by many to be the best method, as the cream has a rich body and flavor, and a peculiarly smooth, velvety appearance.
It also prevents the cream from turning sour. The cream may be whipped first, and the froth removed until you have a pint, then scald the remainder of the cream with sugar, and when cold add the whipped cream.
And two vanilla flavors:
1. Vanilla Extract:
The simplest way is just before freezing flavor with 1 or 2 tablespoonfuls of the extract of vanilla; the amount will depend on the strength and purity of the extract.
2. Vanilla Sugar:
Use 1/4 less than the sugar given in the basic recipe for Philadelphia vanilla ice cream; just before freezing add from 1 to 2 tablespoonfuls of "vanilla sugar" (see below), or enough to give the flavor desired.
How to make Vanilla Sugar
Split 1 ounce Mexican vanilla beans, remove the fine seeds and soft part; put them in a mortar with 1/2 pound sugar and bruise them till the seeds are separated and thoroughly mixed with the flour.
Sift through a fine strainer, letting all the fine seeds go through with the sugar; cut the outer part of the bean into small pieces, bruise with another 1/2 lb of sugar; sift and pound again until all is fine.
The sugar that has the seeds may be kept to use in recipes for French vanilla ice creams, as the presence of the seeds is very desirable in genuine vanilla bean ice cream. The second portion may be used for flavoring custards, etc.

Old Fashioned Vanilla Ice Cream Recipes

Mom's Recipe Scrapbooks (c. 1920s)

Vanilla Ice Cream With Evaporated Milk

This old fashioned vanilla ice cream recipe calls for evaporated milk. Back in the day, my parents loved using evaporated milk in their coffee and this recipe added the milk's distinctive taste to a delicious homemade ice cream.

6 eggs, separated
2 cups white sugar
2 cans evaporated milk
1 tablespoon vanilla extract
Pinch of salt
Milk, enough
Beat egg whites until stiff. Beat in sugar. Mix egg yolks and evaporated milk, add slowly to egg white and sugar mixture. Add vanilla, salt, and chosen fruit. Finish filling freezer can with regular milk. Freeze as directed. —Lynna Cox Anson
Fruit Variations

Banana Nut: 3 to 4 ripe bananas, mashed, plus 1/2 cup chopped pecans.
Strawberry: 1 pint fresh strawberries, chopped fine and sweetened to taste.
Peach: 5 to 6 ripe peaches, chopped fine and sweetened to taste.
Dairy Queen®-Style Ice Cream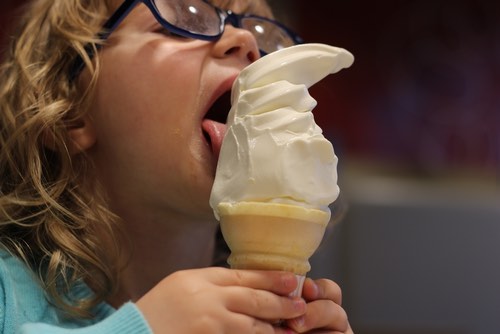 Enjoy Your Homemade Soft Serve Ice Cream Cone
(Source: ©mynewturtle/Depositphotos.com)
Did you know the first Dairy Queen® store opened in Joliet, Illinois in 1940 selling the new soft ice cream for 5 cents a cone or 8 cents for a sundae?
Method 1: Make From Scratch

2 (.25 ounce / 7 gram) packets unflavored gelatin powder
1/2 cup cold water
4 cups milk
2 cups white sugar
1 tablespoon vanilla extract
1/2 teaspoon salt
3 cups heavy whipping cream
Sprinkle gelatin powder over water to dissolve. Heat milk in medium saucepan over medium heat, but do not allow milk to boil. Remove hot milk from burner and add the gelatin, sugar, vanilla, and salt.
Allow mixture to cool thoroughly, then whisk in heavy cream and refrigerate mixture for about 6 hours. Pour chilled mixture into 1-1/2 quart ice cream maker and freeze as directed until it approximates the texture of soft serve.
Scoop the ice cream or squeeze it from a pastry bag into a cone for the classic soft-serve swirl of this frozen treat. An alternative method is to pour the frozen mixture into a sealable Ziploc® plastic bag, snip off one corner, and pipe the soft ice cream into your cone with a swirling motion.
Method 2: Make Using Store-bought Ice Cream

3 cups vanilla ice cream
1 cup heavy cream
1-1/2 teaspoons vanilla extract
Allow your favorite vanilla ice cream to soften, then add to bowl of mixer and beat just until creamy. Whip heavy cream in a separate bowl until it forms soft peaks. Add whipped cream and vanilla to ice cream and beat slowly to blend, then pour mixture into sealed container and freeze at least 8 hours before serving.
Vanilla Praline
Directions for making Praline:
Dissolve 1/2 cup sugar in 1/3 cup warm water. Add 3/4 cup shelled almonds or hazelnuts that have not been peeled, and boil for about ten minutes until golden brown.
Pour onto a cold, oiled surface and leave until set. Then place in a clean cloth and hit with a rolling pin until the praline has broken into small pieces.
Make an old fashioned Vanilla Ice Cream recipe and fold the praline into it when well chilled; freeze again, and when hard let it stand 1 hour to ripen.

About Old Fashioned Vanilla Ice Cream Recipes

Whether you're using an electric ice cream maker or a hand-crank churn, or you prefer to make homemade ice cream in your refrigerator freezer, you can use the above recipes to make a deliciously smooth and flavorful frozen dessert that'll leave people begging for more.
Enjoy experimenting with Grandma's old fashioned vanilla ice cream recipes. Frozen custard desserts are easy to make, and everybody loves the old time homemade taste. When it comes to rich-tasting ice cream, you can't beat homemade!