Downspout 10 String Wind Harp
by Greg Gogates
(Worcester, PA)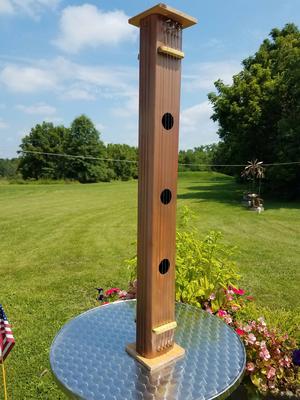 3-Foot, 2-Sided Downspout Wind Harp
I watched the video on making an Aeolian downspout harp and proceeded to create one: a 3x4-inch, 3 foot long, 10 string, 2 sided wind harp. I thought it would be an interesting addition to my wind chimes. I decided that a 3x4-inch downspout, with the added width would be better.

I cut a 3-foot piece, drilled 3 sound holes and spray painted it brushed copper. I cut two pieces of 2x4 to tightly fit in the ends and secured it with 2 brass screws on the narrower sides. I also cut two 5-inch square plates to put on the ends to protect the strings.

I also ordered the items below from Amazon.com:

12 Standard Zither Pins — Great for Zithers, Harps and other Primitive Stringed Instruments by C. B. Gitty Supply.

Grover 8020 Autoharp Tuning Hammer by Grover.

KastKing DuraBlend Monofilament Leader Line, Premium Saltwater Mono Leader Materials, Big Game Spool Size 120Yds/110pound, 1.0mm by KastKing.

I placed RH brass wood screws (because no threads at the throat) on both wide sides of one end. I tied a "double surgeons loop" on a string and looped it over each screw head. The other end went to the zither pins.

I then randomly tightened them over some simple wood wedges notched for each string.

I think the whole thing looks really nice, but I cannot get it to make any sound. The monofilament is round and smooth. Not sure why.

Any ideas would be appreciated.