Dessert Cookbooks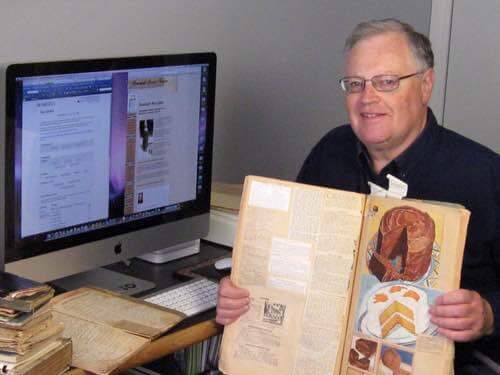 Don Bell with Dessert Recipe Collection
Welcome to my popular series of dessert cookbooks featuring hundreds of old fashioned dessert recipes from Grandma's collection. There are simply too many recipes to feature them all on my website, so I compiled them into a series of quality PDF cookbooks (Ebooks) for you to enjoy.

The vintage recipes are compiled from old handwritten recipe journals and the best cookbooks from the nineteenth century, saving you the time and expense of searching for them yourself.

These ebooks are available for immediate download and are compatible with most computers and mobile devices. You can easily read them on your computer screen or print pages out on your printer and begin to make your favorite desserts within minutes.


Grandma's Recipes in PDF Ebooks

Classic Ice Cream Recipes


Over 300 Old Time Ice Creams from the Best Early Cookbooks
Nothing approaches the rich, creamy taste of homemade ice cream, and these original recipes are some of the best ice cream recipes ever published.

Click Here for more information.


---
Classic Frozen Dessert Recipes
Over 200 Old Time Frozen Desserts from the Celebrated Founders of the Boston Cooking School
An amazing collection of the best frozen dessert recipes as taught by three of the 19-century's most famous cooking school instructors and cookbook authors.

Click Here for more information.


---
Classic Candy Recipes
Over 400 Old Fashioned Candies from the Best Early Cookbooks
For a special gift or a delicious treat, nothing beats homemade candy, and these old-fashioned recipes from Grandma's collection will let you make the best candy imaginable. Why not make some today!

Click Here for more information.


---
Classic Soft Drink Recipes

Over 300 Old Time Soft Drinks from the Best Early Cookbooks
These hard-to-find drink recipes were once used in nineteenth-century homes and pharmacy soda fountains to make refreshing nonalcoholic beverages. Now, they are yours to enjoy!

Click Here for more information.


---
Free Adobe Reader
My recipe Ebooks are in Adobe PDF format. You will need Adobe Reader to open the PDF files for reading on your PC or MAC computer.

Most computers already have Adobe Reader installed, but if your computer doesn't have it, you can get a FREE download of the latest version by clicking on the "Get Adobe Reader" button below. A new window will open in your browser so you don't lose this page.

Enjoy Quality Dessert Cookbooks (Ebooks)
I know you will enjoy these quality recipe Ebooks. Now, you won't have to surf the Internet looking for a hard-to-find recipe to make that delicious treat you loved as a child. The recipe will be right in front of you on your computer screen or tablet.
Enjoy having Grandma's dessert recipes handy on your hard drive whenever you want to make a special old fashioned treat!


Enjoy a

Laugh

to Brighten Your Day!


Listen to Bud Abbott and Lou Costello's "Who's On First?" skit from the World War 2 Special Services Division V-Disk.


(5: 54 min.)