Coconut Cake Recipes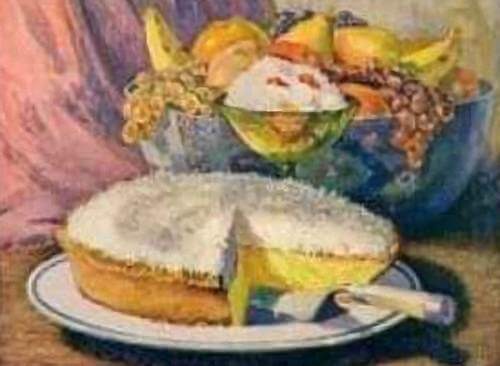 Make an Old Fashioned Coconut Cake
Thanks to Grandma's old fashioned coconut cake recipes, you can bake moist, delicious layer cakes, pound cakes, jelly cakes, and loafs that you'll be proud to serve to company. Or, you might want to just treat yourself to something truly delicious. After all, you deserve it!


Old Fashioned Coconut Cake Recipes

Buckeye Publishing Company (1877)


Easy Coconut Cake recipe

One cup butter, three of sugar, one of sweet milk, four and a half of flour, four eggs with whites beat to a stiff froth, a teaspoon soda, two of cream of tartar, one grated coconut. —Mrs. J. Holland, New Castle, Ind.


Nettie's Coconut Layer Cake

To the well-beaten yolks of six eggs, add two cups powdered white sugar, three-fourth cups butter, one of sweet milk, three and a half of flour, one level teaspoon soda and two of cream of tartar, whites of four eggs well beaten; bake in jelly cake pans.
For icing, grate one coconut, beat whites of two eggs, and add one teacup powdered sugar; mix thoroughly with the grated coconut, and spread evenly on the layers of cake when they are cold. —Miss Nettie Miller, Columbus


Coconut Custard Layer Cake
One cup butter, two of sugar, three of flour, four eggs, one cup sweet milk, one of cornstarch (not filling cups of butter and flour very full if eggs are small), two teaspoons cream of tartar, one of soda.
Make custard as follows: One cup thick sour cream stirred thin, one cup sugar, one grated coconut, one egg beaten separately; spread between layers like jelly cake. —Mrs. Mary S. Moore, Granville


Coconut, Almond, Hickory Nut Cake
Three-fourths pound flour, half teaspoon salt, one-fourth pound butter, pound of sugar, teacup sour cream, four eggs, lemon flavor to taste, and a teaspoon soda dissolved in two teaspoons hot water; mix all thoroughly, grate in the white part of a coconut, or stir in a pint of chopped hickory nuts, or a pint of blanched almonds pounded. —Mrs. J. W. Grubbs of Richmond, Ind.


Old Fashioned Coconut Cake Recipes

Aunt Babette's Cook Book (1889)


Coconut Layer Cake Recipe No. 1
Rub to a cream half a cup of butter and a cup and a half of pulverized sugar. Add gradually four eggs, half a cup of milk, and two cups of flour, adding one teaspoonful of baking powder in last sifting. Bake in layers.
Coconut Filling:
One grated coconut and all of its milk, to half of which add the beaten whites of three eggs and one cup of powdered sugar. Lay this between the layers.
Mix with the other half of the grated coconut five tablespoonfuls of powdered sugar and strew thickly on top of cake, which has been previously iced.


Coconut Layer Cake Recipe No. 2
Grandma's Tip
1 Goblet = 10 rounded tbsp of flour.
1-1/2 Goblets = Just under 2 cups (1 pound) of granulated sugar.
Take whites of ten eggs, one goblet of flour, a goblet and a half of pulverized sugar, and one teaspoonful of cream of tartar. Sift the flour five times, then sift the sugar and flour together.
Beat the whites to a very stiff froth. Stir into them when stiff the sugar and flour, and last the cream of tartar.
Bake immediately in three or four layers. Use same filling as in No. 1.


Coconut Loaf

Rub one cup of butter and two cups of sugar to a cream. Add one cup of milk, whites of four eggs, three cups of flour (measure after sifting) and two teaspoonfuls of baking powder added in last sifting.
Add a grated coconut and last the stiff-beaten whites. Bake in a loaf. Line tin with buttered paper.


Old Fashioned Coconut Cake Recipe
The Dominion Home Cook-Book (1868)


This early Canadian cookbook was published just one year after Canada's Confederation. It's a fine example of the homemade cake recipes favored by Canadian housewives of that era.
Upper Canada Coconut Cake

Take equal weights of grated coconut and powdered white sugar (the brown part of the coconut should be cut off before grating it) — add the whites of eggs beaten to a stiff froth, in the proportion of half a dozen to a pound each of coconut and sugar. There should be just eggs enough to wet up the whole still.
Drop the mixture onto buttered plates, several inches apart. Bake them immediately in a moderately warm oven.


Homemade Coconut Cake Recipes
Dr. Chase's Third, Last and Complete Receipt Book (1891)


Coconut Cake, Jelly and Loaf
Ingredients: Sugar, 1 cup; butter, 1/2 cup; 3 eggs; milk, 3/4 of a cup (if a fresh coconut is used let it be a good sized one, then the milk of the coconut may take the place of the milk); flour, 2-1/2 cups; baking powder, 2 teaspoonfuls. Jelly: Whites of 2 eggs; pulverized sugar, 1/2 lb; coconut, 1 good sized one, grated, or desiccated (dried) coconut, 1/4 lb.
Directions:
Cream sugar and butter; then having beaten all the yolks of the eggs and the white of 1, stir them in and the milk (or the milk of the coconut in its place), and sift in the flour with the baking powder therein, bake in jelly cake tins.
For the jelly:
Beat the whites of 2 eggs, saved for this purpose, to a froth, and stir in the pulverized sugar, and beat properly. Put this between the layers; having grated the coconut, strew this over the jelly in laying up the cake; or, if desiccated is used, strew it in place of the fresh. In this way, the full flavor of the coconut is obtained.
If baked in loaf all the eggs are to be used in the body of the cake, and the coconut also stirred into the cake just before putting it into the oven, being careful not to jar it after putting it into the oven, as it is more likely than other cakes to fall, if jarred.


Coconut Jelly Cake

Sweet milk, butter, cornstarch, each 1 cup; white sugar and flour, each 2 cups; whites of 5 eggs; cream of tartar, 2 teaspoonfuls; soda, 1 teaspoonful. Bake in 3 layers.
For the jelly: White sugar, 1 lb, and boil until candied; when cold stir in the beaten whites of 2 eggs, and 1-1/2 cups, rounded, of grated, or 1 cup desiccated, coconut, saving some for the top.


Old Fashioned Coconut Cake Recipes

Mrs. Goodfellow's Cookery As It Should Be (1865)


Rich Homemade Coconut Cake Recipe

Whip the whites of ten eggs, grate two nice coconuts, and add them; sift one pound of white sugar into half a pound of sifted flour; stir this well; add a little rose water to flavor; pour into pans, and bake three-fourths of an hour.


Coconut Pound Cake Recipe

Three cups flour, one cup butter, two cups sugar, whites of six eggs, one spoonful cream of tartar, half-spoonful of soda, one cup milk. Grate one small coconut, and put in two-thirds of it last.


Old Fashioned Coconut Cake Recipes
Practical Cooking and Dinner Giving (1876)


Beautiful Coconut Cake
One-half coffee-cupful of butter, two small teaspoonfuls of cream of tarter, two and one-half coffee-cupfuls of sugar, one small teaspoonful of soda, four and one-half coffee-cupfuls of flour, two grated coconuts, one coffee-cupful of sweet milk, the whites of seven eggs.
Reserve a large handful of the grated coconut to sprinkle on the frosting.
This coconut cake looks most beautiful mixed with fruitcake in a cake basket. —Miss Emma Witt, of Cleveland


Fancy Coconut Cone Cakes

One pound of coconut grated, half a pound of sugar, the whites of two eggs, and the yolk of one egg. Beat the yolk well; add the sugar to it; then the coconut and whites of the eggs beaten to a stiff froth.
Drop by the teaspoonful on sheets of buttered paper placed on tins. Form each little cake into the shape of a cone, and bake in a moderate oven about half an hour.


Coconut Cake Baked in a Mold

Cookery (1895)


Molded Coconut Cake
This recipe with its gill (1/2 cup) of cream and three eggs should be rich enough to not need icing.
4 oz butter, 4 oz castor sugar, 4 oz coconut, 5 oz flour, 3 eggs, 1 gill cream, 1 teaspoon vanilla, 1 teaspoon baking powder. Cream butter and sugar. Mix together yolks of eggs and cream, add them and flour alternately to butter and sugar, stir in the coconut, then add whites of eggs stiffly whipped, and vanilla.
Pour into well-buttered mold, and bake in moderate oven for one hour.


Old Fashioned Coconut Cake Recipe

Mom's Recipe Scrapbook (c.1920s)

Coconut Layer Cake
1/2 cup butter, 1 cup sugar, 2 eggs, 2 teaspoons baking powder, 2 cups pastry flour, 1/4 teaspoon salt, 1 teaspoon coconut flavoring, 3/4 cup milk.
Cream the butter and sugar thoroughly together, add flavoring; beat eggs very light and gradually beat them into the butter and sugar.
Sift flour, baking powder, and salt, add lightly to first mixture alternately with milk; turn into greased layer cake pans and bake in moderate oven (350ºF) from 15 to 20 minutes.


About the Old Fashioned Coconut Cake Recipes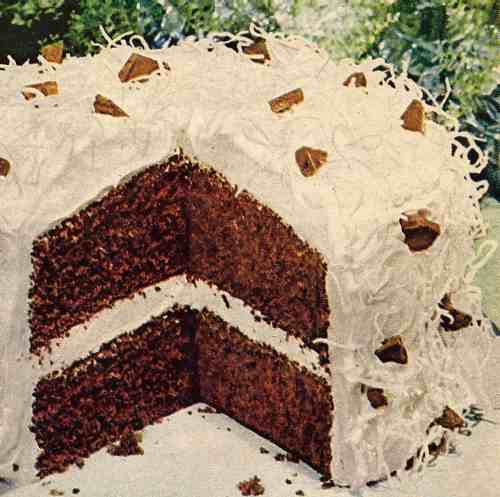 Chocolate Layer Cake with Coconut Icing
(Source: Don Bell)
Coconut cakes have long been popular, especially during the latter half of the 19th century when many of these recipes were written.
Coconuts have been an available ingredient to cooks for centuries, as they were easy to transport and inexpensive to buy compared to other more perishable fruits. They often added a touch of the exotic to an often mundane life.
The cakes featured on this page are all-time favorites, and they taste especially good when made the traditional way using freshly grated coconut meat.
Choose one of the old fashioned coconut cake recipes and get ready to enjoy a delicious treat. These dessert cakes were some of Grandma's favorites, and they should continue to delight today's cake lovers.
Coconut can add a chewy, exotic taste to almost any icing or cake filling to create a coconut cake out of any homemade cake recipe. Doesn't the chocolate layer cake pictured above look tempting with its white icing adorned with shredded coconut?
And, be sure to experience the fun of cracking open a coconut and extracting the white meat. It's educational and entertaining for the kids too. Freshly grated coconut is the perfect ingredient for these old fashioned cake recipes. You will love the freshness of the flavor.


How to Open a Coconut in Seconds
Factoid
Did you know that the coconut is a fruit (botanically a drup), not a true nut?
Shredded coconut meat prepared from scratch tastes so much better than the store-bought kind, and you get to drink the ambrosial coconut water too.
Watch a short video that reveals How to Open Coconut Shells in seconds. It's so easy when you know the secret!
After you've watched the short how-to video, return to this page and choose one of the old fashioned coconut cake recipes so you can prepare a special homemade treat for your loved ones.


Related Pages You May Like