Making Chocolate Hearts Without Molds
Making Chocolate Hearts Without Molds

Have fun making chocolate hearts without molds with Grandma's favorite chocolate heart recipe. Don't those chocolate fudge hearts look delicious? Why not make some and give them to your loved ones?
Both Grandma's chocolate fudge hearts and Mrs. Salzbacher's chocolate hearts taste especially good. Homemade chocolates are the perfect gift for that special someone. After all, everybody loves the gift of candy!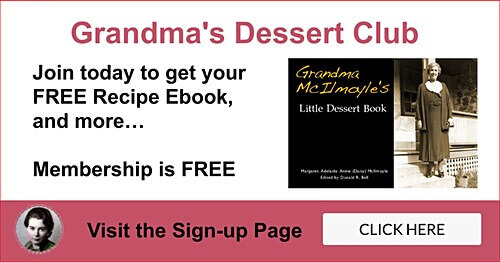 Making Chocolate Hearts Without Molds

Chocolate and Cocoa Recipes (circa 1910)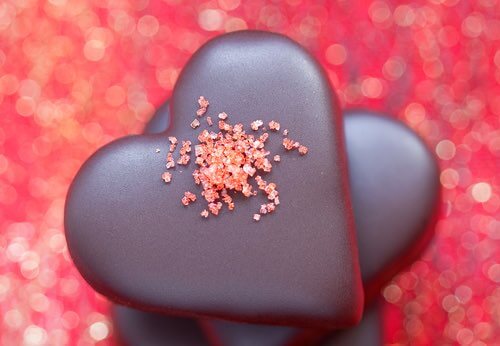 Make Chocolate Hearts for Saint Valentine's Day
(Source: laperla_foto/Depositphotos.com)
Homemade Chocolate Fudge Hearts
(Source: ©Don Bell)
Valentine, chocolates, chocolate hearts, candy
Candy
American
Chocolate Heart Recipe
Prep time: 15 Min
Cook time: 40 Min
Inactive time: 20 Min
Total time: 1 H & 15 M
These old fashioned Chocolate Fudge Hearts make the perfect edible Valentine's Day gift for someone extra special.
Ingredients
2 cups of granulated sugar
1/3 cup of condensed milk
1/3 cup of water
1/4 cup of butter
1 1/2 squares of Baker's chocolate
1 teaspoon of vanilla extract
Instructions
Boil the sugar, milk, and water to 236°F, or to the "soft ball" degree; stir gently every few minutes.
Add the butter and let boil up vigorously, then remove from the fire and add the chocolate.
Let stand undisturbed until cool to the touch.
Then add the vanilla and beat the candy until it thickens and begins to sugar.
Pour mixture into a pan lined with paper to stand until cooled somewhat yet remaining soft.
Gently turn from the pan and cut with a tiny heart-shaped cookie cutter, or cut into symmetrical shapes or rounds.
Notes:
To test for soft ball stage, drop a small amount of boiled sugar mixture into ice-cold water. You have reached the soft ball stage if you can roll it between your fingers and thumb to form a soft, non-sticky ball that barely holds its shape. If it's runny and gelatinous it's not ready.
The recipe makes approximately 20 to 24 homemade chocolates depending on the size of the small heart-shaped cutter chosen.
Approximate nutrition information is provided as a courtesy and is an estimate only.
Recipe compilation, images, and content © Don Bell, unless otherwise noted.
Mrs. Salzbacher's Method for Making Chocolate Hearts Without Molds

Chocolate and Cocoa Recipes (circa 1910)

The suggested oven time for this old fashioned chocolate recipe is not exact, so when making chocolate hearts without molds, you'll need to watch very closely and experiment a little for your chocolates to turn out just right.
Melt, by standing over hot water, three ounces of unsweetened chocolate; add a pound of sifted powdered confectioners' sugar and mix thoroughly; work to a stiff yet pliable paste with the unbeaten whites of three eggs (or less), adding vanilla to flavor. If the paste seems too soft, add more sugar.
Break paste off in small pieces and roll out about one-fourth of an inch thick, sprinkling the board and paste with granulated sugar instead of flour.
Cut with a tiny heart-shaped cookie cutter (any other small cookie cutter will do), and place on pans oiled just enough to prevent sticking. Bake in a VERY moderate oven (300°F), watching closely until done.
When done, they will feel firm to the touch with a solid crust having formed over the top. They should be very light, and will loosen easily from the pan after being allowed to stand a moment to cool.
The success of these chocolate confections depends on the oven, which should not be as cool as for meringue nor quite so hot as for sponge cake. If properly made, they are very excellent and require but little labor. —Good Housekeeping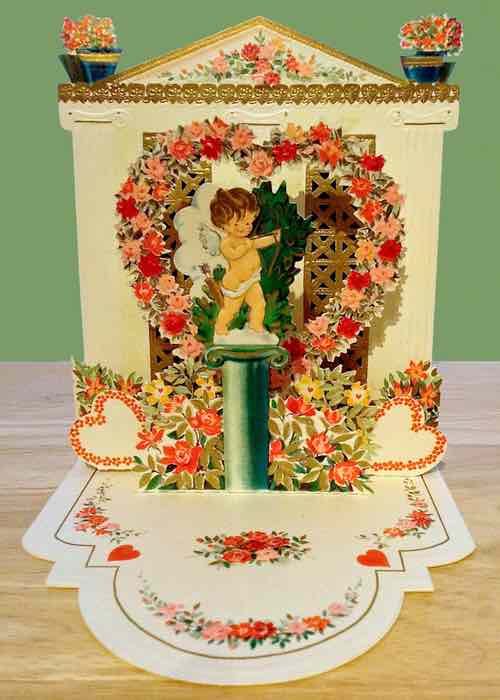 Vintage Valentine Pop-Up Card, circa 1930s
(Source: ©Don Bell)
The vintage pop-up Valentine pictured above was given to my mother by my father in the 1930s, during the height of the Great Depression. It must have cost Dad a pretty penny back then, and Mom always treasured it.