Aeolian Harps by Kevin Andrew Busse
by Kevin Andrew Busse
(Wheaton, Illinois, USA)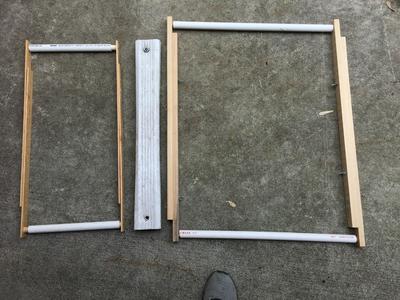 Aeolian Harp Photo 1
The Evolution of Aeolian Harps Built by Kevin Busse.


Humble Beginnings: Summer 2014
(See Aeolian Harp Photo 1)
The first 3 Aeolian harps I built are shown here.
The very first wind harp I built is shown in the middle and is built out of gutter pipe modeled after an instructional tutorial video that I viewed on YouTube.
The two harps on either side of the original would be strung with fishing line (and many others to follow) like a harp with a dozen or so lines strung over a window frame. The PVC pipe acts as a bridge and the side pieces of wood fold into place for ease of stringing.
F.A.Q.
Q: Why are you building some of your "harps" with only one string?
A: This is because I think that it is most important to first understand how one string fundamentally vibrates best and sounds loudest before duplicating on any given framework.
Best Wind Harp Design: Summer 2015
(See Aeolian Harp Photo 2)
The above design (Photo 2) works great and is 12 foot long. This harp is made out of piano pinblock, tuning pins, and copper hinge pins. It was made from the help of my Uncle Mike who is a carpenter. Thanks Uncle Mike!
Aeolian Harp Designs: Summer 2016
(See Aeolian Harp Photo 3)
For this prototype (Photo 3), I wanted to build a harp from the perspective of living in an apartment building with a balcony. One can easily attach this model to a handrail and enjoy the sounds of an Aeolian Harp.
You can see that the flexible rod was used in order to keep the string taught. Additional design iterations would make this a perfect future generation of harps for people who have balcony apartments. :-)
16 Foot Fishing Pole Design: Summer of 2016
(See Aeolian Harp Photo 4)
This 16-foot fishing pole was the largest fishing pole I found at Bass Pro Shop. This design works quite well and was because I wanted to build a larger harp.
Generally, the larger the string the louder it sounds!
"If you want to find the secrets of the universe, think in terms of energy, frequency, and vibration." —Nikola Tesla
More design iterations to come. Please feel free to ask if you have any questions or comments. Thank you for reading :-)
—Kevin