Italian Dessert Recipes
Italian Dessert Recipes
The authentic Italian dessert recipes in this collection help us to appreciate the wonderful history of Italy's confectionery. Some recipes have been passed down from classical times having originated with the Romans. Delicious Old World cookies, biscotti, amaretti, cream cakes, pastries, puddings, and zabaglione — it's all here for you to enjoy making!


Traditional Desserts of Old Italy
The Italian Cook Book (1919)


These traditional Italian dishes will let you capture the taste of Old Italy. You'll love trying the authentic milk gnocchi, almond stuffed peaches, Sienese hardbake, and an Italian rice pie. An amazing selection of traditional treats that you can make right in your own kitchen.


Pesche Ripiene / Stuffed Peaches
Six big peaches not very ripe; four or five lady finger biscuits; granulated sugar, three ounces; two ounces sweet almonds with three peach kernels; candied fruit (angelica) half an ounce.

Cut the peaches in two parts, remove the stones, and enlarge somewhat the cavity where they were with the point of a knife.

Mix the peach pulp that you extract with the almonds, already skinned, and grind the pulp and the almonds very fine together with two ounces of the sugar. To this mixture add the lady fingers crumbed, and the candied fruits cut in very small cubes.

This will be the stuffing with which you will fill the cavities of the twelve halves of peach. These you will place in a row in a baking tin, with the stuffing above. Add the remaining ounce of sugar and bake in oven with a moderate fire.


Gnocchi di Latte / Milk Gnocchi (Dumping)

Traditional Italian Gnocchi
(Source: ©oxyzay/Depositphotos.com)
Ingredients: One quart of milk; sugar, nine ounces; cornstarch in powder, four ounces; eight yolks of eggs, a taste of vanilla.

Mix everything together as you would do for a cream and put on the fire in a saucepan, continually stirring with a ladle. When the mixture has become hard keep it a few moments more on the fire and then pour it in a plate to make it about half an inch thick and cut it into diamonds when it is cold.

Put these diamonds one over the other with symmetry in a baking tin or in a fireproof glass plate, with some little pieces of butter in between, and brown them a little in the oven. Serve hot.


Italian Rice Pie

This is a very easy Italian dessert recipe to make.

Grandma Vigliotti writes, "My Italian Grandmother made this recipe for rice pie in front of me, and I can remember the basic ingredients:

4 cups of cooked white rice
4 Eggs
4 cups of Sugar
4 tablespoons vanilla

"There was no crust. The ingredients were mixed, then put in glass pie pans and cooked at 400°F for 40 minutes."


Authentic Italian Sugar Cookie Recipe

See the Dessert Recipe for Italian Sugar Cookies
(Source: Great Depression Cooking Video)
Be sure to watch the short video below as 93-year-old Clara Cannuccdiari makes Italian sugar cookies for breakfast while sharing memories of her life during the Great Depression in the 1930s.


Wasn't that wonderful? Here's a list of the ingredients and some simple directions for making the sugar cookies if you got caught up watching Clara and didn't manage to get her sugar cookie recipe written down:

3/4 cup sugar
3 eggs
3 cups flour (add more if needed)
Pinch salt

Beat eggs and sugar together, add flour and salt, and mix until it forms cookie dough. Shape cookies on ungreased cookie sheet and bake at 350°F until a golden color. Allow to cool before serving with coffee.

Remember, Clara said they are great for dunking!


For more of Clara's wisdom, memories and Italian Great Depression recipes, be sure to get either her Kindle or Hardcover book, and her DVD:


---
Amazon Associates Disclosure: Don Bell is a participant in the Amazon Services LLC Associates Program, an affiliate advertising program designed to provide a means for sites to earn advertising fees by linking to amazon.com. Thank you for helping to support this site so I can continue bringing you Grandma's recipes.

---
About the Italian Dessert Recipes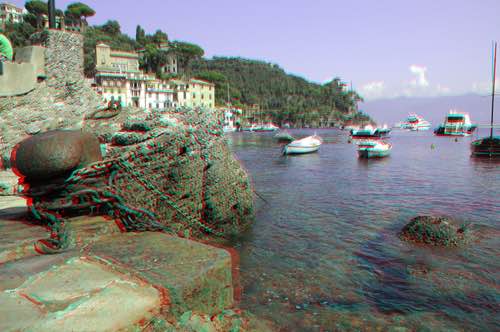 3D Anaglyph Image of Harbor in Portofino in Liguria, Italy
(Source: ©rglinsky/Depositphotos.com)
Have you ever dreamed of sampling homemade biscotti at a small table in the garden of some wayside inn hidden in the Apennines with the sound of a mountain torrent far below caressing your ears?

Or tasting traditional zabaglione in the portico of a quiet cafe on the sun-baked piazza of an ancient town clinging to a rocky hillside, overlooking the bay of Portofino as seen above? Well, now you can...

The proven Italian dessert recipes found on this page and through the linked pages below can offer you the next best thing to being there — the authentic taste of Old Italy.

When you first read the old recipes, some may seem elaborate, but in using them you'll find they are easy to prepare as you simply follow the steps, and the results are well worth the extra time spent.

Words simply cannot describe the delicious homemade taste you are about to experience thanks to the authentic Italian dessert recipes that follow. As your Italian Grandma would say, Questi dessert Italiani sono squisiti.


You May Also Like

International Dessert Recipes Collection



Favorite Visitor Topics

Image Credit: ©mariya-herasymenko/123RF;
©castelloimages/123RF