Scottish Dessert Recipes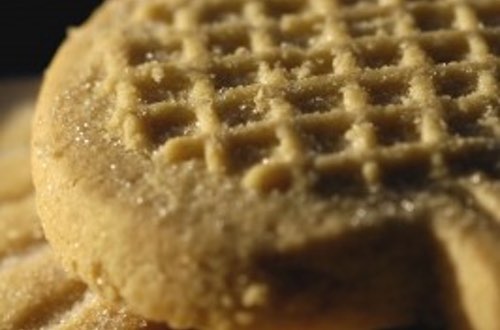 Traditional Scottish Shortbread
(Source: ©steve -mann/123RF.com)
Grandma's Scottish dessert recipes will remind you of the Scottish Highlands. Just wait till you taste the authentic scones, black buns, fruitcake, and shortbread made from these traditional Old Country recipes.


'Tis a Wee Bit of Old Scotland Here
Mom's Recipe Scrapbooks (c. 1920s)


My Grannie Bell made delicious scones, and she served them warm from the oven, buttered, and smothered in thick, homemade orange marmalade. Such a simple dessert, yet they were so good. I can still taste them after all these years!


Old Fashioned Scottish Scones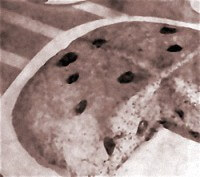 The Scottish Scone
The Scotsman had a name for it of course. He wanted his "scone" — to start the day right. The scone is as native to Scotland as white heather.

The old time scone recipe makes a scone that could have come right out of a bake shop on Sauchiehall Street in Glasgow.

Try it for breakfast, or lunch, or supper, and "sure, you'll be wantin' yer scone ev'r maunin'."

That's for certain. You'll love the taste of your homemade Scottish scones, and here's the authentic Scottish dessert recipe to make them:

Ingredients: 2 cups sifted all-purpose flour, 1/2 teaspoon cream of tartar, 3 tablespoons sugar, 1/2 teaspoon salt, 3 teaspoons baking powder, 2 tablespoons poppy seeds, 6 tablespoons butter or margarine, 1/2 cup seedless raisins, 1/2 cup milk.

Sift together flour, cream of tartar, sugar, salt, and baking powder. Blend in poppy seeds. Cut in butter or margarine with 2 knives or pastry blender until it is the size of small peas. Add raisins and blend well. Add milk gradually, blending until dough is fairly soft.

Turn out on lightly floured board and pat into round cake about 9 inches in diameter. Place on greased cookie sheet and with back of knife, cut across in quarters, not cutting completely through the dough.

Bake in moderate oven (375ºF) 1/2 hour. Split while hot, spread with butter and jam or jelly to suit your taste. Serve very hot. Yields 6 servings. May be reheated and served later. —The Furrow


Scottish Soda Scones
1 quart flour, 1 teaspoon baking soda, 2 teaspoons cream of tartar, a little lard or butter, salt and sugar to taste. Mix ingredients. Warm the flour. Add butter, milk or water to make consistent dough. Turn out on board and handle as little as possible. Turn out round, and bake in a skillet, or on top of stove. When one side is done, turn over. Note: whole wheat flour can be used in the same way.


Scottish Black Buns
1/2 pound flour, 1 pound raisins, 1 pound currents, 1/4 pound sugar, 2 ounces blanched almonds, 2 ounces candied peel, 1 teaspoon ginger, 1 teaspoon cinnamon or spices, 1/4 teaspoon Jamaica pepper, 1/2 teaspoon caraway seeds, 1/2 teaspoon soda, 1/2 teaspoon cream of tartar, 1 teacup sweet milk or old ale may be used instead.

With the hand mix well in a basin all above ingredients. Line a cake tin with a plain short crust rolled out very thin, and put the mixture in this prepared tin, and roll out the scraps of paste to cover top. Wet well the edges. Place top cover on and press well around the edges. Prick top with a fork, and brush over with sweet milk. Bake in a moderate oven for at least 3 hours. Serve with butter or jam.


Dundee Cake — Traditional Scottish Christmas Cake

8 ounces butter
8 ounces sugar
4 eggs
10 ounces flour
Orange rind
1 teaspoon baking powder
Pinch of salt
2 ounces ground almonds
1 pound dried fruits
4 ounces candied peels
Blanched almonds

Line an 8" pie pan with baking parchment. Preheat the oven to 325° F. Thoroughly cream the butter and sugar together. Slowly beat in the eggs, adding a little flour to prevent curdling. Stir in orange rind to taste.

Sift the flour, baking powder, and salt together. Fold the flour mixture into the creamed mixture and add the almonds, fruits, and candied peels.

Spoon batter into the pie tin, smoothing the surface while indenting the center slightly so it won't rise higher than the sides. Place blanched almonds on top to decorate and brush the top with beaten egg white. Bake for about 3 hours or until cake tester or toothpick comes out clean.


Scottish Dessert Recipe for Fruitcake

Buckeye Cookery and Practical Housekeeping (1877)


A cup butter, two of white sugar, four of sifted flour, three-fourths cup sour milk, half teaspoon soda, nine eggs beaten separately, one pound raisins, half pound currants, a fourth pound citron.

Cream the butter and sugar, add milk gradually then beaten yolks of eggs, and lastly, while stirring in flour, the whites well whipped. Flavor with one teaspoon lemon and one of vanilla extract, and have raisins chopped a little, or, better still, seeded, and citron sliced thin. Wash and dry currants before using, and flour all fruit slightly.

In putting cake in pan, place first a thin layer of cake, then sprinkle in some of the three kinds of fruit, then a layer of cake and so on, always finishing off with a thin layer of cake. Bake in a moderate oven for two hours. —Mrs. J. H. Shearer


Traditional Scottish Dessert Recipe for Shortbread

The Bread and Biscuit Baker's and Sugar-Boiler's Assistant (1890)


Take 1 lb of butter, 2 lb of flour, 8 oz of powdered sugar. Mix the sugar in the butter, then take in all the flour and thoroughly mix and rub all together till of a nice mellow color and easy to work; weigh off the size required, and shape into square or round pieces; dock them on the top, notch them round the sides, put on clean dry tins, and bake in a moderate oven.


Fannie Farmer's Scottish Dessert Recipe for Making Scottish Fancies
The Boston Cooking-School Cook Book (1916)


One egg, 1/2 cup sugar, 2/3 tablespoon melted butter, 1 cup rolled oats, 1/3 teaspoon salt, 1/4 teaspoon vanilla.

Beat egg until light, add gradually sugar, and then stir in remaining ingredients. Drop mixture by teaspoonfuls on a thoroughly greased inverted dripping-pan one inch apart. Spread into circular shape with a case knife first dipped in cold water. Bake in a moderate oven until delicately browned.

To give variety use two-thirds cup rolled oats and fill cup with shredded coconut.


You'll Love the Taste of Scottish Desserts

While holidaying in Edinburgh, we visited Holyrood Palace where I got to try some Scottish fruit scones smothered with butter and blackberry jam, and with clotted cream on the side. They were large and so good tasting! Almost as good as Grannie's.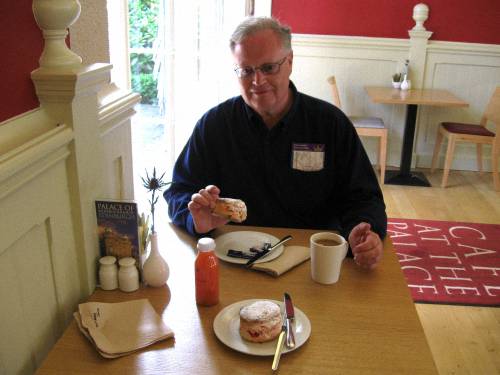 Holyrood Palace Cafe
(Source ©Don Bell)
Here's a closer look...


Doesn't it look delicious and inviting?

All ready to be split open and buttered. Her Majesty serves good scones! Now, you can enjoy a similar "wee taste of Old Scotland" thanks to the Scottish dessert recipes from Grandma's collection.


You May Also Like

From the delicious clootie dumpling and tablet, to family favorites like Scottish pancakes served with homemade raspberry jam, you'll love the authentic Scottish food and dessert recipes featured at my friend May's website at Scotlands-Enchanting-Kingdom.com, your online passport to the ancient Kingdom of Fife.


International Dessert Recipes Collection


Custom Search
Enjoy a

Laugh

to Brighten Your Day!


Listen to Bud Abbott and Lou Costello's "Who's On First?" skit from the World War 2 Special Services Division V-Disk.


(5: 54 min.)


Visit the Homemade Dessert Recipes Home Page


Donald Bell is a participant in the Amazon Services LLC Associates Program, an affiliate advertising program designed to provide a means for sites to earn advertising fees by advertising and linking to amazon.com. If you make a purchase through a link on this page, I may receive a small commission to help support this site — at no extra cost to you. Thank you.

Photo credits: ©Don Bell