1914 Divinity Candy Recipes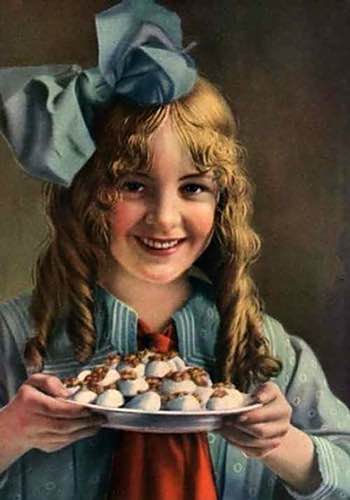 Young Girl with Divinity Candy (c.1914)
These old fashioned divinity candy recipes are the first of their kind published. The world's most famous fudge had its origin in the United States in the early 1900s. Divinity is typically a white, sometimes a pastel tinted, meringue-type confection with a light, fluffy texture and a crisp outer layer. It likely got its name from its "divine" taste. Really, it tastes that good!


An Original Divinity Candy Recipe
Second Edition of the Neighborhood Cook Book (1914)


Three cups sugar, one cup Karo corn syrup, three-quarters cup water, three well-beaten whites of eggs, two cups of chopped walnuts, one tablespoon vanilla.

Boil first three ingredients until quite brittle in cold water, then pour slowly and gradually into the eggs and beat until it stiffens. Add vanilla and nuts and pour onto a buttered platter. When cold cut in squares.


Old Fashioned Divinity Candy Recipes

The Eta Cook Book (1914)


Divinity Candy

First mixture: Boil one cup sugar and one-fourth cup water four minutes. Second mixture: Boil until brittle three cups sugar, one cup Karo corn syrup, one cup water. To the first mixture add the beaten whites of three eggs. Add this to second mixture, then add one cup chopped walnuts and one teaspoon vanilla. Beat until like fudge. —Celia McLennan


Easy Divinity Fudge Recipe

Two cups granulated sugar, one-half cup cold water, one-third cup Karo corn syrup. Cook until it hardens when dropped in cold water. Take from stove, pour over stiffly beaten white of one egg. Add nuts and vanilla. Beat until stiff. —Marion S. Butterfield


Divinity Fudge / Chocolate Divinity

One and one-half cups granulated sugar, one-half cup Karo corn syrup, one-fourth cup water, white of one egg, one-half cup chopped nuts, one-fourth teaspoon vanilla. Boil sugar, syrup, and water to soft ball stage. Take out one cup and fold into stiffly beaten white of egg. Add vanilla and nuts. Allow rest of syrup to reach crack stage and stir that into egg mixture. Put in pan or allow to cool until it will stand alone, then drop by spoonfuls on buttered paper.

Chocolate Divinity may be made by adding a square of Baker's chocolate grated to syrup before boiling. —Anna Wood Richie


Divinity Creams

Two and one-half cups granulated sugar, one-half cup Karo corn syrup, one-half cup hot water, whites of two eggs, one-half cup nuts, flavoring.

Boil sugar, syrup, and water until it forms a soft ball in water. Add slowly one cup of this mixture to whites of eggs which have been beaten stiff, with a tiny bit of salt. Continue to cook remainder of syrup until it crackles in cold water. Pour syrup over the egg mixture and beat until cold. Add nuts and flavoring. Pour into shallow pan. When cold cut in oblongs. —Geraldine Mitchell Thompson


Tips for Making Perfect Divinity Fudge

Here are several tips to help you in getting perfect results:


For divinity to harden properly, it's always best to make it on a day that's not too humid.


Finish beating the divinity mixture, then work quickly to pour or drop the mixture onto a buttered platter or waxed paper, since it is quick to harden.


Add several drops of water if the divinity mixture becomes too thick.


Continue beating if the mixture remains too thin.


It is best to store your candies in an airtight container until ready for serving.


Some experimentation can be expected if you are inexperienced in making divinity, since misjudging its cooking time can greatly affect the results. Undercooking can leave divinity too soft whereas overcooking can leave it too hard.

The old fashioned divinity candy recipes above say to pour the cooked candy mixture on a buttered platter for cutting into squares. However, recipes published later on began to call for pouring or dropping the mixture by spoonfuls onto waxed paper for cooling. So, squares or drops, it's your choice. Both are delicious!


You May Also Like

Custom Search
Enjoy a

Laugh

to Brighten Your Day!


Listen to Bud Abbott and Lou Costello's "Who's On First?" skit from the World War 2 Special Services Division V-Disk.


(5: 54 min.)


Visit the Homemade Dessert Recipes Home Page


Donald Bell is a participant in the Amazon Services LLC Associates Program, an affiliate advertising program designed to provide a means for sites to earn advertising fees by advertising and linking to amazon.com. If you make a purchase through a link on this page, I may receive a small commission to help support this site — at no extra cost to you. Thank you.