10 Diet Travel Tips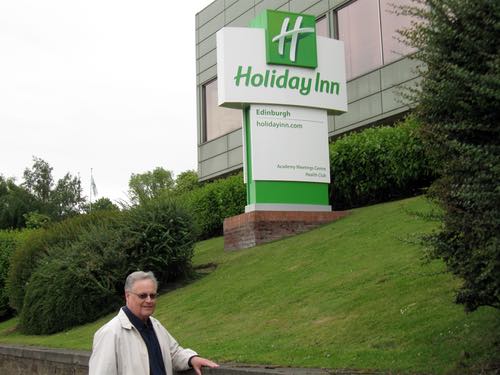 Don Bell in Edinburgh, Scotland
(Source: ©Don Bell)
I came up with ten diet travel tips that help me avoid putting on extra weight while traveling, and I'm happy to share them with you.

Do you find it difficult to maintain a healthy diet while on vacation or when eating out in restaurants? I know I do. There's always so many tempting food choices, and it's so easy to let your guard down and eat too much of the wrong things. And the last thing you want to feel on a holiday is guilt from over eating.

I want to enjoy fine meals and desserts while traveling, but I don't want to gain extra weight. So, I use my diet travel tips to keep me on track. They're easy to remember and put into practice. Try them, they work!


Avoiding Weight Gain on Holidays

I attended the Scottish SBI! Webmasters Conference in Edinburgh, Scotland, to meet other website owners and to learn how to improve this vintage recipe site. Although I had lost some weight in preparation for my trip, I couldn't help wondering how much I would gain while traveling.

Two weeks of conference meals, staying in hotels, and riding on trains would take its toll. I resolved to eat sensible meals mostly, but I determined to enjoy myself too. And eating local foods is always a big part of my enjoyment while on a vacation, especially the desserts.

Allow me now to share my ten diet travel tips and how I use them.


10 Diet Travel Tips that Work
Here's the vacation dieting tips that I use and have found helpful in avoiding unwanted weight gain:


Start your holidays with a holiday diet plan in mind. Because you will be tempted with delicious foods while on vacation, decide how much you'll allow yourself to eat. For example, plan to enjoy a dessert with your evening meal and eat lighter fare at noon.


Don't be over strict, or you'll be setting yourself up for failure. Vacations are when you should allow some relaxation from your normal diet routine. Don't try to avoid special foods or treats, but develop your moderation skills. If you're not hungry, don't eat.


Don't be too hard on yourself. So what if you slip up and overeat one day! One day of overeating won't make much difference in the long run. A diet is only ruined when you have too many days of overeating in a row. Simply accept the slipup and try harder the next time. Just don't give up and continue making poor eating choices.


Moderate your alcohol and soft drink intake. Vacations are when special drinks are often enjoyed, but keep in mind that the calories WILL add up. Consider alternating between alcoholic beverages and diet soft drinks, or naturally carbonated mineral water.


Wear tight fitting clothes, or a tight belt. Clothes and belts that feel a little tight will serve as a slightly uncomfortable reminder that you need to eat in moderation. This diet travel tip sounds simple, but it really works!


Choose a healthy diet while traveling. But, healthy eating needn't mean bland and unappetizing! By all means eat your favorite foods, but try to choose healthier versions and lighter portions when the menu permits.


Plan for times when food and drink aren't readily available. If you're chatting or relaxing in a hotel lounge or by a pool, it's often too tempting to raise a glass or reach for a snack. Relax instead at a secluded beach or park where snacks are not readily available.


Eat something light and satisfying before you go out to a restaurant. When you know you're going to be eating out, enjoy a low calorie snack before you leave and you won't be tempted by the all-you-can-eat buffet.


Pack some low calorie snacks when you go on an outing by tour bus or train. A small 100 calorie granola bar or even a little 100 calorie bag of chips or popcorn will take the edge off your appetite and — hopefully — prevent you from buying a larger treat.


Above all, enjoy yourself. If you're having fun and keeping active, you'll be less tempted to think about food.


The above diet travel tips are easy to use and are not hard to remember. Continue reading and you'll see how I put them into practice during my trip, and the results I achieved.


While at the SBI! Conference
Don Tempted by Shortbread Snacks
(Source: ©Don Bell)
I must admit that snacks were a big temptation while attending the Scottish SBI! conference. There were endless packages of Walkers' pure butter shortbread cookies during coffee breaks, and the ginger cookies were equally delicious.
Scottish treats are impossible to resist, so I limited myself to snacking on just one or two cookies at each coffee break. Diet travel tip #2: moderation.

Our noon meals at the Holiday Inn featured of an all-you-can-eat Asian buffet that was simply to die for. I determined to eat whatever I wanted, but I exercised moderation by limiting myself to one plate of food.

I deliberately chose not to return for second helpings, except for one meal when I did sneak back to the buffet table. The beef entree was simply too delicious to resist! And after all, this was a working holiday.


While Traveling in England
My wife and I traveled by rail to Thirsk in North Yorkshire after the conference, where we stayed at The Three Tuns Hotel, and mostly ate in its Wetherspoon Pub.

By eating lighter fare at noon and enjoying an evening meal each day, I could avoid over indulging while getting to enjoy delicious pub meals of steak and kidney pie and English fish and chips. Diet travel tip #1: lighter meal at noon.

Dare I mention the sticky toffee pudding I enjoyed one evening?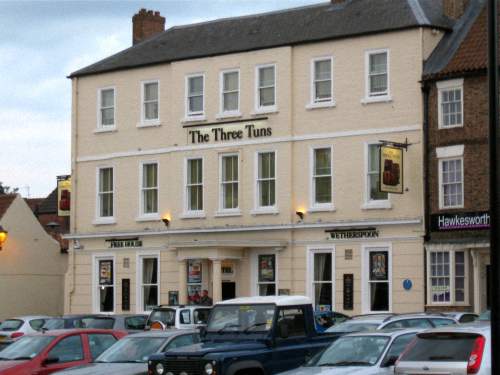 The Three Tuns Hotel in Thirsk, North Yorkshire
(Source: ©Don Bell)
The Three Tuns Hotel was originally built in 1698 as a Dower House for the Bell family, Lords of the Manor of Thirsk, and it was sold and converted to a coaching inn around 1740. There's better accommodation in the area, but it was a treat for us to stay at the quaint inn with its beautiful Queen Anne staircase, because of its earlier connection to my Bell ancestors.


While Traveling in Scotland
Later, we returned to Edinburgh where we lodged for several days at The Hedges, a 4-star B&B accommodation beside historic Calton Hill, within walking distance from the Royal Mile. Our hosts Heather MacDonald and her husband Ian spoiled us with a delicious full Scottish breakfast each morning that kept us satisfied all day until we had our evening restaurant meal.


Host Heather MacDonald and Don Bell at The Hedges Guesthouse
Our Scottish Home Away from Home
(Source: ©Don Bell)
When you visit Scotland, do plan to stay at The Hedges Guesthouse at 19 Hillside Crescent in Edinburgh. You'll love it! Guaranteed! Please tell Heather and Ian that I sent you. She'll make you feel right at home. That's Heather with me in the photo above.

Heather's breakfast choices included homemade oatmeal porridge served with a choice of heavy cream, whisky, or honey. That was followed by the choice of a fruit platter, poached kippers, smoked Scottish salmon, or a full Scottish breakfast consisting of haggis, Ayrshire bacon, sausages, and eggs. Are you hungry yet?


The Hedges Breakfast Cabinet Offering Jams and Cereals
(Source: ©Don Bell)
All her breakfasts are home-cooked, absolutely delicious, and served in a beautiful dining room complete with a cabinet displaying dry cereals and Scottish jams for those wanting a lighter start to the day. Believe me, I did not think "diet" when starting the day — I went for the full Scottish!

We purposed to eat very light at noon during our stay, and we were never really hungry after our large breakfast anyway. For instance, a chilled ginger beer beverage and a satisfying sandwich of smoked salmon aboard the Royal Yacht Britannia  hit the spot for my wife Vicki and me after a morning's site seeing.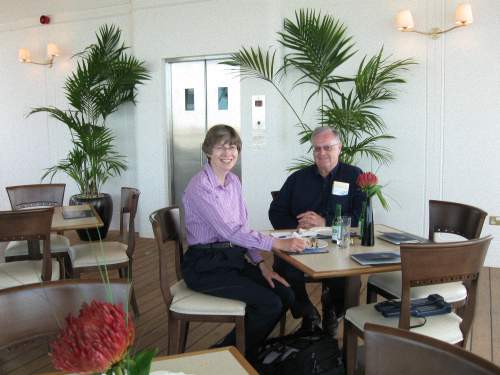 Don and Vicki Enjoying Lunch Aboard Royal Yacht Britannia
(Source: ©Don Bell)
Smoked Salmon Sandwich
(Source: ©Don Bell)
Ginger Beer Beverage
(Source: ©Don Bell)
Another day, a homemade scone bursting with fruit and served warm with fresh dairy butter made a satisfying lunch at the Holyrood Palace Cafe, and we were treated like royalty by the Queen's friendly Scottish staff.


Delicious Fruit Scones at the Holyrood Palace Cafe
(Source: ©Don Bell)
After a full day's walking and sightseeing in Edinburgh, we eagerly awaited our main evening meal. For instance, we enjoyed a lovely pub dinner of wild venison pie with mushrooms at The Conan Doyle, and the following night we experienced fine dining with braised lamb shanks followed by — you guessed it — sticky toffee pudding smothered in a special sauce and genuine whipped cream. Scottish diet fare to be sure!

While attending a Scottish "Ceilidh" (pronounced KAY-lee) at the popular Ghillie Dhu, we enjoyed a traditional haggis with bashed neeps and tatties, chicken breast stuffed with black pudding, followed by a traditional "cranachan" or cream crowdie, served with a rich buttery shortbread biscuit.

So you can see that I didn't starve myself. Eating light at noon meant that I could indulge in the evening. Again, diet travel tip #1.


The ClamShell, Edinburgh
(Source: ©Don Bell)
However, slipups are inevitable. We simply couldn't resist trying a deep fried Mars bar at the ClamShell fish and chip shop on the Royal Mile — tons of calories. There went my diet that day! Diet travel tip #3: Don't be hard on yourself.

However, the rich treat was so filling that we had no desire for an evening meal and only had coffee before returning to The Hedges. And before you criticize my lack of restraint, I've included a recipe for deep fried Mars bars on this site to tempt you. Your curiosity won't let you resist trying it.


Back Home in Canada

After returning home from Scotland, I spent the next week taking time off to relax and enjoy the warm summer weather. It was a good opportunity to scale my eating back to proper portion sizes. I continued to follow my diet travel tips, though, limiting myself to one main meal each day and practicing light eating at other times.

By applying all 10 diet travel tips, you'll be able to return home from your vacation or a night of eating out without having gained too many pounds. Yes, you CAN have your cake and eat it too! Just make sure that it's a SMALL piece!

Above all, remember to have a good time and enjoy your meals! If you find yourself feeling frustrated that you can't eat everything you want, concentrate on the other aspects of your holidays.

Consider all the fun things you can do that don't involve eating, especially things that involve physical activity. You can avoid holiday weight gain by keeping actively busy.

And don't worry if you can't use all the tips each day, even if you can only practice a few, you'll be better off weight-wise.


My Travel Diet Results
I really didn't expect to lose weight while on vacation. After all, my vacation meals were not chosen from a weight-loss perspective. But, by following my 10 diet travel tips, I limited my portion sizes and generally ate sensibly.

So, after three weeks of traveling, did I lose or gain a pound?

Let's find out:

Weight at Start of Trip = 216.4 lbs
Weight at End of Trip = 220.2 lbs
Weight Gained on Trip = 3.8 lbs

Well, it could have been a lot worse!

Although I did gain a little weight, I was pleased with the results, considering the wonderful meals I enjoyed.

And 3.8 pounds is not a lot to lose again!

Increasing water intake and cutting desserts and treats for a while will help to shed those gained pounds.

Remember, enjoying a night out or traveling while on vacation should be a time of relaxation, and it's only natural that you indulge yourself a little at mealtimes. But, nonetheless, you do need to keep your health in mind and not be tempted into going completely overboard with eating.
The best diet travel tips are the ones you can stick to without being too strict.

Can you diet yet still enjoy special meals and treats while on vacation?
The answer is a definite YES.


You May Also Like

Enjoy a

Laugh

to Brighten Your Day!


Listen to Bud Abbott and Lou Costello's "Who's On First?" skit from the World War 2 Special Services Division V-Disk.


(5: 54 min.)