Simple Syrup Recipe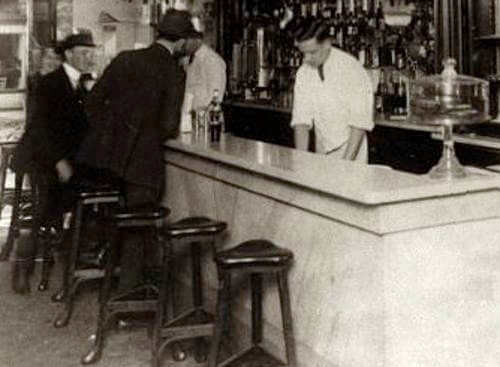 Fountain Operator Dispensing Sodas
(Source: Library of Congress Repro. No. LC-USZ62-129884))
This old fashioned syrup recipe makes the basic ingredient that's used in many flavored soda fountain syrups and for sweetening beverages such as iced teas, lemonades, punches, and fruit drinks.

Simple syrup is significantly sweeter than regular sugar and perfect for use in the old fashioned soda fountain recipes and for sweetening all manner of beverages, as it dissolves so easily.


Basic Ingredient Used in Fountain Syrups

Simple Syrup Recipe

Lee's Priceless Recipes (1895)


Hint
Simple syrup is useful for sweetening purposes when home baking too.

Use granulated sugar and water in proportions of 1 pound of white sugar to 1 pint of water. Stir while bringing water and sugar to a boil until all sugar crystals are dissolved, then permit to cool.

The candying or crystallization of syrup, unless it is over-saturated with sugar, may be prevented by the addition of a little citric acid, 2 or 3 drams (1-1/2 or 2-1/4 teaspoons) per gallon of simple syrup. Confectioners add a very little cream of tartar to the sugar to prevent granulation.

Another method for making simple syrup is to use 2 parts granulated sugar to 1 part water. Bring water to a boil, add sugar and stir so that the sugar is completely dissolved with no sugar crystals visible, then remove from heat and let cool.

Some old time pharmacists recommended adding 1 to 2 teaspoons of corn syrup to help keep the consistency of the simple syrup smooth for storage.


Soda Fountain Syrups
Make your beverages with  flavored syrup concentrates from The Prairie Moon Company. Choose from over 50 old fashioned soft drink flavors including Root Beer, Sarsaparilla, and Cream Soda. Simply add water and your own sugar or sweetener. Low cost shipping to U.S. and Canadian customers. I highly recommend them!

You May Also Like

Custom Search
Enjoy a

Laugh

to Brighten Your Day!


Listen to Bud Abbott and Lou Costello's "Who's On First?" skit from the World War 2 Special Services Division V-Disk.


(5: 54 min.)


Visit the Homemade Dessert Recipes Home Page


Donald Bell is a participant in the Amazon Services LLC Associates Program, an affiliate advertising program designed to provide a means for sites to earn advertising fees by advertising and linking to amazon.com. If you make a purchase through a link on this page, I may receive a small commission to help support this site — at no extra cost to you. Thank you.