Grandma's Basic Cooking Tips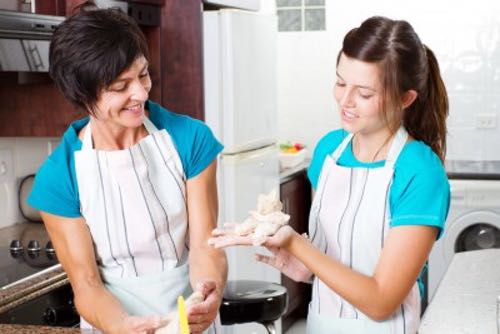 Mother Sharing Basic Cooking Tips with Daughter
(Source: ©hongqi-zhang/123RF.com)
These basic cooking tips will come in handy when you use Grandma's old fashioned dessert recipes. The historical recipes are shown exactly as first published and sometimes will need additional instructions.

Practical baking tips and cooking methods were often passed down from one generation of cooks in a family to the next, and now they are yours to use.


Old Fashioned Recipe Help

The vintage recipes sometimes contain outdated measurement terms like gill, salt-spoon, grain, and wineglass, making the quantities called for unclear. And because most old fashioned wood stoves of Grandma's day didn't have temperature gauges, only a few of the baking recipes provide accurate oven temperatures and cooking times.

So, I've gathered a collection of helpful hints to address the shortcomings of the old recipes along with some practical cooking methods to make your kitchen and baking chores easier. They'll also help to ensure that your homemade desserts will turn out just like Grandma's.


About Grandma's Hints and Tips
You'll enjoy using this collection of basic cooking tips, kitchen hints, standard cooking measures, historical baking measurements, and wood stove oven temperature conversions for modern day baking.

There's also helpful information on baking substitutions and even some step-by-step instructions for opening a coconut the easy way.

Some of the old hints are definitely from a bygone day; however, they are fun to read and you never know when you might find a practical use for them.

Yes, there really is something for everyone and more is being added, so be sure to bookmark this page and return to it often. So, let's begin with how to obtain nutrition information for the old fashioned recipes.


Nutritional Information

Old fashioned recipes rarely contained nutritional info, but you can easily visit the Calorie Count website for an approximate nutritional analysis and a nutrition label for your recipe. Simply indicate the number of servings, then copy and past your ingredient list into the calculator.

Whenever the old fashioned recipes are written in paragraph form, you'll need to estimate the number of servings and rewrite the ingredients as a list. For example:

2 cups cake flour
4 teaspoons baking powder
1  pinch of salt

The site recommends adding exact weight measures (in parenthesis) to list non-exact measurements. For example:

1 can of milk becomes 1 (12-ounce) can of milk

Also, place any preparation instructions after the ingredient using a comma. For example:

1 pound butter, softened
3 cups apple, sliced

For instance, here's an analysis of the Zesty Orange Cupcake Recipe:


Recipe Ingredients
Recipe Nutrition
Grandma's Basic Cooking Tips

Favorite Visitor Topics